Elton John And Dua Lipa Hit 20 Weeks Atop Billboard Dance/Electronic Chart
The song has also returned to the Top 10 of the Billboard Hot 100.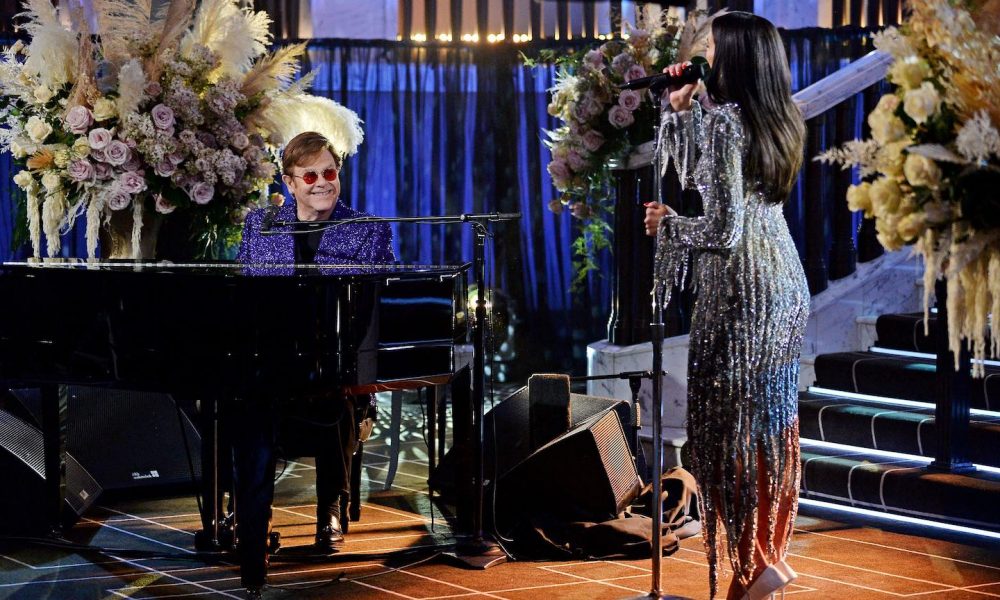 Elton John and Dua Lipa's "Cold Heart (PNAU Remix)" has joined an exclusive band of only eight songs to achieve 20 weeks or more at No.1 in the nine-year history of Billboard's Hot Dance/Electronic Songs chart. The song is also back in the Top 10 of the Hot 100.
The new dance survey, dated March 5, has the global hit on top again, with the magazine reporting weekly totals of 10.9 million US streams and downloads of 8,300, according to MRC Data for the week of February 18-24. The all-time leader on the chart in terms of longevity at the summit is Marshmello & Bastille's "Happier," with a dizzying 69 weeks in 2018 and 2019. "The Middle" by Zedd, Maren Morris & Grey is next on that list with a 33-week reign.
Elton John, Dua Lipa - Cold Heart (PNAU Remix) (Official Video)
"Cold Heart (PNAU Remix)" simultaneously lands a 28th week at No.1 on the Dance/Electronic Digital Song Sales chart. That's second only to the 32 weeks logged at top on that countdown by "Happier." The Elton/Dua Lipa track also leads Dance/Electronic Streaming Songs for a 16th week, having spent 14 weeks atop Dance/Mix Show Airplay between October and January.
The Elton and Dua Lipa collaboration is also back in the Top 10 of the Billboard Hot 100, moving back 12-10 after previously peaking at No.7. That had marked John's first appearance in the Top 10 since 1997, and extended a run of such hits that began with "Your Song" early in 1971.Other No.1 rankings for "Cold Heart (PNAU Remix)" included in the UK, where it was Elton's first chart-topper since he guested on 2Pac's "Ghetto Gospel" in 2005; in Australia, Canada and in European countries including Belgium, Hungary, and Poland.
The superstar's Farewell Yellow Brick Road tour is continuing with the North American dates that were postponed from 2020. Its next stop is at the Nassau Coliseum on Long Island, NY, tomorrow (5). That leg of the itinerary concludes on April 28 in Miami, followed by a European run beginning in Oslo on May 21.
Buy or stream "Cold Heart (PNAU Remix)" on Elton John's The Lockdown Sessions album.