Elton John Hints At Help For L.A.'s Troubadour, Scene Of His US Debut
In a BBC 6 Music interview, he also spoke about the Record Store Day reissue of his self-titled 1970 album.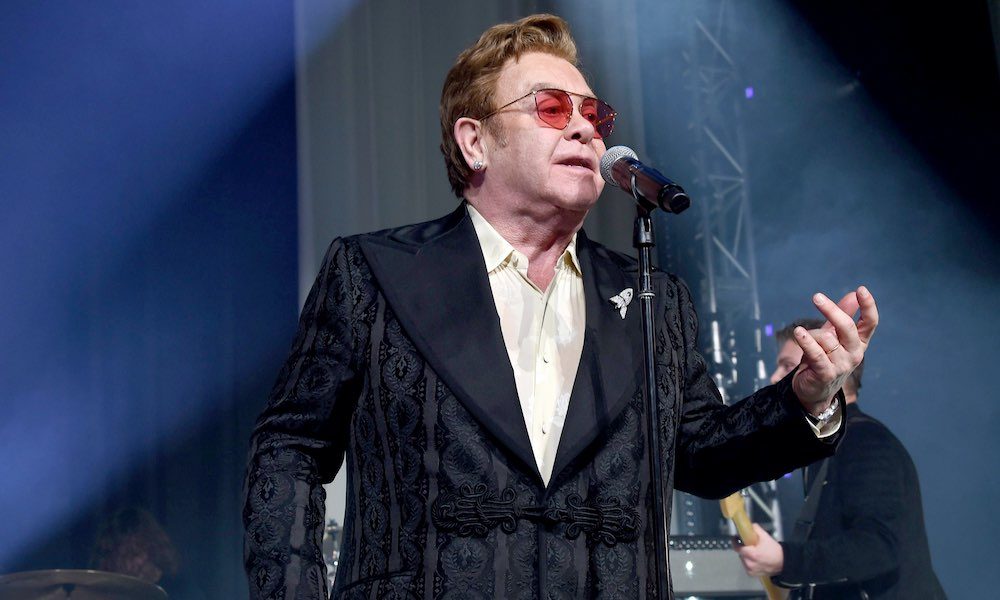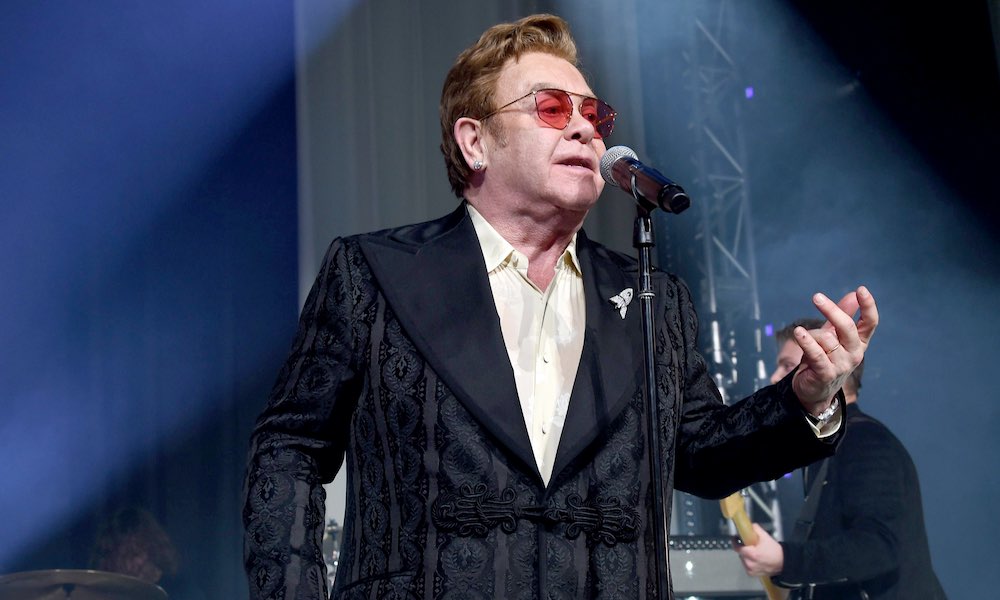 Elton John has hinted to BBC 6 Music that he has helped the Troubadour, the famous Los Angeles club where he played his first US show 50 years ago yesterday (25) to stay open during the coronavirus crisis. He also spoke about the Record Store Day reissue of his self-titled 1970 album.
In conversation with interviewer Matt Everitt on Mary Anne Hobbs' show, Elton said: "I've heard that [the Troubadour] might be closing but I think it's going to be ok. We have to preserve venues like this. I heard about it in the springtime before I returned to England and I made a few phone calls. There are a few irons in the fire.
Troubadour "a great launch pad"
"If venues like that disappear then it's really grim stuff because they are so important for new people to go and I've seen so many new acts there that have come from Britain. I saw Cat Stevens there when he did his first show in America. It's a great launch pad. It's a great room, it has atmosphere it has everything going for it. If you can't play well at the Troubadour you can't play well anywhere."
Reacting to the financial difficulties now facing the entire independent venue sector, and in particular London jazz totem Ronnie Scott's, he said: "Well I know the lady who owns Ronnie Scott's and I'm sure she's going to put up a battle. You can't lose places like that. We lost the Marquee, the 100 Club is still going but it's very difficult in this day and age with COVID to sustain.
"It's vital that these places stay open"
"It's expensive to run. You can't keep staff on. It's vital that these places stay open for new artists. It's absolutely vital. The small venues are the life and soul of music and they have to be kept afloat some way or another."
Of the Record Store Day reissue of Elton John, he revealed: "I don't listen to any of my records anymore. I just don't do it. I'm not one of these artists that sits there compiling stuff from all the vaults and stuff like that – and live recordings. Now I know it's coming out I have relistened to it. It's great, it sounds amazing. But I'm more interested in what's coming next than what went by."
Elton revealed that he has now rebuilt the vinyl collection that he once sold. "I've probably got more vinyl now than I did when I originally sold it," he said. "So, vinyl is incredibly important to me and I like nothing better than to sit down and play a record, read the sleeve notes and then flip it over.
"It's part of how I grew up, so it has a lot of great memories for me. I remember lying on the floor with Bernie listening to Sgt. Pepper and stuff like that and all the great albums in the late 60s and 70s and yeah, it's a ritual for me. So it's always exciting when vinyl comes around every week. buy my vinyl from Rough Trade in Ladbroke Grove [west London] and they send me the lists every week and I mark off the ones I want and I get them from there.
Elton spins the Lemon Twigs
The global superstar also said that the record currently on his turntable is the Lemon Twigs' Songs for the General Public. "There's two guys and I've been a fan of theirs for a long time. So I got that today, and that's on my turntable right now." He also enthused about Conan Gray's current single release "Heather."
Turning to the Troubadour anniversary, Everitt asked John if the actual experience of that first US show bore a resemblance to the way it was portrayed in Rocketman. "It was pretty much like the film," he replied. "I mean obviously I didn't play 'Crocodile Rock' and I didn't levitate, but as Michael Stipe said from REM, the levitation scene was just like when you know you've got the audience in the palm of your hand that's how you feel – you feel as if you're floating in air and from that aspect it was pretty accurate I mean, we just slayed them.
"They weren't expecting to see a three-piece rock'n'roll band," he went on. "I was going to be a very introverted singer-songwriter. In fact I was a very extroverted singer-songwriter and the songs that we played on stage were the ones from the Elton John album but they were played by a three-piece rather than an orchestra and so we approached the songs differently and in a much more raucous way than they were on the record.
"We were very well honed as a band before we went there. We'd played quite a few gigs and we were very comfortable in our own skin. It was a piano-bass-drums three-piece, Nigel [Olsson] on drums, Dee [Murray] on bass and they all intuitively knew what I was going to do. We kind of read each other's minds and that gave us the chance to extemporise, stretch out a bit and they always followed me.
"We just intuitively clicked"
"A three-piece band gives you the freedom to do that. It was one of those wonderful things. I had Bernie [Taupin] as a lyric writer and I had Dee and Nigel as my band and it was the same kind of thing we just intuitively clicked."
John also spoke about the interruption to his Farewell Yellow Brick Road extravaganza. "We were half way through the tour and then you know, that was it and we're on a hiatus and it's like marking time. But we're no different to anybody else, and as hard as it is and as frustrating as it is for me and the band, it's much more frustrating for the people who are in the crew.
"[They] depend on their livelihoods for working like that and for people at the venues and you know it just rolls, trickles down to people who do the catering – everybody's affected by it and unfortunately we're going to be the last people to go back to work because we play in large venues."
When he can, says Elton, "of course I'm going straight out there again. When and where, I don't know. I mean know where – but I don't know when. I'll definitely be out there, yes."
Listen to the best of Elton John on Apple Music and Spotify.