Florence + The Machine, Alice Cooper, And More Featured On 'Guardians Of The Galaxy Vol. 3' Soundtrack
Other artists set to appear include Radiohead, Beastie Boys, and more.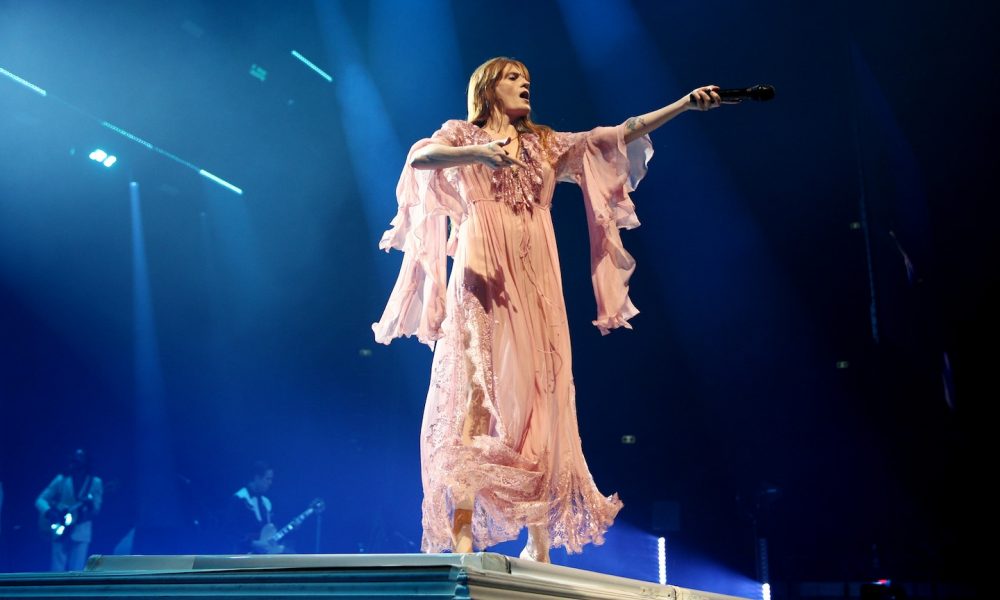 Marvel's Guardians of the Galaxy Vol. 3 movie will open in theaters on May 5, and the soundtrack set to accompany the film has also been announced. It features hits from Florence + The Machine, Alice Cooper, and more.
Shop the best of Florence + The Machine's discography on vinyl and more.
Directed by James Gunn, this latest sequel features Chris Pratt (Peter Quill / Star-Lord), Zoe Saldana (Gamora), Dave Bautista (Drax), Karen Gillan (Nebula), Pom Klementieff (Mantis), Vin Diesel (Groot), Bradley Cooper (Rocket), and more.
A synopsis of the film reads as follows: Still reeling from the loss of Gamora, Peter Quill rallies his team to defend the universe and one of their own – a mission that could mean the end of the Guardians if not successful. The accompanying soundtrack features a stellar lineup of tracks perfect for any hero saving the galaxy.
Florence + The Machine has been a soundtrack darling of late. Last month, to celebrate the return of the smash hit series Yellowjackets, the group led by Florence Welch shared an incredible cover of the No Doubt classic "Just A Girl."
Before sharing the song, Welch shared an 18-second video on Twitter featuring her band's atmospheric interpretation of the song.
Pre-order the Guardians of the Galaxy Vol. 3 Official Soundtrack.
Guardians of the Galaxy Vol. 3 Tracklist:
Radiohead, "Creep" (Acoustic Version)
Heart, "Crazy On You"
Rainbow, "Since You Been Gone"
Spacehog, "In the Meantime"
Earth, Wind and Fire, "Reasons"
The Flaming Lips, "Do You Realize??"
Faith No More, "We Care a Lot"
EHAMIC, "Koinu no Carnival" (From "Minute Waltz")
Alice Cooper, "I'm Always Chasing Rainbows"
The Mowgli's, "San Francisco"
X, "Poor Girl"
The The, "This Is the Day"
Beastie Boys, "No Sleep Till Brooklyn"
Florence + The Machine, "Dog Days Are Over"
Bruce Springsteen, "Badlands"
The Replacements, "I Will Dare"
Redbone, "Come and Get Your Love"