Foo Fighters Set To Open London Pub, Offer New Merchandise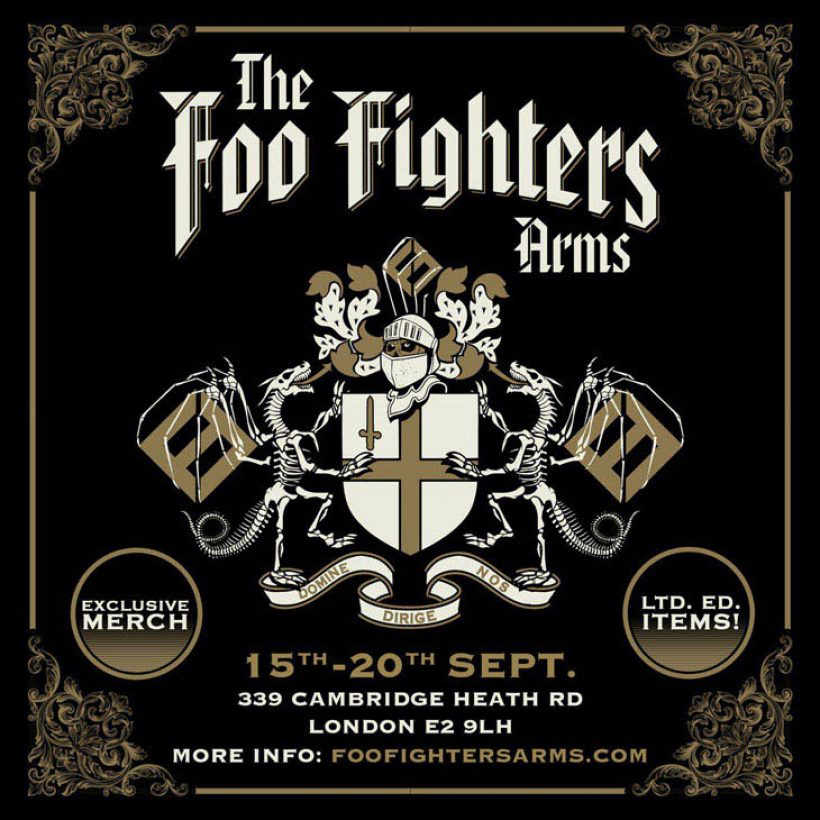 To coincide with the release of the band's much-anticipated ninth album Concrete And Gold, Foo Fighters have announced that they are to open a pub in London on Friday, 15 September 2017.
'The Foo Fighters Arms' will be located at 339 Cambridge Heath Road, London E2 9LH, and will be open between the 15th and 20th September. The pub will sell exclusive merchandise and limited edition items.
The band announced the pub on Twitter, showing a logo image for the pub that sees two dragon skeletons holding a coat of arms. The announcement was accompanied by the words 'Keep Calm And Come On'. At the bottom of the logo are the Latin words 'Domine Dirige Nos', which translate in English as 'Lord, guide us'.
On the pub's website, the band announce that 'The Foo Fighters Arms' will also "host a series of events for both fans and the general public", serve "Foo Fighters beer" and hold a Foo Fighters pub quiz next Monday, 18 September, with exclusive prizes.
Ahead of Concrete And Gold's release on 15 September via RCA/ Roswell Records, the band recently shared a third new song from the album entitled 'The Line'.  Elsewhere, frontman Dave Grohl has revealed that whilst recording the new album, he was barbecuing for multiple people at the recording studio.
Foo Fighters - The Line (Audio)
In an interview with Rolling Stone, the musician discussed socialising with other artists down at the studio, and used this as an opportunity to perfect his barbecuing skills. He placed the cooking tool on the patio outside and cooked for the whole building.
"I was cooking for, like, 40 people a night," he explains, adding that the barbecuing obsession even occasionally interrupted recording sessions. "I'd be in the middle of a vocal take and be like, 'F**k, I gotta go check the meat.' "
Getting involved in the social aspect of the recording studio also contributed to multiple guest appearances on the record, Grohl explains. After bumping into him in the building, Foo Fighters invited Shawn Stockman from Boyz II Men to come to one of their recording sessions. The band also developed a friendship with Justin Timberlake, who sings backing vocals on one of the tracks. "We'd drink whiskey in the parking lot," Grohl adds.
Format:
UK English