'The Futuristic Sounds Of Sun Ra' Celebrates 60 Years With New Reissue
Due out on September 16, the album marks the singular Afrofuturist's first record with The Arkestra in New York City.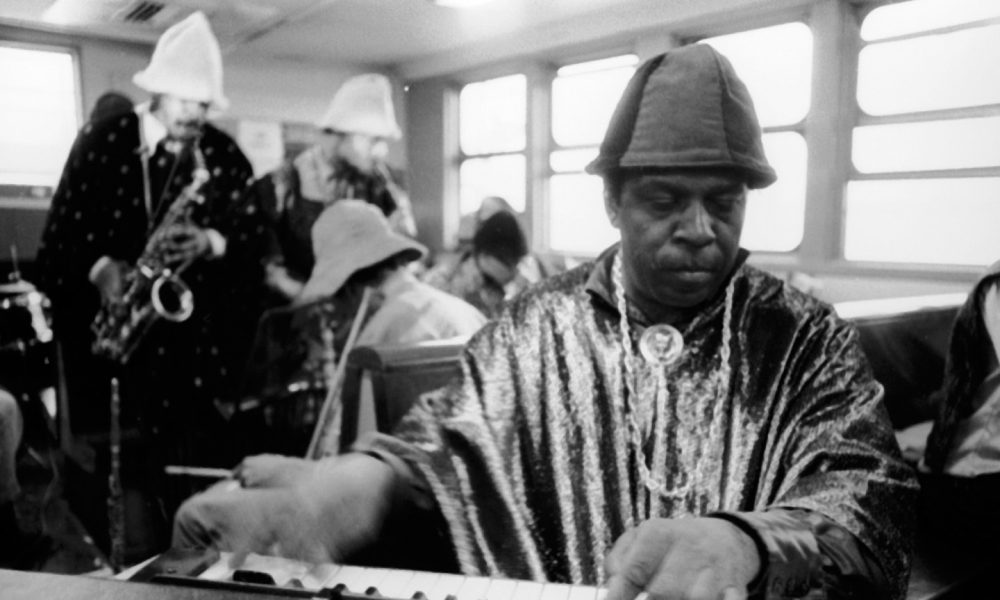 Craft Recordings proudly announces a 60th-anniversary edition of The Futuristic Sounds of Sun Ra. A standout title in the Afrofuturism pioneer and innovative jazz artist's extensive catalog of recordings, the 1962 album marks Sun Ra's first recording with his band, The Arkestra, in New York after relocating from Chicago. Produced by Tom Wilson (whose credits include titles for Bob Dylan, the Velvet Underground, and the Mothers of Invention), The Futuristic Sounds of Sun Ra has long been considered one of the avant-garde artist's most accessible albums.
This special reissue features all-analog re-mastering by Kevin Gray at Cohearent Audio, while the LP has been pressed on 180-gram vinyl at RTI. As a bonus, the CD and LP packages include Tom Wilson's original liner notes, plus insightful new essays by jazz historian Ben Young, as well as by Irwin Chusid, who not only administers the musical estate for Sun Ra, but is also a journalist, radio personality, and the author of the forthcoming book, Sun Ra: Art on Saturn — The Album Cover Art of Sun Ra's Saturn Label.  Landing in stores on September 16, this edition will also be released in stunning hi-res digital audio.
Arriving on this planet long before his time—or perhaps at the very right moment—Sun Ra (1914–1993) was one of the most unique talents in the history of recorded music. A bandleader, keyboardist, composer, arranger, poet, philosopher, and dreamer, Ra's creativity knew no bounds. Frequently accompanied by The Arkestra—his loose, musical collective—the imaginative artist kept fans on their toes with his breadth of musical styles, his use of new audio technology, and his otherworldly costumes throughout his four-decade-long career. In his essay, Irwin Chusid delights that "Sun Ra was many things, but consistent and predictable don't apply."
Sun Ra – The Futuristic Sounds of Sun Ra (Official Trailer)
Ra (born Herman Poole Blount in Birmingham, AL) began his career in Chicago in the 1940s, where he spent much of his time playing in and arranging for jazz ensembles, R&B bands, and vocal groups. In 1952, the artist rechristened himself as Le Sony'r Ra (later shortening it to Sun Ra), after the Egyptian sun god, Ra. Along with his new name, Ra developed a fantastical backstory, claiming to have arrived from Saturn, with a mission to bring peace to the people of Earth. In 1957, he released his debut album, Jazz by Sun Ra, working alongside a fresh-out-of-Harvard Tom Wilson, who not only produced the record, but also released it on his label, Transition Records.
Five years later, Ra found himself disenchanted with the scene in Chicago, and drove east with several Arkestra members—first to Montreal and then to New York. Wilson, meanwhile, had also relocated to Manhattan, where he became an in-house producer at Savoy Records. The two men reunited within a month, booking studio time for a new album at Newark, NJ's Medallion Studios.
Engineered by Paul Cady, the sessions featured nine players, including Ra on piano, Bernard McKinney (later known as Kiane Zawadi, on trombone and euphonium), Marshall Allen (alto sax, flute, among other reed instruments), John Gilmore (tenor sax, bass clarinet), Pat Patrick (bass saxophone), Ronnie Boykins (bass), Willie Jones (drums), Leah Ananda (conga), and Ricky Murray (vocals). Noting the group's broad instrumentation, Chusid writes, "the octet-plus-vocalist format mirrored what Ra had often presented in Chicago. They employed an arsenal of percussion, including bells from India, Chinese wind chimes, wood blocks, maracas, claves, scratchers, gongs, cowbells, Turkish cymbals, and castanets."
Recorded in just one day, on October 10, 1961, The Futuristic Sounds of Sun Ra featured 11 tracks. As Ben Young describes in his essay, "this is a set of miniatures—reductions of what the band offered in performance." He continues, "as Sun Ra was casting about for work on McDougal and Bleecker Streets in the months after Futuristic Sounds was recorded, it would be useful to drop a copy of the record to represent this is what we do. Or can do—a little bit of everything, in short manageable, segments. The whole smorgasbord of Sun Ra."
Among the selections is the Latin-influenced opener, "Bassism," the bluesy "Of Sounds and Something Else," and the aptly named, "What's That?," which Young describes as "an oddly shaped scramble." The track, which breaks into a four-saxophone improvisation, stands out as an example of Ra's early experimental work. Young explains, "Futuristic Sounds represents the beginnings for Sun Ra of turning away from mapped music to a sound coordinated more spontaneously or organically. Make no mistake—this is organized music, but it has sections that are highly heterophonic and undetermined."
Another example of Ra's free-flowing work is "The Beginning," which, for the talented members of The Arkestra "raises the issue of what it meant to be proficient in an open-field world of sound—that is, one that's generally not determined by song frameworks," Young notes. The album also includes "Tapestry from an Asteroid," a ballad that became one of Ra's most-performed works. Interestingly, out of the ten original selections on the album (Victor Young's "China Gates" was the sole track not penned by Ra), "Tapestry from an Asteroid" would stand as the only work that the artist would ever revisit—on stage or otherwise—again.
Futuristic Sounds, Chusid argues, "was Sun Ra's last fully 'File Under: Jazz' album. Once firmly ensconced in New York, his releases of new material became increasingly innovative, often featuring compositions and arrangements that only tangentially resembled jazz, and often were something stylistically uncategorizable. It was at this stage of his career that the icon of Afrofuturism achieved total liftoff."
And while Wilson and Ra would only work on two more projects together (neither of which were led by Ra), it's clear that the producer not only held the musician's artistry in the highest regard, but also understood his vision completely. In his original liner notes, Wilson's enthusiasm is palpable, as he praises Futuristic Sounds as "a long overdue voyage into new dimensions of jazz where rhythms have become super-rhythms, where trite arrangements and instrumentation have given way to exotic sound pictures combining distant rumblings from the primeval past of all music with strange strains from the future."
Turning his attention to the bandleader, he writes, "Sun Ra is a man of many paradoxes. He is at one and the same time an avowed modern jazz purist and an unabashedly commercial showman who knows how to sell himself to any kind of a musical audience…. Though he is well aware of the commercial impact of the "space" costumes of his group, he is yet sincerely dedicated to the belief that the dawning of the Space Age offers mankind one last chance to achieve harmony, unity, and peace."
Following the release of Futuristic Sounds, which marked Ra's sole album under Savoy, the artist and the Arkestra enjoyed a fruitful period in New York and Philadelphia. In 1969, Ra graced the cover of Rolling Stone, while in the early '70s, he became an artist-in-residence at the University of California, Berkeley.
Later in the decade, back in New York, his shows would attract a new generation of fans, including the Velvet Underground's John Cale and Nico, John Lurie of the Lounge Lizards, and Blondie's Debbie Harry. As he grew older, Ra's influence only continued to grow, with bands like Sonic Youth inviting the artist to open for them. During his lifetime, Ra also built one of the most extensive discographies in history, which includes more than 100 albums (live and studio) and over 1,000 songs. Nearly 30 years after his death, the legacy of Sun Ra lives on through the ever-evolving Arkestra, which continues to record and perform today.
Pre-order The Futuristic Sounds Of Sun Ra.
The Futuristic Sounds of Sun Ra tracklist (CD/Digital):
"Bassism"
"Of Sounds And Something Else"
"What's That?"
"Where Is Tomorrow?"
"The Beginning"
"China Gates (Victor Young)"
"New Day"
"Tapestry From An Asteroid"
"Jet Flight"
"Looking Outward"
"Space Jazz Reverie"