Harry Belafonte, Eminent Musician, Actor, Activist, Dies At 96
Belafonte's impeccable reputation as a recording artist and actor was matched by his achievements as a humanitarian.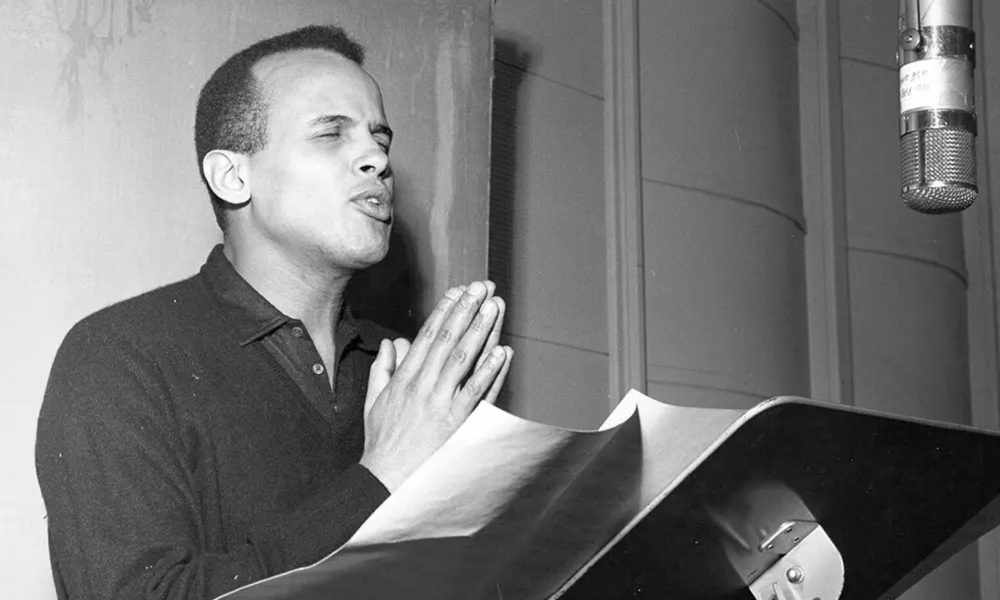 World-renowned musician, actor, and activist Harry Belafonte died today (25) at the age of 96 at his home on the Upper West Side of Manhattan. His longtime spokesman Ken Sunshine said that the cause was congestive heart failure.
The New York Times wrote of Belafonte: "In the 1950s, when segregation was still widespread, his ascent to the upper echelon of show business was historic. But his primary focus was civil rights." Variety added that he "spawned a calypso craze in the US with his music and blazed new trails for African-American performers."
Belafonte's impeccable reputation as a recording artist and actor was matched by his achievements as a humanitarian, one of the outspoken outriders of America's Civil Rights movement, and a man regarded by Martin Luther King as a confidant. Belafonte won three Grammy Awards, including a Lifetime Achievement Award in 2000, fully 40 years after his first Grammy recognition. He also won Emmy and Tony Awards, the Kennedy Center Honors in 1989, and the National Medal of Arts in 1994.
Record, movie stardom
As a singer, Belafonte released 30 albums, several of which were gold-certified in the US, and two of them No.1s during his memorable year of 1956: Belafonte, for six weeks, and Calypso for a non-consecutive 11. His trademark, and biggest, hit single "Day-O (The Banana Boat Song)," was a track from the latter LP, and an adaptation of a traditional Jamaican folk song. His film career was also at its peak in the 1950s, when he starred in such movies as Carmen Jones (1954), Island in the Sun (1957), and 1959's The World, the Flesh and the Devil, and Odds Against Tomorrow.
"Nobody's ever known what to call me," Belafonte told msn.com candidly in 2011. "Was I a folk singer, jazz, pop? Or was I even a singer at all? While everyone was still trying to figure that out, what emerged was the use of different languages, reflecting different cultures. The universe is my playground, and in an evening, I gave you the chance to see the world."
Harold George Bellanfanti Jr. was born on March 1, 1927, in Harlem, New York to Jamaican-born parents; he returned to the island to spend part of his upbringing with one of his grandparents. Returning to New York, Belafonte cultivated his love of acting in the 1940s, attending classes that he paid for by singing in clubs. He attended the Dramatic Workshop of the New School of Social Research, where fellow students included Marlon Brando, Tony Curtis, and Walter Matthau.
His recording career began on the Roost label in 1949, when he was launched as a pop singer. Subsequently signing to RCA Victor, he made his first, fleeting, chart appearance in 1952 with the song "Scarlet Ribbons (For Her Hair)." Billboard keenly reported his progress that year: in February, it said of a New York show that he "has found himself. He should go a lot further with his ballads of the hills, plains, and rivers than competing with the Eckstines."
By November, the magazine was enthusing of his appearance in a concert package on Long Island: "From a poor start as a bop singer some years ago, the tall, slim Belafonte is rapidly becoming the top folk singer in the business."
From banana boats to Broadway
That transition was reflected on his first RCA LP, 'Mark Twain' and Other Favorites, in 1954. Top 20 US hits followed with "Jamaica Farewell" and "Mary's Boy Child" before his biggest success with "Day-O (The Banana Boat Song)." Although he never returned to the Top 10, he charted repeatedly in 1957; one entry came with "Hold 'Em Joe," first released three years earlier. It combined his twin talents by being featured in the Broadway show John Murray Anderson's Almanac. The same year brought another of his best-loved songs, "Mama Look At Bubu."
After signing a seven-film contract with MGM, Belafonte's first movie role was in Bright Road in 1953. He remained prominent in Hollywood through the decade, but grew tired of the roles that were offered him. He continued to record prolifically for RCA through the 1960s and the first half of the 70s. Success included 1961's Jump Up Calypso, the following year's The Midnight Special (featuring a young Bob Dylan's first appearance on disc, on the title track) and 1964's Belafonte at the Greek Theater.
He combined his recording and performing commitments during the 1950s and 60s with his passionate work for the Civil Rights cause. Himself blacklisted during the McCarthy era, Belafonte even bailed Dr. King out of jail in Birmingham, Alabama in 1963 and was prominent in that year's March on Washington. Later, he would be a highly active spokesperson in the fight against HIV/AIDS.
"I was an activist who became an artist, not an artist who became an activist," he told msn.com. "From my mother's sphere of influence, and all I was experiencing in life, I knew I had to go somewhere to speak out on issues of oppression and racism. When I discovered the theater, I saw it as an incredible platform to put ideas together and impact people who would listen."
'We Are The World' visionary
In 1985, it was Belafonte's vision of a benefit song to raise funds for African famine relief that led to the multi-million-selling and Grammy-winning "We Are The World." He himself appeared in the chorus of the single, credited to USA For Africa.
His last album release was Paradise in Gazankulu, on EMI in 1988, which was recorded in Johannesburg and underlined that Belafonte retained his appetite for social change. It was produced by former Animals member Hilton Valentine and featured such African guests as Brenda Fassie and Youssou N'Dour. In 1996, he returned to the big screen, co-starring with Jennifer Jason Leigh and Miranda Richardson in Robert Altman's Kansas City.
The live album An Evening With Harry Belafonte and Friends was released by Island in 1997. At the time of its appearance, by now aged 70, he told the San Francisco Chronicle: "I'm not mainstream, and while I play to healthy audiences in concert, the powers that be resist music that can't be categorized."
'The piston of hope'
In the 2011 interview with msn.com, Belafonte reflected: "The most important driver in the engine of life is the piston of hope. Especially when your opportunities are limited, you have to have belief and hope. I constantly measure the time in which I exist against the time from which I came – I can't think of any moment in history darker than the time of slavery, and we survived that, didn't we?
"I look to the words of those who could find hope in that darkness, whether it be [19th century social reformer] Frederick Douglass or the different conflicts recorded in history, and from that I find a sense of where I have to go."