Salsa Icon Héctor Lavoe's Solo Debut Album 'La Voz' Returns To Vinyl
Originally released in 1975, the accaimed, Gold-certified album, features Lavoe's signature hit "Mi Gente."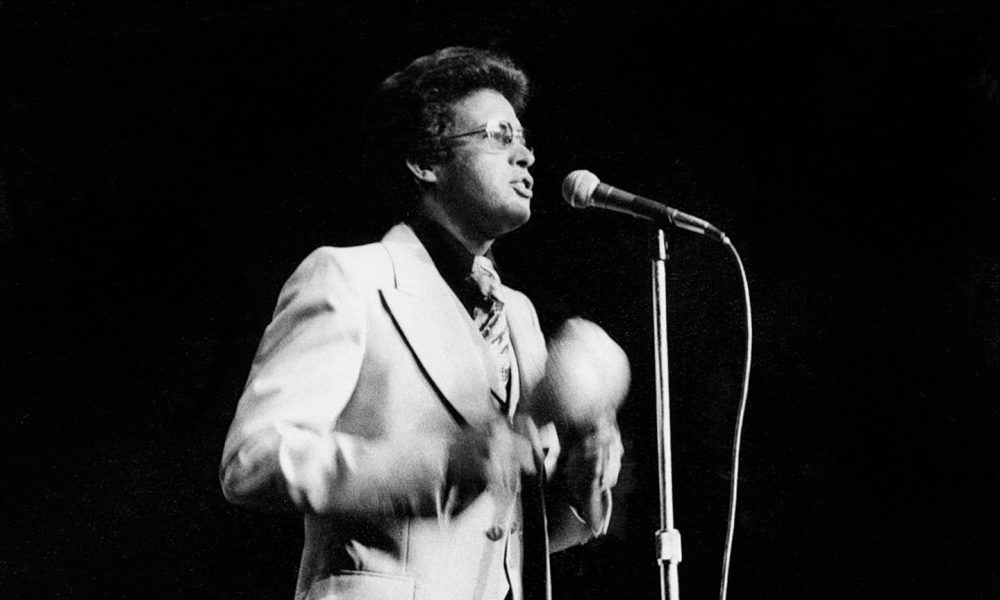 Craft Latino celebrates the enduring legacy of singer and salsa icon Héctor Lavoe with a special reissue of his 1975 solo debut, La Voz. The Gold-certified album, which features Lavoe's signature hit "Mi Gente" (plus such highlights as "El Todopoderoso," "Rompe Saraguey" and "Paraiso de Dulzura") is the release that launched a vibrant new chapter in the storied career of "El Cantante."
Due out on June 23, La Voz features AAA remastering, with lacquers cut from the original master tapes by Kevin Gray at Cohearent Audio and is pressed on 180-gram vinyl. An Apple Red colored disc will be available exclusively at Fania.com. The album will also be released in hi-res digital for the first time, including 192/24 format on June 23, 2023.
Perhaps the greatest interpreter of salsa music, singer Héctor Lavoe (1946–1993) was instrumental in popularizing the genre during the '60s, '70s and '80s. Known for his impeccably bright vocals, seamless phrasing and ad-libbed anecdotes, Lavoe earned the nickname "El Cantante" after his 1978 hit of the same name, penned for him by the great Rubén Blades.
Born Héctor Juan Pérez Martínez in Ponce, Puerto Rico, the singer relocated to New York City at 17, where he picked up his stage name and began performing in bands led by Roberto García, Kako and Fania Records owner Johnny Pacheco. It was through Pacheco that Lavoe met 16-year-old Willie Colón, with whom he would form one of Latin music's most celebrated partnerships. Beginning in 1967, Lavoe appeared as a vocalist on 10 legendary studio albums with the Willie Colón Orchestra, including the boogaloo classic El Malo (1967), plus best-sellers like Cosa Nuestra (1970), Asalto Navideño (1971) and Lo Mato (1973).
By the mid-'70s, however, Colón had shifted his focus to production, giving Lavoe an opportunity to break out on his own. Salsa was reaching its peak popularity in the US, making it the perfect moment for the singer to carve out a spot as one of the genre's biggest stars. Reuniting with members of Colón's orchestra, Lavoe assembled a band of his own and enlisted his longtime collaborator to serve as producer and arranger on his debut. As a testament to the singer's talents, the album was simply titled La Voz.
Among the standout tracks on La Voz is the Lavoe-penned "Paraíso de Dulzura," as well as his collaboration with Colón, "El Todopoderoso," which became an international hit. Lavoe also offered a modern take on Félix Chappottín's "Rompe Saragüey," featuring a dazzling piano solo by Mark "Markolino" Dimond. Perhaps the most famous track on the album, however, is its closer, "Mi Gente." Written by Pacheco, the joyful Latino pride anthem would become one of Lavoe's signature hits. Younger generations of listeners might also recognize the song for its use in the 2006 video game Grand Theft Auto: Vice City.
Upon its release, La Voz was welcomed warmly by fans and critics alike—achieving a Gold Record certification from the RIAA and earning Lavoe awards for "Best Male Vocalist" and "Best Conjunto" from Latin New York magazine. Among more recent reflections on the album, All Music praised, "Lavoe sets himself far apart from all contemporaries by virtue of his angelic timbre… The experience created by La Voz is a warmth and refinement only achievable by the combination of two factors. The Fania label in its prime, and perhaps New York salsa's most distinctive voice to date."
In the years following La Voz, Lavoe would release nine more albums, including 1983's Vigilante with Colón and the Grammy-nominated Strikes Back in 1987. Lavoe was also a regular guest with the celebrated Fania All Stars, appearing on more than a dozen live and studio albums with the collective. Sadly, Lavoe's career was cut short, amid a series of personal tragedies and struggles with his mental and physical health. Lavoe died in 1993 at the age of 46.
In the years following his untimely passing, the influential artist and his extensive contributions to Latin music were honored in New York and Puerto Rico through street dedications, statues and murals. Lavoe's life also inspired an off-Broadway play, a tribute album and two feature films, including the Marc Anthony/Jennifer Lopez-led El Cantante (2006). In 2000, Lavoe was inducted into the International Latin Music Hall of Fame.