Watch The Sound Of Vinyl's Henry Rollins In Conversation With Steve Vai
A three-time Grammy Award winner and still arguably rock's go-to session guy, Vai has worked with artists as diverse as Mary J. Blige and Ozzy Osbourne.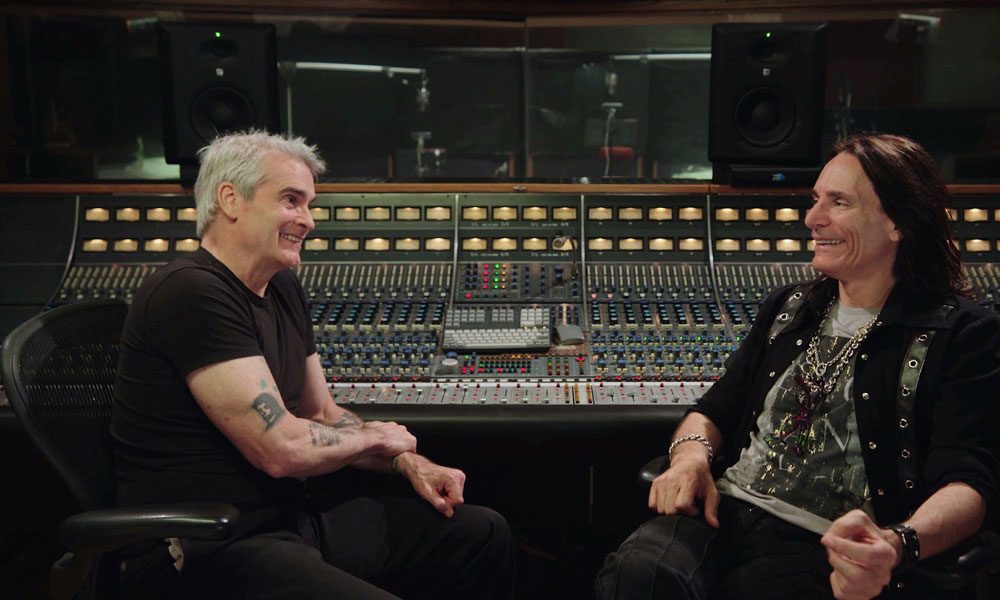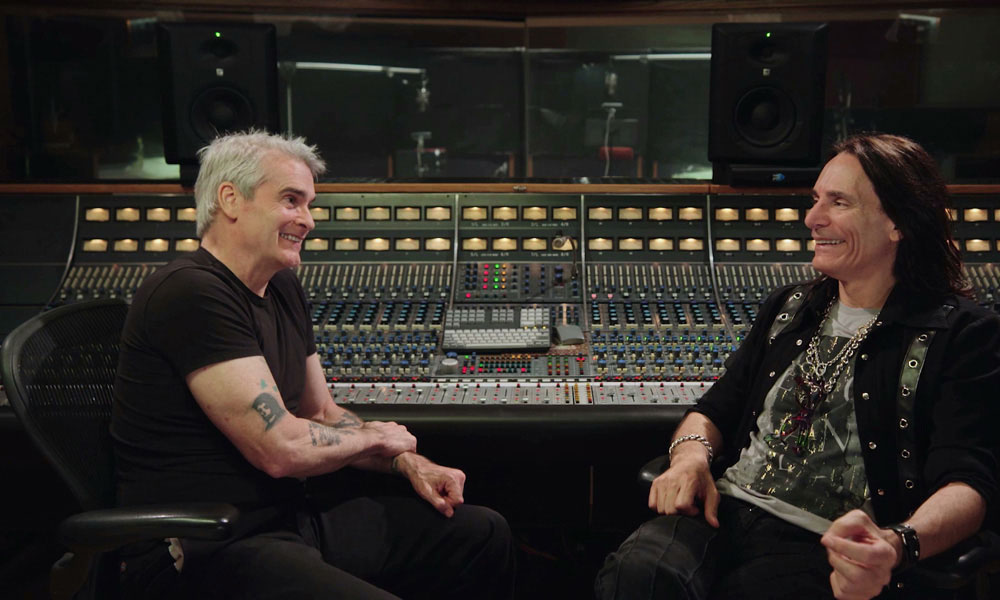 If you were to single out one person for whom the tag "rock's go-to guy" was invented, then the super-talented Steve Vai must surely be in the running.
A three-time Grammy Award winner and fifteen-time nominee, the New York-born guitarist started his music career in 1978 at the age of eighteen as a transcriptionist for Frank Zappa and played in Zappa's band from 1980 to 1983. He embarked on a solo career in 1983 and aside from his eight solo albums to date, he's recorded and toured with Alcatrazz, David Lee Roth, and Whitesnake, as well as recording with artists such as Public Image Ltd, Mary J. Blige, Spinal Tap, and Ozzy Osbourne.
Vai has been described as a "highly individualistic player" and part of a generation of "heavy rock and metal virtuosi who came to the fore in the 1980s". He released his first solo album Flex-Able in 1984, while his most successful release, Passion and Warfare was described as "the richest and best hard rock guitar-virtuoso album of the '80s". As you'll hear when you check out the interview in full below, Vai has plenty to discuss with The Sound Of Vinyl's Henry Rollins, but as a little taster, you can scroll down and check out a few choice quotes in advance.
Henry Rollins Chats With Guitarist Steve Vai | In Partnership With The Sound Of Vinyl
How working with Frank Zappa was the catalyst to designing his own guitars:
Steve Vai: "It was phenomenal, because Frank was an explosion of freedom. He would think of something and he would just do it, no excuses, no expecting somebody to do it for you. And he just did it. If there was an obstacle, he went around it or he absorbed the obstacle. So, I saw him just taking guitars and just sacrilegious things that people don't do to guitars, pre-amps in them, electronics, carve-outs for certain things. And I thought 'Wow, I can make my own guitar.'"
"So I designed the guitar and it was perfectly suited to my weird idiosyncrasies. It had 24 frets, which was rare at the time, a nice big cutaway, because I could never understand why they made these guitars with the frets up high, but you can't get to them."
The art of going to a record store:
Steve Vai: "If I'm on tour and I'm in a little town and it's got a charming little town center, sometimes there's a vinyl store and that's when I do my vinyl shopping. But you've got to be careful because if I'm going to buy vinyl, I want it to be real vinyl, analog. It doesn't make any sense to me, there's no romance in taking a record and putting it on a turntable, and I have many, and it's carved off a digital transfer. It just completely misses the point – for me, at least."
The politic behind starting the record label, Favored Nations:
Steve Vai: "It's all independent distribution. It's not licensed. It wasn't licensed deals that I had with distributors around the world. I worked very hard and had distribution deals, and still do, with all the territories around the world. Really good distribution. So I would be getting on a wholesale CD, you get 10 bucks or something, according to what the retail is.
"So, with this formula, I knew that the artists who could sell 20,000 or 30,000 records, it's a great pay day for them, or at least they continue, because the deal structure that I made was the deal I thought would be fair for an artists, which is a 50/50 split of everything. That's the Favored Nations deal."
Shop exclusive vinyl records in all genres on The Sound Of Vinyl.