'Fantasia': Walt Disney's Pioneering Classic
The film elevated animation to an art form and was a true labor of love for its architect.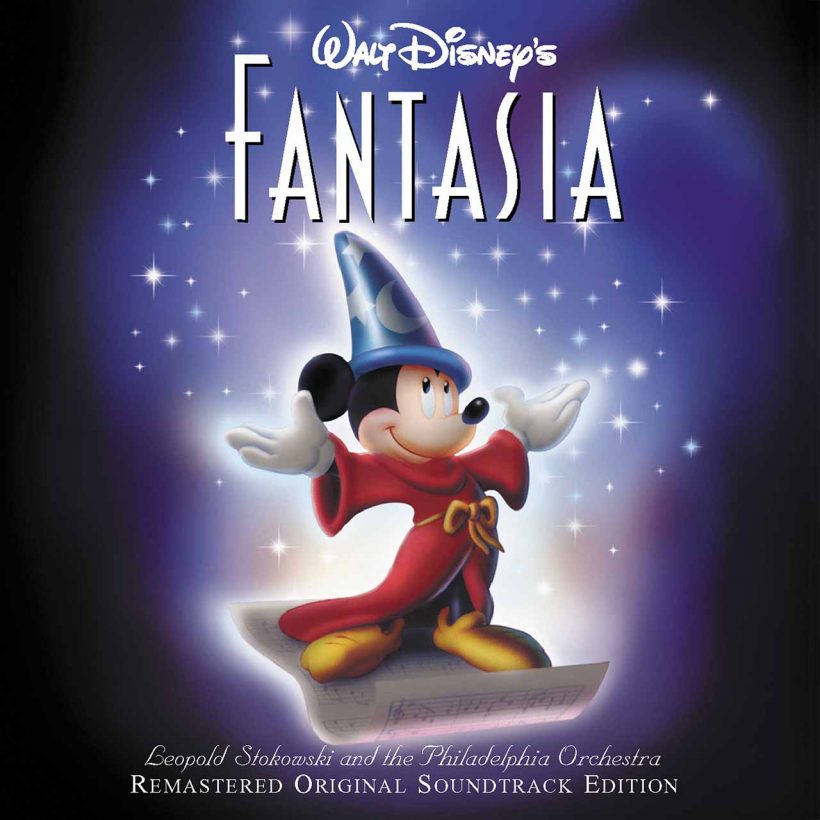 Walt Disney's third animated feature, 1940's Fantasia, was a watershed moment in American cinema. The studio's first two animated movies – Snow White and the Seven Dwarfs and Pinocchio – had been groundbreaking, and financially risky, works that had wowed audiences and been enormous commercial successes. Unwilling to rest on his laurels, Walt Disney envisioned Fantasia as a new type of movie – a series of kaleidoscopic and vivid animated sequences set to landmark classical music pieces, bringing high art to the masses. After Fantasia, animation was never the same again.
Yet it all began thanks to Walt's attachment to a certain cartoon mouse. Around 1936, Walt became convinced that Mickey Mouse – the character whom he had co-created with Ub Iwerks in 1928 – was in need of a popularity-boosting vehicle. Walt hit upon casting Mickey as the everyman hero in an adaptation of Paul Dukas' 1897 symphonic poem, "The Sorcerer's Apprentice" (itself based on Wolfgang van Goethe's 1797 poem).
Listen to the Fantasia soundtrack on Spotify or Apple Music now.
After acquiring the rights to use the music, the charismatic British conductor Leopold Stokowski – then a huge name in American classical music – pushed the project to another level. "Well, that's what started it. I was doing The Sorcerer's Apprentice with Mickey Mouse, and I happened to have dinner one night with Stokowski," Walt later reminisced. "And Stokowski said, 'Oh I would love to conduct that for you.' Well, that led to not only doing this one little short subject, but it got us involved where I did all of Fantasia. And before I knew it, I ended up spending 400-and-some-odd thousand dollars getting music with Stokowski. [laughs] But we were in there. That was the point of no return and we went ahead and made it."
The projected cost of making The Sorcerer's Apprentice as a short, coupled with Walt and Stokowski's excitement in the project meant that it quickly expanded to an eight-part feature set to classical pieces performed by the Philadelphia Orchestra, for whom Stokowski was music director.
Walt's career to this point had been a series of spectacular gambles. He'd risked everything by making Snow White and was rewarded with a massive critical and commercial success. But rather than resting upon his laurels and enjoying his new-found financial security, Walt doubled down. He financed the construction of a new state-of-the-art studio in Burbank, California, and assembled a dream team of the finest talent in animation. This investment provided the impetus for a period of untethered creativity and stimulation, paving the way for Fantasia.
The quality of the sound recording was crucial. The first session, for The Sorcerer's Apprentice, emphasized the studio's ambition – a sound stage at Culver Studios had to be adapted to accommodate the handpicked orchestra of 100 Los Angeles-based session musicians and the coffee-fuelled sessions continued through to the wee small hours. Fox Carney of Disney's Animation Research Library later said "Fantasia was not only an experience of sight but of sound as well. [The film's tech team developed] a new technique of sound recording and playback, called 'Fantasound', [which] was an early precursor to today's multi-track stereophonic sound systems and would expand upon the immersive abilities of theatrical presentations."
The music of Fantasia
After an introduction from Deems Taylor, the famed critic and broadcaster who'd worked with Disney and Stokowski on selecting the pieces to set to animation, Fantasia began with the drama of Johann Sebastian Bach's "Toccata And Fugue In D Minor." The orchestra are lit from different perspectives in a kaleidoscope of colors, creating mesmerizing shadows before animated bolts of light abstractly act out the music in a dreamlike manner, influenced by avant-garde European animation. Next, Tchaikovsky's "The Nutcracker Suite" scores a magical telling of the changing of the seasons, with illuminated fairies, dancing toadstools, floating lilypads, spinning flowers and synchronized fish creating a sumptuous ballet of nature.
Toccata And Fugue In D Minor, BWV 565
Fantasia's centerpiece, "The Sorcerer's Apprentice" was the sequence that most faithfully matched the intentions of its composer, with Mickey Mouse playing the apprentice of the magician Yen Sid. When he's given tiresome chores to do, the cheeky mouse wears Sid's magical hat, casts a spell over a broom, and lets the magical object do the hard work for him. However, he soon loses control of the magic and has to be bailed out by his elder.
Using Stravinsky's "Rite Of Spring" shows how ambitious Disney was. The ballet had proved so controversial it was causing riots just decades previously. Now, it was being used in a Hollywood animation to soundtrack the evolution of life on Earth. Its powerful realism is a contrast with the world of unicorns, centaurs, and decadent feasts soundtracked by Beethoven's "The Pastoral Symphony."
The comic ballet sequence for "Dance Of The Hours" by Anilcare Ponchielli was another first for Disney, as he later said, "While ballet has inspired many beautiful works of art, it had scarcely been touched upon in the field of animation. In fact, our animators knew very little about it. And because a thorough knowledge of a subject is essential in order to caricature it; a new course was added to our studio school curriculum – classical ballet." At Disney's insistence, the animators gained an appreciation for ballet which allowed them to give the cast of ostriches and hippos a convincing – and in the case of the latter, unlikely – elegance.
The pairing of "Night On Bald Mountain" by Modest Mussorgsky and "Ave Maria" by Franz Schubert provided Fantasia with a spectacular finale. The sense of terror conjured up by the pairing of the tense first piece and Disney's depiction of a demon summoning the undead was something entirely new to animation. And, in ending with a sunrise set to the beatific "Ave Maria," Fantasia leaves us with a message of hope.
The release and reception of Fantasia
Fantasia was clearly a groundbreaking masterpiece, but it took some time to win the hearts of the public. Walt initially envisioned it as a hybrid of a film presentation and concert and decided the entire two hours and five minutes (plus intermission) of Fantasia should go on the road. Thirteen roadshows were held across the United States, each involving two daily viewings. The first roadshow opened at the Broadway Theatre, New York City, in November 1940 and proved a great success, as did initial viewings nationwide. But costs were high and the onset of the Second World War stalled plans to release it in Europe.
Versions of Fantasia were put out over the years and, slowly, it became seen as a genuine classic, appreciated for the groundbreaking work that it was. The film finally went into profit on its return to cinemas in December 1969, when it was adopted by hippies who dug the psychedelic vibes of the movie. When it was finally released on VHS in 1992, it became the highest-selling cassette of all time in the United States, selling 14.2 million copies. Since its release, Fantasia has not only become a beloved movie, but has inspired countless children to fall in love with classical music.
Listen to the Fantasia soundtrack on Spotify or Apple Music now.