Joel Ross Releases New Album, 'The Parable Of The Poet'
Ross also discussed 'The Parable of the Poet' with Blue Note President Don Was on the latest episode of 'First Look.'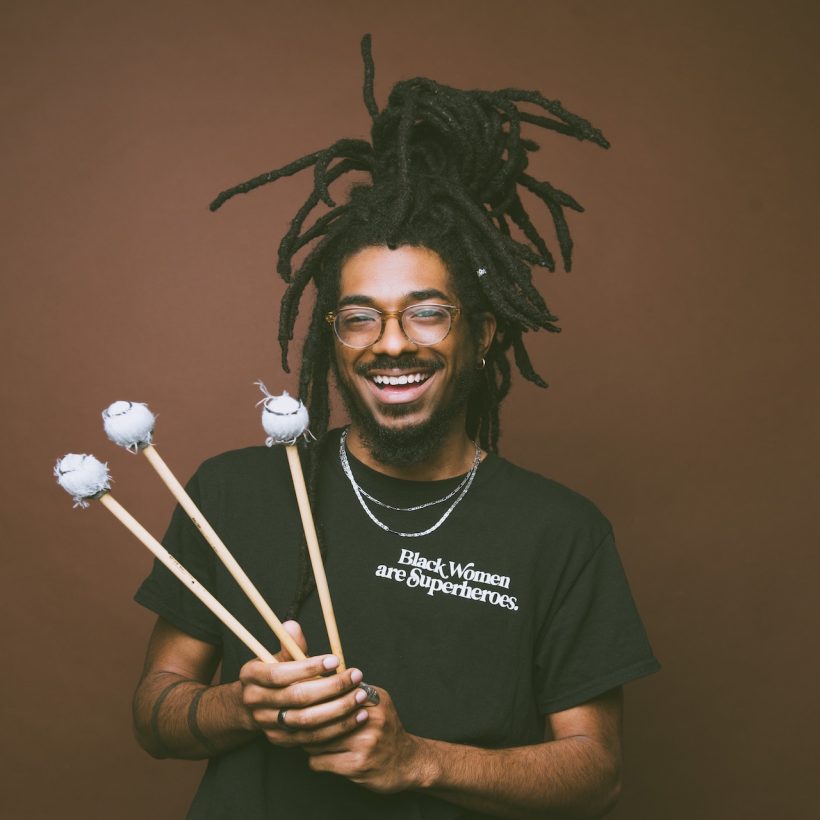 Vibraphonist and composer Joel Ross returns with stunning conviction on The Parable of the Poet, an expansive album-length suite composed by Ross.
The album embodies his collaborative spirit and finds him exploring new territory with his eight-piece Parables band featuring Immanuel Wilkins on alto saxophone, Maria Grand on tenor saxophone, Marquis Hill on trumpet, Kalia Vandever on trombone, Sean Mason on piano, Rick Rosato on bass, Craig Weinrib on drums, and special guest Gabrielle Garo on flute.
Joel Ross on "First Look" with Don Was of Blue Note Records
The Parable of the Poet is out now on exclusive D2C color vinyl, CD, and digital formats, with black vinyl to follow on May 20.
Ross' vision for the music is at once explicit and mysterious. Each title of the sven-movement suite references an emotional decision or experience for Ross, and he seeks to express themes present in parable tellings and retellings, while leaving each story's particulars open to interpretation. Ross rarely includes narrative explanations of anything he plays. He leaves his own motivations unvoiced, allowing both listeners and bandmates their unique, experiential readings of the music. "I'm just so interested in what the listener receives, what they take from it," he says, "the same as you would from any parable."
Ross recently discussed The Parable of the Poet with Blue Note President Don Was on the latest episode of "First Look," which you can watch above. In support of the new album, Ross is hitting the road for a large run of shows, set to begin tonight in Wilmington, Delaware.
Buy or stream The Parable of the Poet.
Joel Ross Tour Dates:
April 15: Christina Cultural Arts Center – Wilmington, DE
April 23: Cullen Theater at Wortham Theater Center – Houston, TX
April 24: Duet – Tulsa, OK
May 8: Creative Alliance – Baltimore, MD
May 10: Robin Hixon Theater – Norfolk, VA
May 13-14: The Jazz Gallery – New York, NY
June 25: The Cube – Detroit, MI
June 28: Victoria Jazz Festival – Victoria, BC
June 29: Vancouver Jazz Festival – Vancouver, BC
June 30: Earshot Jazz Festival – Seattle, WA
July 6-24: European Tour TBA
August 11: The Lodge Room – Los Angeles, CA
August 12: San Jose Jazz Festival – San Jose, CA
August 13-14: Telluride Jazz Festival – Telluride, CO
August 17: Myrna Loy Center – Helena, MT
September 20: Musical Instrument Museum – Phoenix, AZ
September 22: Outpost Performance Space – Albuquerque, NM
September 23: SFJAZZ – San Francisco, CA
September 24: Monterey Jazz Festival – Monterey, CA
September 26: For the Love of Jazz – Reno, NV
October 14: University of Chicago – Chicago, IL
October 16: Wisconsin Union Theater – Madison, WI