John Mellencamp Recruits Bruce Springsteen For Acoustic Anthem 'Wasted Days'
'How many summers still remain/ How many days are lost in vain,' asks Mellencamp.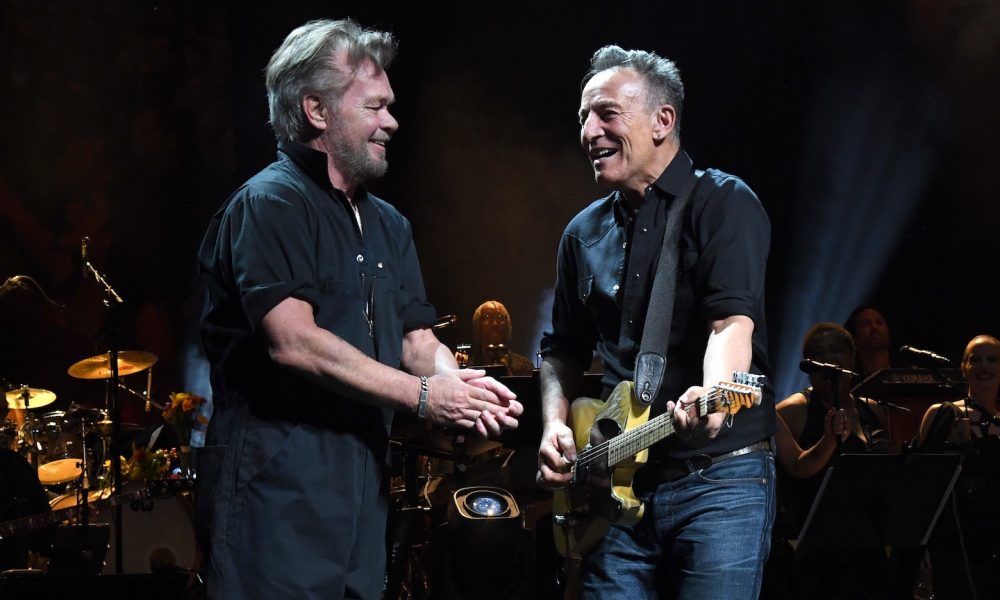 John Mellencamp has recruited Bruce Springsteen for his latest single, "Wasted Days." The upbeat number, written and produced by Mellencamp, features Springsteen on vocals and guitar.
Mellencamp taps into his contemplative side on the track, asking existential questions such as, "How many summers still remain/ How many days are lost in vain/ Who's counting out these last dramatic years/ How many minutes do we have here?"
The singers trade off verses, coming together on several lines. While Springsteen and Mellencamp have previously collaborated onstage, Mellencamp confirmed the pair was teaming up in the studio at Clive Davis' virtual 2021 Grammy gala earlier this year. "Bruce is singing on the new record and is playing guitar," Mellencamp told Billboard at the time. "I finished the record a week ago today."
Springsteen also teased the partnership in a recent interview with Sirius XM's E Street Radio. The musician said he had recently spent time in Indiana with Mellencamp.
"I worked on three songs on John's album and I spent some time in Indiana with him," Springsteen revealed. "I love John a lot. He's a great songwriter and I have become very close [with him] and had a lot of fun with him. I sang a little bit on his record."
Earlier this month, Mellencamp announced the he was teaming with Turner Classic Movies to take on the celebrated role of guest programmer, curating two special nights of films.
He selected Tortilla Flat, Cool Hand Luke and The Misfits, which aired on September 17 followed by The Fugitive Kind, On the Waterfront and East of Eden, which occurred on September 24.
Mellencamp is also working with Turner Classic Movies on various projects including the sponsorship of his forthcoming tour, a landmark collaboration and first for the artist who has never had a tour sponsorship in all his years of performing live.
He recently participated in the "From Hollywood to the Heartland" interstitial, focusing on how small towns are portrayed in movies as part of TCM's July on-air promotion.
This summer, Mellencamp's documentary The Good Samaritan Tour 2000 was released by Federal Films, along with a companion live album of the same name on Republic Records. Narrated by Matthew McConaughey, with special contributions by Nora Guthrie, the documentary follows Mellencamp on his iconic 2000 tour in which he played free shows across the country. The film is available now on Turner Classic Movies (TCM) YouTube channel.