The Killers Tease New Single 'Caution', Out Thursday
The band shared the first taste of their forthcoming album on Twitter.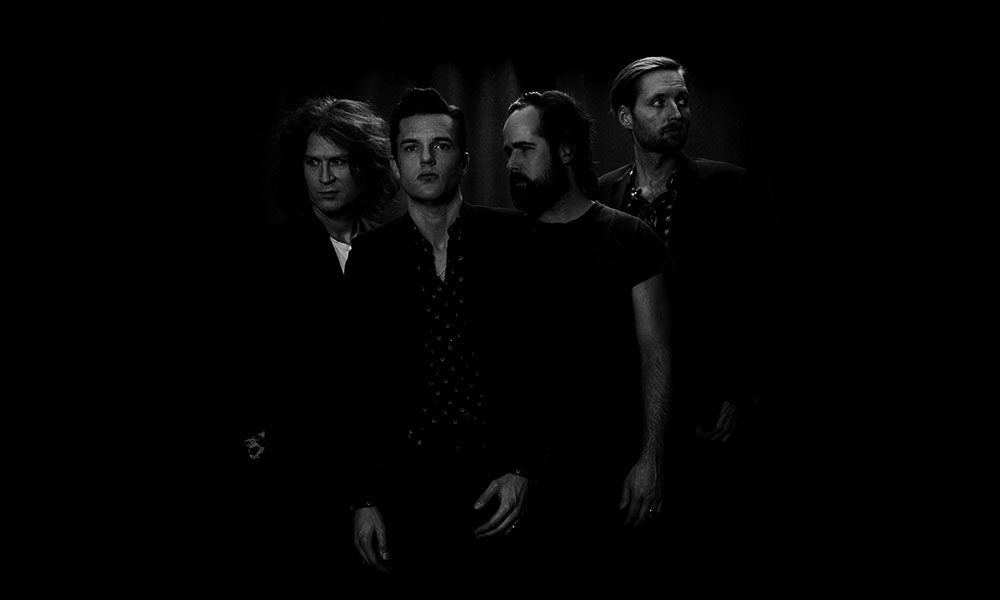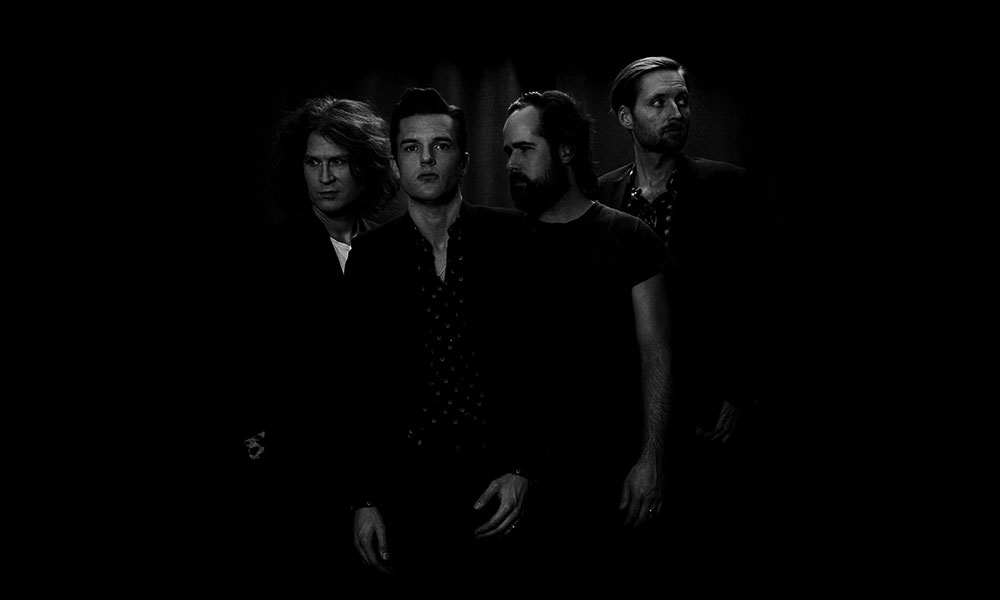 The Killers tweeted a 30-second video clip of the band in the studio, teasing their new single, 'Caution', which drops Thursday.
The clip – which features frontman Brandon Flowers singing "I'm throwing caution" over soaring synths and reverb-heavy drums – offers fans the first taste of the Las Vegas band's forthcoming album, Imploding The Mirage.
#Caution pic.twitter.com/4AQFXgFUMN

— The Killers (@thekillers) March 10, 2020
Imploding The Mirage, which will mark the group's first new album in three years, is set for release this spring. In an interview with Q magazine, Flowers said that the sound for their sixth studio album "Somehow captures Manchester and Bruce Springsteen", adding, "I think that's when we're at our best, when we're able to take these different elements and make them work".
In a 2019 interview with the NME, Flowers also delved into the recording process, which was taking place in Utah. "That's where I fell in love with music for the first time; so it's interesting to be there again and hear some of that music with the geography matching the sensation. Some of that stuff is starting to resurface and a lot of that had to do with synthesiser music. It's always been part of our DNA but it's definitely creeping up".
The rockers also teased potential tracks for Imploding The Mirage in an October Instagram post, presumably shot in the studio. 'Caution' was among the song titles.
View this post on Instagram
'Caution' will mark the second new track from The Killers since their 2017 album Wonderful Wonderful. In 2019, the group released a one-off single, 'Land Of The Free', in response to a variety of recent tragic events in America – notably the numerous mass shootings, as well as to the injustices that were happening to immigrants under the Trump administration.
In an Instagram statement, Flowers wrote, "After some self-education and soul searching…I couldn't help but sit down and commit how I was feeling into a song", adding, "We dishonour our values, our ancestors and our heritage…I love my country. I know that these are complicated issues but…you've gotta believe that we can do better". The group enlisted the acclaimed director Spike Lee to helm a powerful music video for the song.
In his 2019 interview with the NME, Flowers added that 'Land Of The Free' was not indicative of the new album's material. "That was a very specific thing that I wanted to get across. I'm really happy with how it turned out. It was a really obvious statement that I was making. It's very rare that you have something that you feel that strongly about and get across in a few minutes. You're allowed to be more vague when it comes to a regular pop song or whatever it is that you're trying to tackle. I definitely wasn't trying to leave much to the imagination with that song".
Meanwhile, fans in the UK and Europe can look forward to catching The Killers' new material this summer, as they kick off an extensive tour at the end of May.
Listen to the best of The Killers on Apple Music and Spotify.
The Killers' European Tour Dates
26 May – Keepmoat Stadium – Doncaster, UK
28 May – The Falkirk Stadium – Falkirk, UK
30 May – Emirates Old Trafford – Manchester, UK
1 June – Carrow Road Stadium – Norwich, UK
3 June – St Mary's Stadium – Southampton, UK
5 June – Emirates Stadium – London, UK
6 June – Emirates Stadium – London, UK
9 June – Ashton Gate Stadium – Bristol, UK
11 June – Coventry Ricoh Stadium – Coventry, UK
13 June – Riverside Stadium – Middlesbrough, UK
16 June –Malahide Castle – Dublin, Ireland
17 June – Malahide Castle – Dublin, Ireland
19 June – Hurricane Festival – Scheessel, Germany
20 June – Southside Festival – Neuhausen, Germany
21 June – TW Classic – Werchter, Belgium
22 June – 24 June – Inmusic Festival – Zagreb, Croatia
27 June – Lollapalooza Stockholm – Stockholm, Sweden
6 July – Ziggo Dome – Amsterdam, Netherlands
7 July – La Seine Musicale – Boulogne-Billancourt, France
8 July – 11 July – Mad Cool Festival, Madrid, Spain
10 July – Bilbao BBK Live – Bilbao, Spain
12 July – Milano Summer Festival – Milan, Italy
14 July – Stadthalle – Vienna, Austria
16 July – Colours of Ostrava, Ostrava, Czech Republic
18 July – Park Live Festival – Moscow, Russia
Format:
UK English