LE SSERAFIM Head Up A Rebellion In Nile Rodgers Collaboration, 'Unforgiven'
The track leads the K-pop girl group's debut studio album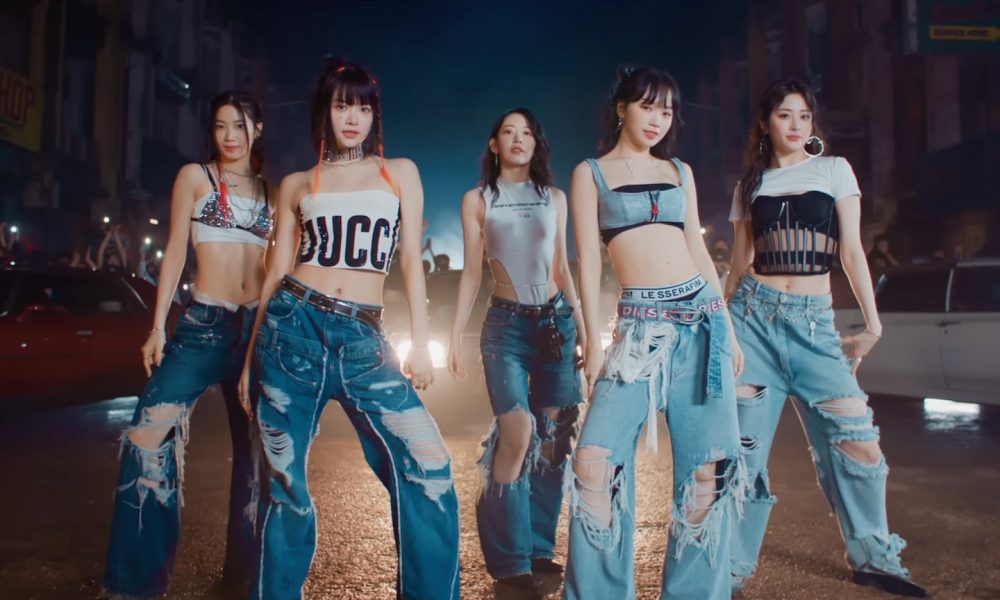 LE SSERAFIM has released its debut studio album, including the title track "Unforgiven," which features disco legend, Nile Rodgers.
The record marks the K-pop girl group's first Korean-language release since its 2022 EP ANTIFRAGILE and collates tracks from across the five-piece's journey so far, alongside a batch of new songs.
"Unforgiven" leads the fresh material on the record, positioning LE SSERAFIM as the figurehead of a new revolution. "Unforgiven, I'm a villain," the members warn, while Eunchae adds: "Lighting up the dark, like a rebellion/We gonna kick it, break it, rules gon' give up."
"Come to that faraway land with me, my unforgiven girls," the chorus declares in a call out to like-minded souls. "Come and cross the line with me, my unforgiven boys." Rodgers provides guitar accompaniment on the track, which fuses sounds of the Wild West with rock and pop.
LE SSERAFIM (르세라핌) 'UNFORGIVEN (feat. Nile Rodgers)' OFFICIAL M/V
Elsewhere, the album includes "No-Return (Into the unknown)," a track that answers adventure's call and pays tribute to those who have "become my guiding star," and the clubby "Eve, Psyche & The Bluebeard's Wife."
"FEARNOT (Between you, me and the lamppost)" is named for LE SSERAFIM's fandom and finds the women performing a heartfelt ballad in the vein of Taylor Swift, "Flash Forward" captures the fizzy feelings of new love, and "Fire in the belly" closes the album looking ahead to even brighter things with Latin sonics.
As for older tracks that appear on Unforgiven, the album opens with three "2023 versions" of songs from LE SSERAFIM's debut EP FEARLESS – "The World Is My Oyster," "FEARLESS," and "Blue Flame." It also includes three tracks from ANTIFRAGILE – that record's title track, "The Hydra," and "Impurities."
In January, the group released its first Japanese single, FEARLESS, which featured Japanese-language versions of "FEARLESS" and "Blue Flame," plus the original Japanese song "Choices."
Since debuting a year ago, LE SSERAFIM has made a huge impression in Korea and beyond. Its "FEARLESS" music video achieved 100 million views on YouTube in 100 days, making it the fastest record for all K-pop girl groups that debuted in 2022.
ANTIFRAGILE, meanwhile, debuted at No.14 on the Billboard 200, making LE SSERAFIM the quickest and best-selling K-Pop girl group to enter the chart. Japan is one of the top markets contributing to their global success as the past two mini albums topped Oricon's weekly album chart, leading to their appearance at Kohaku Uta Gassen, Japan's well-known year-end music festival.
Unforgiven tracklist:
1. The World Is My Oyster (2023 Ver.)
2. FEARLESS (2023 Ver.)
3. Blue Flame (2023 Ver.)
4. The Hydra
5. ANTIFRAGILE
6. Impurities
7. Burn The Bridge
8. UNFORGIVEN
9. No-Return (Into the unknown)
10. Eve, Psyche & The Bluebeard's Wife
11. FEARNOT (Between you, me and the lamppost)
12. Flash Forward
13. Fire in the belly