Little Steven On The Beatles, 'Sun City' And The Next Generation Of Rockers
The guitarist-actor-producer takes us on a deep dive into his solo work and what's in store for 2021.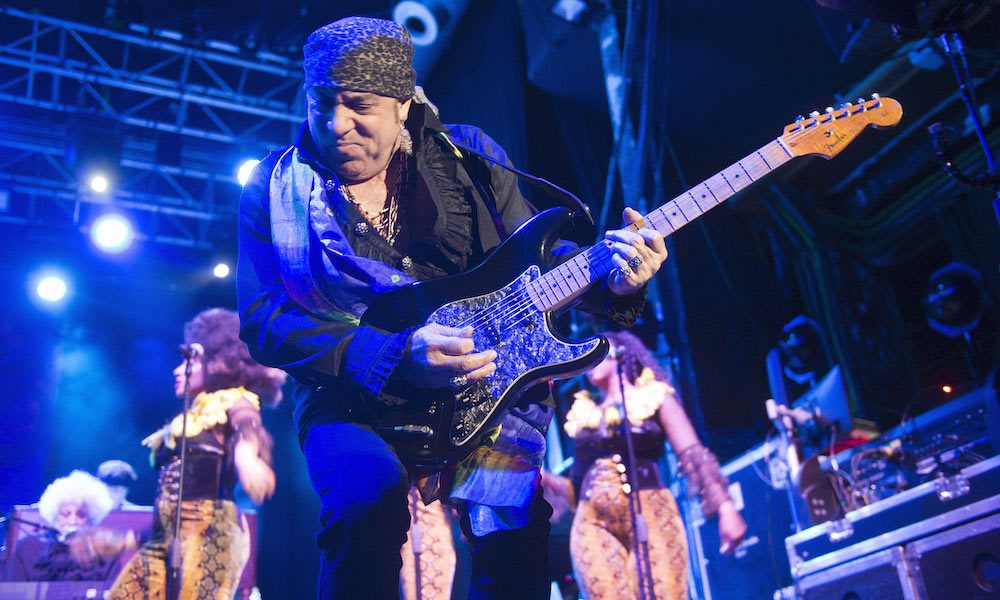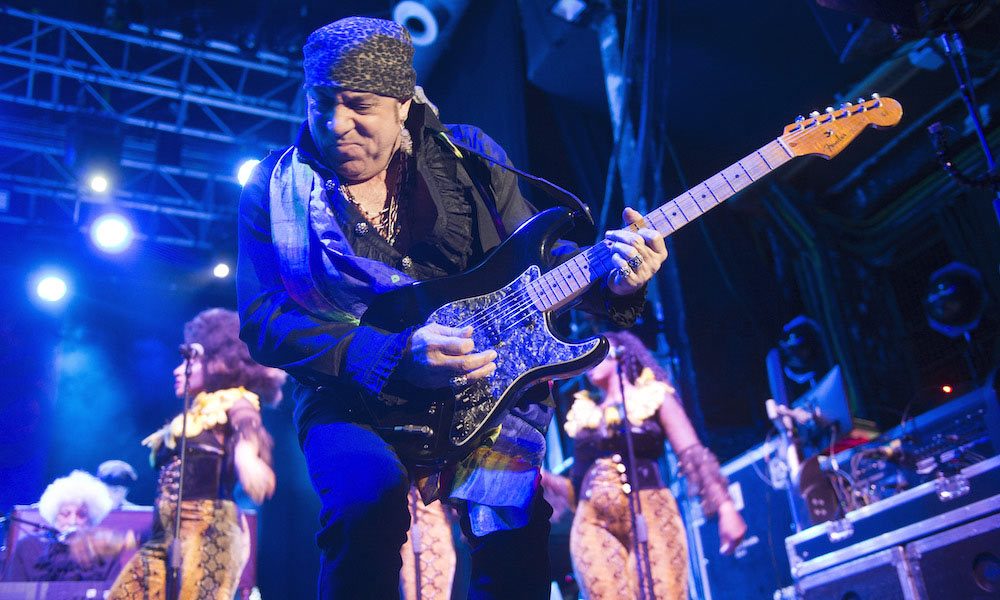 Steven Van Zandt has done so many things well – starring in Lilyhammer and The Sopranos, running the Wicked Cool label, writing and producing other artists, overseeing the Underground Garage Sirius channel, and of course, playing guitar in the E Street Band – that his own recording career often gets overlooked. But the prospect of an unusually quiet year under shutdown (including the postponement of a planned Springsteen tour) has given him the opportunity to set that right.
In recent months, Little Steven has revisited his solo catalog from first to last. Macca to Mecca is the latest in a series of archival releases, capturing two memorable stops on his 2017 SOULFIRE tour: One in London where Paul McCartney joined him for "I Saw Her Standing There" and another in Liverpool, where he and the Disciples of Soul crammed themselves into the Cavern Club and played a Fabs-style lunchtime show.
The new release joins Rock N Roll Rebel, an elaborate boxed set of his early albums with loads of rare outtakes; and a collection of eclectic soundtrack music for Lilyhammer.
Coming up next is the concert film of his 2019 tour behind Summer of Sorcery, which marked his first album of all-new songs in 20 years.
We caught up with the prolific rocker at his home in New York's Greenwich Village as he prepares for a busy 2021.
This interview has been condensed for length.
Little Steven and the Disciples of Soul "Macca to Mecca!" Cavern Club Featurette
The earliest recording on Rock N Roll Rebel is a recording of you and Southside Johnny playing acoustic blues in a club, circa 1973. Is that typical of what you were doing back then?
In the late 60s, we were all living together in Asbury, and we just would spend all night studying those blues records, really going to school. So we kind of got obsessed with it there for a while. That was not the earliest thing we did, but sort of in the middle, when we were just jamming and forming bands every three months.
Then we flash forward a few years and that horn-driven sound is there, the sound of the Asbury Jukes and the Disciples of Soul. Was there any bolt of lightning moment where that fell into place?
Well yeah, there was. Johnny, Bruce, and I went to see Sam & Dave in some little club, not even sure where exactly. But that was a revelation, to see them up close in a little club, really at their peak or just after. That was a very big moment of coalescing a lot of the things we were into and giving us a little more focus.
Going back to the old Disciples of Soul albums, there's a real line between them. Men Without Women is more of a classic soul thing, then Voice of America opens things up and you were fully politicized soon after. How did that transition come about?
It really happened before that. I knew all five records were going to be political, but the first record, I decided, needed to be a bit of an introduction of myself. The very first song points toward the rest of the records. "Lyin' in the Bed of Fire" basically stated my overall theme, which was, "We had all of these wonderful ideals in the 60s. What happened? Where'd they go? What went wrong?" And that's pretty much the basis of all five albums and my 10 years of work. That's the essential question. "What happened to those ideals? Can we get them back?"
When you did "Sun City," there was a lot that could be said about apartheid. One reason that record worked is that you zeroed in on one particular place and problem.
Before I started any of the records, I was studying US foreign policy since World War II and learning about what was going on in the world. I wrote down, I think, 44 different conflicts around the world and really looked into them. In about half of them, we were actually fighting on the wrong side – which was a huge revelation to me, growing up with an ex-Marine, Goldwater Republican father, and growing up in the 50s, when no one questioned the government.
I knew South Africa was a problem, but all of the newspapers said that they were reforming. So I went down there twice and found out that it was worse than anybody thought. So I took the song off my Freedom – No Compromise album. and I decided, "Let me get one person from each genre of music and make a statement about it."
We tried to get everybody [on "Sun City"]: Latino artists like Ruben Blades and Ray Barretto, Big Youth from Jamaica, and Gil Scott-Heron, of course, who was very important. Along with Peter Gabriel, who introduced me to the whole subject matter with his song "Biko." But introducing hip-hop was a big move because the industry, at that point, was trying to snuff it out. It really wasn't taking it seriously. It was like this fringe subgenre that people were just hoping would go away.
You really got blowback from including rappers on "Sun City"?
Oh, yeah. People said, "I thought you were taking the subject seriously. What are you putting them on for?" People looked at hip-hop like a novelty act, like one step away from comedy. And sure, the Fat Boys were fun guys, but the things that Melle Mel was doing, and Run-DMC… they were talking about serious issues, and people were not taking them seriously.
I Saw Her Standing There (Live at Roundhouse, London, England / 2017)
Watching the "I Saw Her Standing There" clip, it's obvious that everyone onstage had a blast. You're grinning from start to finish.
Inside and out. It was one of the most thrilling moments of my life, no question about it. Paul [McCartney] had come on stage with the E Street Band, which was great, at Hyde Park. He then invited me and Bruce on stage with him at Madison Square Garden, which was thrilling. But to come on my stage and endorse my music, whoa! That was a big validation, real closure for me.
The first album I ever bought was Meet The Beatles! – which of course was their second album, but we all thought it was the first. They're very responsible for me being in the business at all. So that was an incredible moment and it put me in a Beatles mood, because I hadn't played a Beatles song since my high school band. We were about to play Liverpool, so we called the Cavern, and I don't think they'd done a lunchtime set in 40 or 50 years. We were busing around England while learning Beatles songs on the bus.
Let's imagine that you and Paul did a second song together, and you got to pick it. Which would you do?
That's a tough one because, at that point, you'd pretty much want to rock. The mid-tempo type things would have been difficult and those are some of my favorites, like "We Can Work It Out" or "Things We Said Today." But we would have had to go with a rocker like "I'm Down," which would have made a good second encore.
For Lilyhammer, you got to score a show you were also starring in, so you got to choose the Frank Sinatra songs your character sings. He gets to do "Ring a Ding Ding" which is not one of the obvious ones.
Yeah, my character was a bit of a ham. He wanted to be encouraged to sing occasionally. He had probably fantasized about being a singer as a kid before he got into crime as a second choice of a career, or a first choice. "Ring a Ding Ding" just felt right. Doing the music supervision was a lot of fun but it was becoming difficult. The songs were becoming more and more difficult to license, as the show went on, and that's a problem that needs to be addressed. I really think it's time to look at the entire licensing concept, because most of the greatest songs in the world are going to be disappearing from the consciousness pretty soon. Half of them are gone now.
The Summer of Sorcery album was in some ways a return to soul roots. Some people were surprised there weren't any political songs on it.
Politics felt completely redundant in the Trump era. What are you going to say that these politicians aren't saying themselves every single day? They're bragging about putting kids in cages. I don't need to do some kind of research and write a song to expose this crime. I just thought, man, every record I had ever done had been political and had been completely autobiographical. And I didn't want to do another one of those. So I said, "I'm going to have some fun for the first time and write a completely fictional album. I'm going to be a different character in every song and the album's going to have nothing to do with me."
Like it or not, you've got more time on your hands these days. How are you spending it?
I've been busier than ever. I'm working on a book, there are two documentaries coming out about me and the stuff we've been doing these last couple of years and I've been producing records on the phone. I've been writing things, and I think Bruce is anxious to get out on the road, so we might do that in 2022. And TeachRock [his initiative to put music into grade schools] is expanding. The day before the quarantine, I was at our first partner school, just outside of LA, and it was one of the most exciting moments of my life. If this stupid virus ever ends, you've got to check that out, because you've never seen anything like the enthusiasm of these kids.
Macca To Mecca! begins as a 12-song tribute to The Beatles that kicks off with a riveting performance of "I Saw Her Standing There" recorded at The Roundhouse in London with a special appearance by Paul McCartney.
Macca to Mecca! can be bought here.