Little Steven Van Zandt On His Soul-Searching LP 'Soulfire'
As a lifelong student of rock'n'roll and the genre's most vocal evangelist, Steven Van Zandt's 'Soulfire' represented his dedication to the form.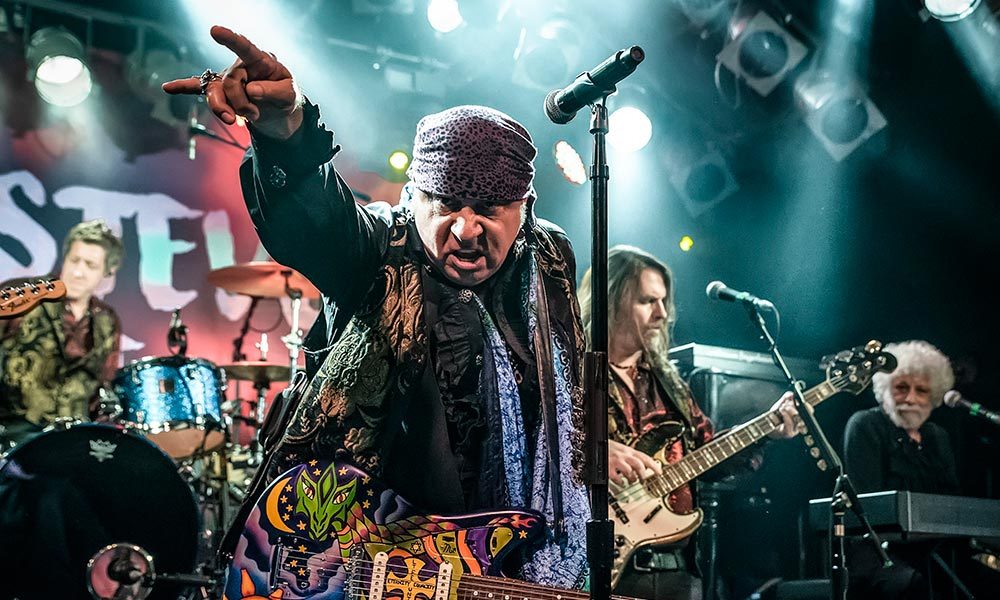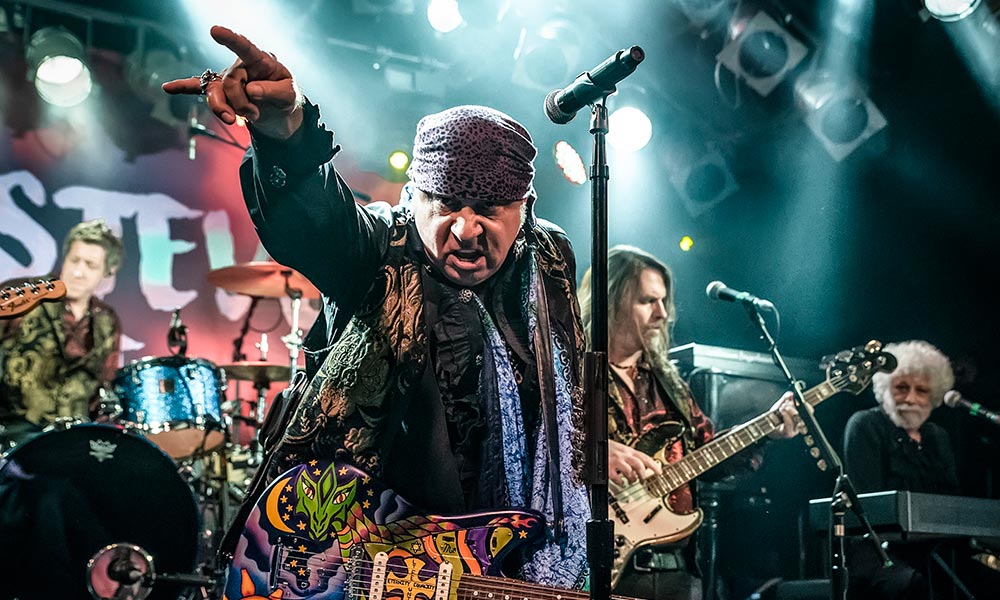 Little Stephen Van Zandt doesn't like to compare himself to James Brown, but he's certainly gunning to be one of the hardest working men in show business. As Bruce Springsteen's longtime sideman, Van Zandt has spent the better part of four decades (on and off) playing, recording and touring with the E Street Band. Having never acted before, he found success playing the likable mobster type in both the acclaimed HBO show, The Sopranos (1999-2007) and the spinoff Netflix series, Lilyhammer.
During all that, he stumbled into a successful composing career, handling all the music for the later show and started a nationally syndicated radio show and Sirius XM station, Little Steven's Underground Garage, which has been schooling audiences on garage rock since 2002. And then, after an almost 20-year gap between albums, he released Soulfire, which took his career to another level again.
Listen to Soulfire right now.
As a lifelong student of rock'n'roll and the genre's most vocal evangelist, Van Zandt has hit his creative stride with the release of his comeback album Soulfire, followed by Summer of Sorcery.
Released on 19 May 2017, Soulfire represented his dedication to the form. A pastiche of blues, doo-wop, jazz and rock, it's only natural this album sprung from the encyclopaedic mind of a veteran DJ and music producer. The 12-track album represented Van Zandt's dynamic career as a producer, arranger, and songwriter and was assembled from songs he'd previously written for other people.
"It was quite a revelation honestly"
Returning to the driver's seat, Soulfire had Little Steven firing on all cylinders, and back with the "soul horns-meet-rock 'n' roll guitars" sound that he helped shape alongside his band, Southside Johnny and the Asbury Jukes', on their first three albums. Despite the 18-year gap, his latest solo effort happened quite spontaneously, with Van Zandt fulfilling a favour for a friend during his touring break with the E Street.
"It was quite a revelation honestly," Little Steven said. "Basically I ran into this promoter in England and he asked me to put a band together for his blues festival. I decided (really on a whim to do it) since I hadn't performed in so long, so I put together 20 songs and we [Little Steven and The Disciples of Soul] performed at London's BluesFest in 2016. It was quite surprising to me how well the music held up and how unique it sounded at this point. It really has become its own genre through the years, this 'rock meets soul' thing. I was quite taken by it and I thought to myself. This actually sounds like an album already!"
Little Steven - Soulfire (Live From The Soulfire Tour / 2017) ft. The Disciples Of Soul
After the success of the live show, Van Zandt resurrected his solo group, The Disciples of Soul, as a 15-piece band and headed into his own Renegade Studios in New York to record. Arranged and produced by Van Zandt, he also enlisted Grammy-award winner Geoff Sanoff and Marc Ribler to co-produce, and laid down the album in six weeks flat.
"It turned out better than I could have imagined', said Van Zandt. "It was done extremely quickly, conceived very quickly, recorded very quickly and while it started out completely spontaneously, it ended up so wonderfully conceptual."
"I wanted to reintroduce myself to a new audience"
While the entire album can be considered one large-scale genre exercise, Van Zandt presents Soulfire as a concept album, with the overarching theme being himself.
"I thought that would be a good opportunity to reintroduce myself to a new audience", he enthused. "Which I've never really had, in terms of throwing things on there like a blues song or a doo-wop song, some jazz and some covers. You can hear the influences that make up who I am in a much more obvious way than those previous records."
While Soulfire marks the first time Van Zandt had ever recorded a cover song, he's made a career penning songs that have become hits for other artists like Darlene Love, Gary US Bonds, Southside Johnny and for artists on his Wicked Cool record label – many of which now ended up this collection. Instead of starting from scratch, Van Zandt thought, why not cover himself, and chose the songs that had the most personal meaning. One of which, was a Drifters tribute and the first real song he ever wrote, "I Don't Want to Go Home', originally meant for his first solo album, Men Without Women.
I Don't Want To Go Home (Live / 2017)
"The idea was to do a chronology of rock"
"At the time, the idea was to do a chronology of rock", explained Van Zandt. "Starting at of course (where all rock begins) which is doo-wop. Then the concept changed to politics and that's what I did for the next five albums [laughs]. But it lay around, half-finished, all these years and I finished it for this record."
You can't have doo-wop without soulful backing vocals, which was brilliantly provided by acclaimed 60s a cappella group, The Persuasions. While Van Zandt had briefly toyed with doo-wop back on the Asbury Jukes song 'First Night' from their 1976 record, on Soulfire he goes all in, crooning along on, 'The City Weeps Tonight'. He revisits much of his old Jukes material, breathing new life into these timeless rockers including one he co-wrote with Springsteen, 'Love On The Wrong Side Of Town', adding some sweeping orchestral flourishes. As the record was starting to take shape, a serendipitous moment helped inspire Van Zandt's favourite track on Soulfire.
Little Steven - Love On The Wrong Side Of Town (Audio)
"One of the biggest surprises of the album"
"I had written down a bunch of ideas for songs I wanted to record and there was a more obscure Gary US Bonds song that I had co-written", he recalls. "While it didn't get too much attention at the time, 'Standing In The Line of Fire' had always stayed in the back of my mind. While I was on my way to the studio to record it, Gary's version came on the radio and it sounded so damn good I thought: I cannot touch this thing, I can't even come close! Then I had this idea. Based on the Western sounding title, I decided to combine something I had originally written for the Lilyhammer score that was very Ennio Morricone sounding and layer it with the Gary Bonds song, which ended up being one of the biggest surprises of the album."
When it came down to determining what makes a good cover, Van Zandt thought about it carefully, or as he says, he's "done entire seminars and devoted entire radio shows on that topic". Officially a "Dr" now thanks to a recent honorary degree, Little Steven broke down the tenets of rock like a proper professor, one of which is arranging.
Down And Out In New York City
"You begin by analysing what exactly is in a song and that's one of the essential crafts you have to learn when you're starting. In a lot of ways you make cover songs your own by changing the tempo, sometimes it's a matter of different genre like Rick Rubin did with Johnny Cash for the Nine Inch Nails song and sometimes it's an arrangement idea", as was the case with his fiery take on Etta James' 'Blues Is My Business'.
On top of tapping into his bluesier side, Van Zandt also managed to work in some jazz, R&B and Blaxploitation all into one, on the James Brown cover, 'Down And Out In New York City', from the 1973 Black Caesar soundtrack. With plenty of wah-wah guitar, horns and strings, he does the genre justice; you can practically hear the steam coming off the pavement.
The title and timing of the record could not be more perfectly apt. From start to finish, you can hear the passion and joy pouring into these blue-eyed soul renditions. As for the title track, Van Zandt felt it not only was a great title for an album, but also a summary of his life. It also reflected that certain "x" factor that he's constantly searching for when discovering old music and in turn, making his own.
"I don't really try and adjust to the modern world"
"I don't really try and adjust to the modern world because I don't really quite understand it, it's a different sensibility. The one thing I've noticed going through all these songs is that there's a certain intensity that's built in. That's the way everyone wrote and performed songs that you don't always hear anymore. We were lucky to grow up during a renaissance period when the greatest music being made was also the most commercial." Spoken like a true purist, Van Zandt also believes that bands today are still keeping the tradition of rock'n'roll alive, which he highlights on his radio segment, "Coolest Song In The World This Week".
Some Things Just Don't Change
The Rock Hall of Famer certainly isn't resting on his laurels. He's released a live version of Soulfire and followed it up with a new solo album of new original material, Summer Of Sorcery, that's out now.
Van Zandt told Rolling Stone the concept behind Summer Of Sorcery that's "loosely about going back and experiencing the first summer of consciousness, first time in love, first experiences in life and that thrill of unlimited possibilities".
Van Zandt is back on the road for his global 'Summer Of Sorcery' tour and recently played a historic show in Los Angeles featuring a special guest appearance from his old friend Bruce. After a number of European dates, Van Zandt returns to North America in September and wraps up his tour on 6 November at the Beacon Theatre in New York City.
Soulfire can be bought here.
Listen to the best of Little Steven on Apple Music and Spotify.
Format:
UK English