Metallica Unveils Live Video For 'Screaming Suicide'
The footage was shot on April 27 in Amsterdam.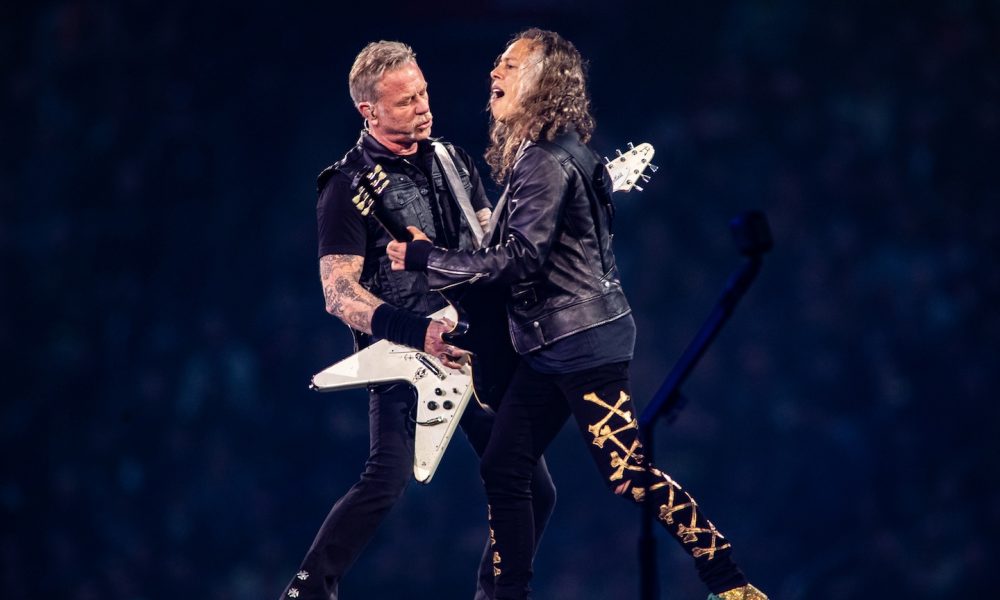 Metallica has shared a live video of "Screaming Suicide" from the April 27 performance at Johan Cruijff ArenA, in Amsterdam, Netherlands. The track is featured on Metallica's new album 72 Seasons. Check out the professionally shot footage below.
The new visual follows the official music video for "Crown of Barbed Wire," which is also featured on 72 Seasons. In the cartoon visual, a man emerges from prison and changes into a business suit before returning to prison and encountering cartoon members of the band.
Metallica: Screaming Suicide (Amsterdam, Netherlands - April 27, 2023)
The band also recently celebrated National American Sign Language Day on Saturday (April 15) by announcing that they will become the first-ever major rock band to release American Sign Language (ASL) videos for every song from their new album.
The roll-out began with the official ASL visual for the 72 Seasons title track, which features ASL interpretation from Amber Galloway, a fan favorite festival sign language interpreter.
In a video announcement, self-described hardcore deaf Metallica fan Tom Osbourne explained the project, signing, "It is my honor to announce that on April 25 Metallica will release ALL music videos from 72 Seasons in ASL. Metallica is the first major rock band to do this!"
"It's been an honor to work with Amber and DPAN teams, and we hope that our fans in the deaf and hard of hearing community enjoy experiencing the album through these videos!" the band wrote.
The band released its wildly anticipated new album via their own Blackened Recordings on April 14. To celebrate the release, the group also unveiled a music video for album standout "Sleepwalk My Life Away."
The album instantly began receiving rave marks, with Louder Sound Magazine writing in its four-star review, "Metallica's only concern is making the best Metallica album possible irrespective of what's going on around them. On that score, 72 Seasons is a ringing success." In its four-star review, Kerrang added, "Metallica being Metallica and letting fly with all they've got is still a mighty, charged-up, exciting, cathartic, deadly thing."