Primus Release 'Conspiranoid,' First New Project In Five Years
The group just embarked on their 'A Tribute To Kings' tour.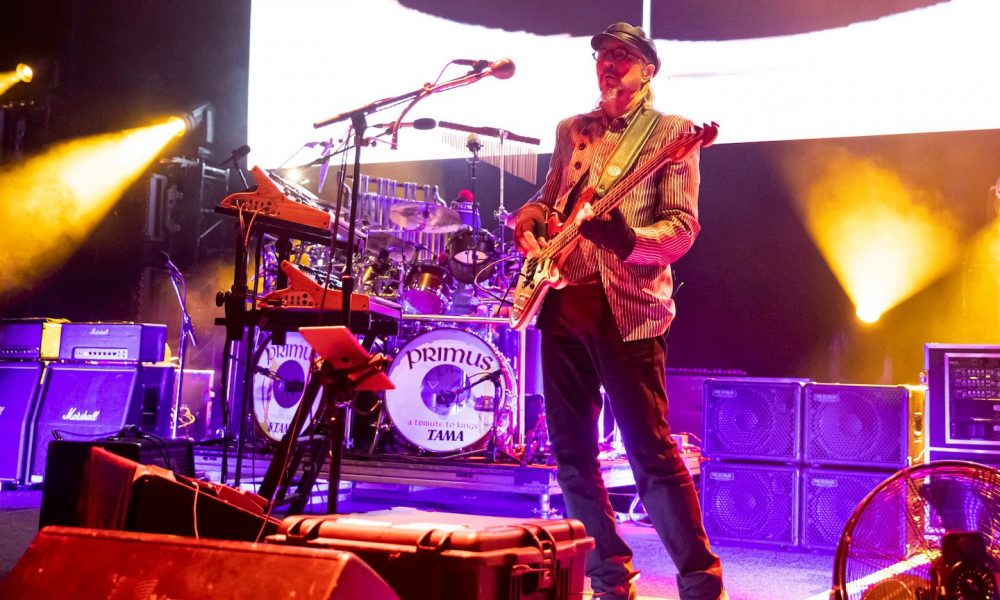 Having just launched their 64-date A Tribute To Kings world tour paying homage to prog-rock legends Rush, Primus has released their first new music in more than five years, the three-song Conspiranoid EP, out now via ATO Records.
The EP features the epic, 11-minute opening track, "Conspiranoia," which Claypool described as "a long, winding, bastard of a song." He adds: "'Conspiranoia' was sprouted from a seed I had planted in my notebook a year or so ago—a few lines commenting on the mental state of the contemporary world." A vinyl edition of the EP will be released on August 12.
Primus - Conspiranoia (Official Video)
The Conspiranoid EP follows the release of "Zelensky: The Man With the Iron Balls," a collaboration with Eugene Hütz of Gogol Bordello, written to rally support for the Ukrainian people. Released this week via Rolling Stone, the track also features Stewart Copeland, Sean Lennon, Billy Strings, and Sergey Ryabtsev, with proceeds supporting Nova Ukraine, a nonprofit organization dedicated to providing humanitarian aid to the people of Ukraine.
The artists are inviting listeners to show their support by submitting clips of themselves, their friends, colleagues, children, pets, or anyone else they deem appropriate clapping along to the song.
Primus' wildly popular A Tribute To Kings Tour finds the Bay area trio performing Rush's 1977 album A Farewell To Kings in its entirety, following a set of their own music. Winding its way throughout North America and ultimately to Europe this fall, the second leg also includes the tour's first stops in Canada, beginning with two dates in Toronto on May 13-14. Rush was formed in Toronto in 1968. The US performances are also featuring special guests Battles, Black Mountain, and The Black Angels.
As Claypool told Rolling Stone, "A Tribute To Kings is about paying tribute to a band that has given him so much inspiration over the years. "Hemispheres was my first concert," Claypool said, referring to Rush's 1978 album and tour. "Originally we'd always kind of joked around about doing Hemispheres…but we settled on Kings, because A) it was the first Rush record I ever heard and B) it contains 'Cygnus X-1,' which has always been my favorite Rush tune. It seems to be a good one for us to tackle; 2112 seemed a little obvious."