Watch 'Ay-Oh': Episode 27 Of Queen's 'The Greatest' Video Series
The latest in the band's on-going archival series celebrates the evolution of Freddie Mercury as the ultimate showman.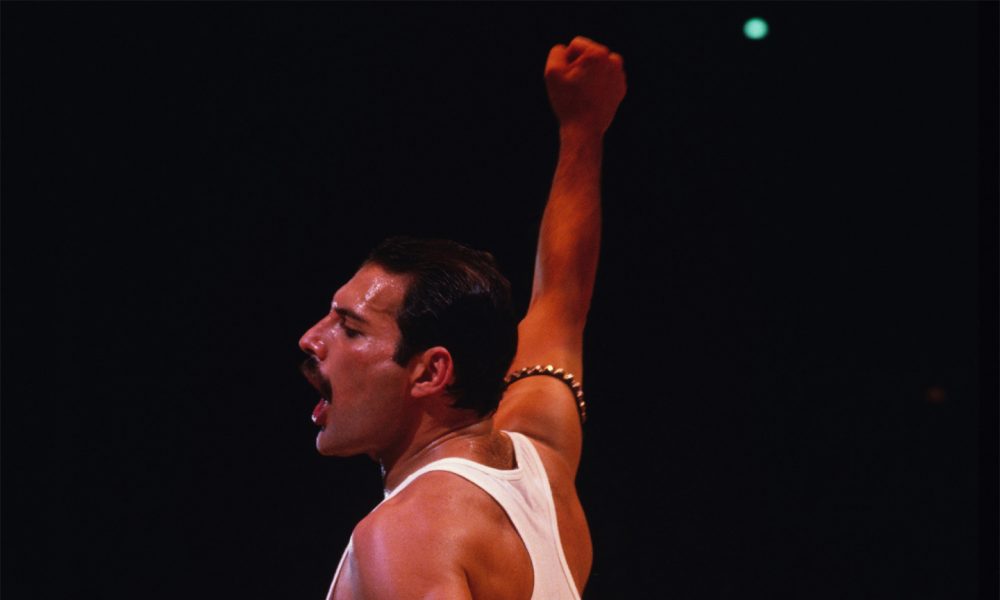 Episode 27 of Queen's 'The Greatest' video series, 'Ay-Oh' celebrates the evolution of Freddie Mercury as the ultimate showman. From the beginning, Freddie understood the importance of winning a crowd, and over the years became the absolute master – culminating in one of the most iconic moments in music history at Live Aid in 1985. You can watch it in full below.
Queen: Ay-Oh (Episode 27)
A simple improvised call and response chant believed to have had its beginning in a 1978 Montreal concert – and made its way through history to become a highlight of Queen's historic 1985 Live Aid performance… not to mention a place in a blockbuster movie.
The subject of its own online discussion boards, lyric interpretation pages and search engines, GIFs and ringtones…it is the instantly recognizable…. Ay-Oh.
From the very early days of Queen, Freddie understood the importance his role as the band's frontman had in winning over an audience.
Freddie Mercury: "That's the part of my role, I have to win them over, otherwise it's not a successful gig. It's my job to make sure that I win them over and make them feel that they've had a good time.
"I'm very frivolous, and I like to enjoy myself, and what better way to do it than on stage in front of 300,000 people. I just cook on stage, that's just my nature. That's not what I'm like in real life, my character's built up of all kinds of ingredients and this is one element of me.
"On stage, that's my job and I don't like to go on stage, sitting on a stool and do a show. I'm very volatile, in that way, and I like to actually put a song across in the way it is. It's all part of showbiz and theatre, that's another side of me."
Just as important as how he performed the songs, Freddie knew his interaction with the crowd helped create a moment that felt special to each audience.
Freddie Mercury: "Do you like my claws? They're real diamonds. It's a present from the devil himself. You don't believe me? They don't believe me!"
Throughout the 70's and into the early 80's, as the venues and crowds got bigger and bigger, Freddie became a master at making everyone feel a part of the show, as witnessed in a clip from the band's show at the Milton Keynes Bowl in 1982.
And then in 1985, at that monumental Live Aid performance, came one of the most memorable moments in music history….
Featured throughout the 1986 Magic Tour, Freddie's "Ay-Oh"s became a seminal part of the Queen show – and remains so to this very day. In February 2020, when Queen and Adam Lambert re-created the Live Aid set to support the Fire Fight Australia benefit it was Freddie's on screen cameo that created one of the show's most magical moments, as can be seen in footage from the event. A poignant reminder of how Freddie really was the ultimate showman and ever remains so.
Watch every episode of 'The Greatest' on Queen's official YouTube channel.