New Queen Video Series Episode Recalls Their 'Greatest 20 Minutes' At Live Aid
Episode 30 of the series celebrates the band's unforgettable appearance at the spectacular 1985 fundraiser.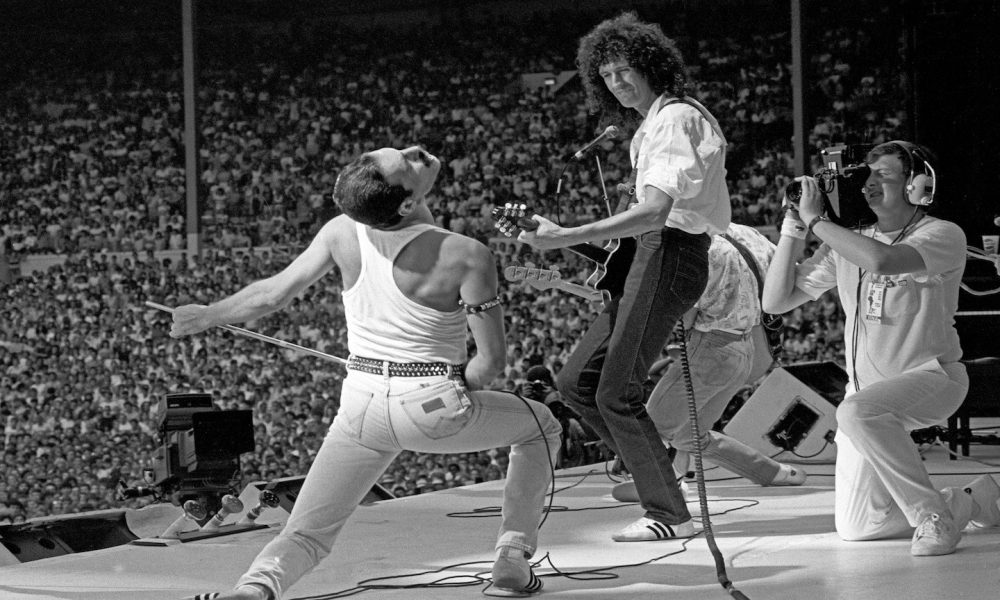 What is seen by many fans as the greatest 20 minutes in the history of Queen is commemorated in the latest part of their Queen The Greatest series on the band's official YouTube channel.
Episode 30 of the series celebrates their unforgettable appearance at Live Aid in 1985, with footage and memories from all four members about one of the most significant events in music history. On July 13, six months after their record-breaking nights at Rock In Rio in January 1985, featured in episode 29, came the performance that redefined Queen in the eyes of the Wembley Stadium crowd and millions of viewers worldwide.
Arriving breathlessly in the wake of December 1984's all-star Band Aid single for Ethiopian famine relief, the Live Aid concerts saw an unprecedented union of incredible A-list talent, united in the same cause. Queen's 21-minute show was a breathtaking highlight of the London event, in front of a worldwide audience of 1.9 billion people.
As Brian May explains in the clip, when organiser Bob Geldof first approached the band about appearing at Live Aid, they had serious doubts about whether he'd be able to pull off such a feat.
"It was actually at the BPI Awards that we went to collect an award, and Geldof was a few tables away and came over and said how about doing this thing, and he said we are going to have this, and this, and this, and this, and we said 'Oh yeah, I'm sure,' thinking that it was an almost impossible thing to get together, but we said 'Yeah,' we'd be interested.
'We were all very keen to do it'
"And then a bit later he rang up and said 'Look Brian, I have to have a commitment,' and so we talked about it a bit more and seemed like we were all very keen to do it."
Then came the discussions among the members of Queen about what to perform in such an unusually short set. "It's pretty hard to make the choice," notes Brian. Adds Roger Taylor: "Yes, we don't really know quite what to do, whether to play the hits or to try and do something new.
"But I think in 20 minutes really, we've got to play things that people know, and will recognise in Turkey or wherever they're watching. Maybe. Hopefully." Adds Freddie Mercury playfully: "So we're still squabbling over that fact that's what he's trying to say."
Anticipating the event, Freddie notes: "I think it's going to be chaotic, yes, it has to be. I mean, we're the nice part of it actually. There'll be lots of friction and we're all going to try and outdo each other, I guess."
In reality, all egos and rivalries vanished, as the top acts in the world came together in the same cause. Nevertheless, Queen's meticulous planning of their show and the sheer energy of their performance ensured that it became one of the highlights of the day.
'They're stealing the show'
"It was as if all the artistes back stage had heard a dog whistle," says broadcaster and writer Paul Gambaccini, "and their heads turned and the frisson you felt was 'They're stealing the show.'"
Co-organizer Midge Ure remembers: "I defy anybody who saw it, not to have goosepimples on the back of their neck, when you saw that sea of people."
"I remember looking up and seeing the whole place going completely bonkers in unison and thinking 'oh, this is going well,'" says Taylor, and May adds: "We did have an unfair advantage, we had done football stadiums. Freddie, particularly, learned this magical way of involving everybody in a huge football stadium, he could make everybody feel that they were in contact."
Muses Taylor: "People will say, 'Was it a career move?' Well, no it wasn't a career move, but of course that's in the back of everybody's mind". Says bassist John Deacon: "We got a great reception from the crowd, even at Wembley, and also from the TV audience as well, so in fact it was a great boost of confidence in a way, for the group."
Concludes Queen manager Jim Beach: "To have conquered Live Aid in that way, undoubtedly breathed fresh energy into the band."
Watch every episode of Queen The Greatest on Queen's official YouTube channel.