R.E.M. Announce 25th Anniversary Edition Of 'Automatic For The People'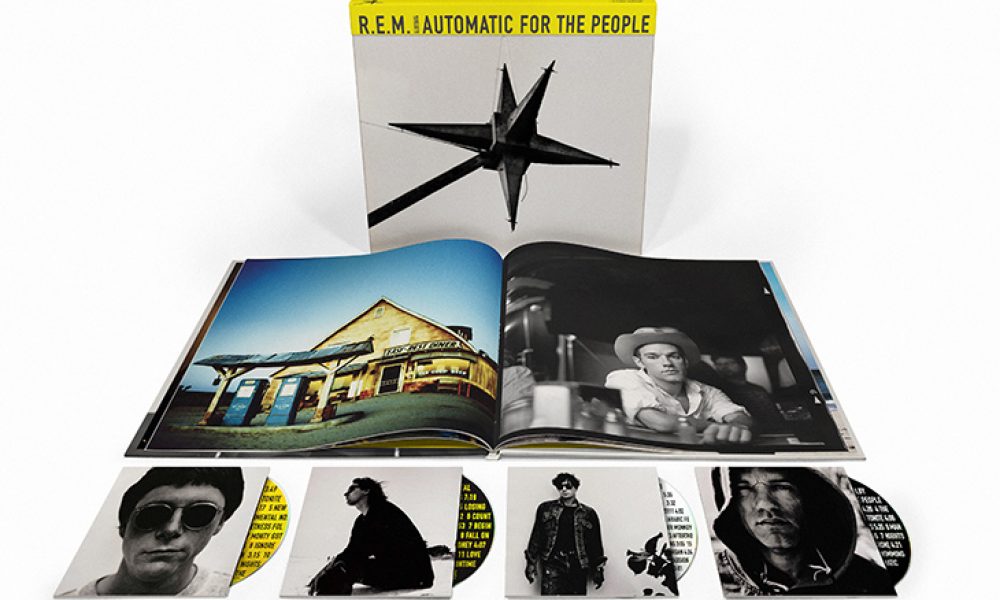 Rock icons R.E.M. are reissuing their landmark album Automatic For The People to commemorate its 25th anniversary. Due for release on 10 November via Craft Recordings, the remastered album will be available in a variety of formats, the most extensive of which is the deluxe anniversary edition, which will feature the album mixed in Dolby Atmos.
The album (plus bonus track 'Photograph', featuring Natalie Merchant) was remixed in Dolby Atmos by Automatic's original producer, Scott Litt, and engineer, Clif Norrell. This technology delivers a leap forward from surround sound with expansive, flowing audio that immerses the listener far beyond what stereo can offer. It transports the listener inside the recording studio with multi-dimensional audio – evoking a time when listening to music was an active, transformative experience, and reigniting the emotion you felt when you first heard the album in 1992. R.E.M.'s Automatic For The People is the first album to be commercially released in this expressive, breathtaking format.
Automatic For The People 25th Anniversary Trailer
In addition, the four-disc deluxe edition will offer a wealth of previously unreleased material. The band selected 20 never-before-heard demos from the recording sessions, including the fully realised, unreleased track 'Mike's Pop Song' and the oft-talked about 'Devil Rides Backwards.' 'Mike's Pop Song' debuts today and is available as an instant grat track with pre-orders of the reissue.
Also included in both the two-disc 25th-anniversary and four-disc deluxe editions of the album – remastered from the original analog tapes by Stephen Marcussen – is a full live set, Live At The 40 Watt Club 11/19/92. Performed in R.E.M.'s hometown of Athens, Georgia, it was the band's only live show that year.
R.E.M. - Drive (Official Music Video)
Housed in a 12" x 12" lift-top box, the deluxe anniversary edition features a 60-page book, offering never-before-seen photos by Anton Corbijn and Melodie McDaniel, plus liner notes by Scottish music journalist Tom Doyle, who conducted new interviews with all four band members. Also included is a companion Blu-ray, offering the Dolby Atmos mix, plus a high-resolution master of Automatic For The People, seven music videos and the original 1992 EPK video. Automatic For The People will also be reissued on 180g vinyl (with digital download card), and will be available across all digital and streaming outlets.
Widely regarded as one of the best rock albums of all time, Automatic For The People, R.E.M.'s eighth studio outing, was recorded in session locations ranging from New Orleans to Seattle, and Athens, Georgia, to Miami, and ranked on Rolling Stone's list of the 500 Greatest Albums of All Time. Notable contributions to the record come from Led Zeppelin's John Paul Jones, who provided string arrangements on select tracks. After its release in 1992, the album reached No.1 in the UK and No.2 in the US, selling over 18 million copies worldwide. It also received 1994 Grammy nominations for Album Of The Year and Best Alternative Music Album, with major singles 'Man On The Moon' and 'Everybody Hurts' garnering Grammy nods as well.
Michael Stipe has since reflected that the album concerns topics of "mortality and dying," but he further notes, "Mortality is a theme that writers have chosen to work with throughout time. It speaks of the fragility and beauty of life and living life to the fullest in the present moment. It happens all too quickly and we all know that." Mike Mills asserts, "I think it's our most cohesive record…It's the strongest from first to last."
R.E.M. - Everybody Hurts (Official Music Video)
Following the success of their multi-platinum Out of Time in 1991, the band's reputation was skyrocketing with critics and fans alike. However, R.E.M.'s decision not to tour behind it, and with no plan to tour its successor, the band chose to push further into unexplored sonic territory. The recording was thus characterized by experimentation and playfulness in the studio resulting in a largely acoustic sound full of eerie and ambiguous commentary on the nature of mainstream fame they'd recently found. To this day, songs like 'Everybody Hurts,' 'Drive', 'Nightswimming' and 'Man on the Moon', as well as lesser known but sublime songs like 'Try Not To Breathe' and 'Monty Got a Raw Deal,' still resonate throughout the collective music and pop culture.
The deluxe 25th-anniversary edition of Automatic For The People will be released on 10 November. Scroll down to read the full tracklist, and order the release here.
CD1: Automatic For The People
'Drive'
'Try Not to Breathe'
'The Sidewinder Sleeps Tonite'
'Everybody Hurts'
'New Orleans Instrumental No. 1'
'Sweetness Follows'
'Monty Got A Raw Deal'
'Ignoreland'
'Star Me Kitten'
'Man on the Moon'
'Nightswimming'
'Find the River'
CD2: Live At The 40 Watt Club
'Drive'
'Monty Got A Raw Deal'
'Everybody Hurts'
'Man On The Moon'
'Losing My Religion'
'Country Feedback'
'Begin The Begin'
'Fall On Me'
'Me In Honey'
'Finest Worksong'
'Love Is All Around'
'Funtime'
'Radio Free Europe'
CD3: Automatic For The People demos
'Drive' (demo)
'Wake Her Up' (demo)
'Mike's Pop Song' (demo)
'C To D Slide 13' (demo)
'Cello Scud' (demo)
'10K Minimal' (demo)
'Peter's New Song' (demo)
'Eastern 983111' (demo)
'Bill's Acoustic' (demo)
'Arabic Feedback' (demo)
'Howler Monkey' (demo)
'Pakiderm' (demo)
'Afterthought' (demo)
'Bazouki Song' (demo)
'Photograph' (demo)
'Michael's Organ' (demo)
'Pete's Acoustic Idea' (demo)
'6-8 Passion & Vox' (demo)
'Hey Love (Mike Vox)' (demo)
'Devil Rides Backwards' (demo)
CD4: Automatic For The People Blu-ray
Automatic For The People (+ bonus track: 'Photograph') mixed in Dolby Atmos
Automatic For The People (+ bonus track: 'Photograph') Hi-Resolution Audio
'Drive' (music video)
'The Sidewinder Sleeps Tonite' (music video)
'Everybody Hurts' (music video)
'Man On The Moon' (music video)
'Nightswimming' (music video: British version)
'Find The River' (music video)
'Nightswimming' (music video: R version)
Automatic For The People press kit
Format:
UK English