Red Hot Chili Peppers' Flea Shares His Three Favorite Basslines
The iconic bassist revealed the cuts by answering a Twitter prompt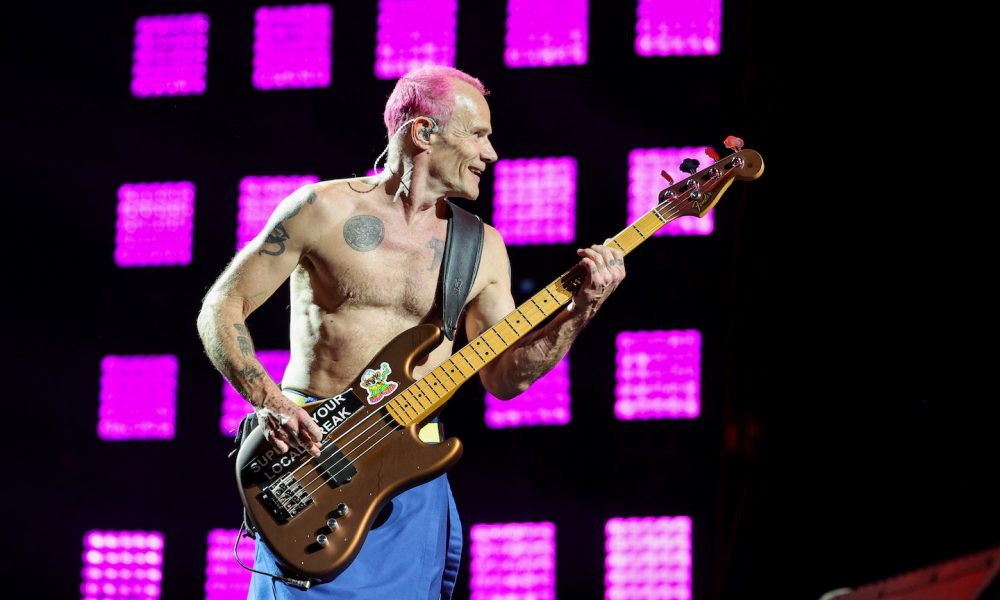 Red Hot Chili Peppers' Flea has shared with his Twitter followers what his three favorite basslines are.
The band's iconic bassist took part in a Twitter prompt this weekend that had been shared across the social media network site.
User @kingbritt asked users on the platform to share their favorite three basslines, with a wealth of eclectic responses. Perhaps the most famous person to take part, though, was Flea, who quote-retweeted the original prompt with his selection.
Flea chose Parliament-Funkadelic's "Flashlight," which appeared on the band's 1977 album Funkentelechy Vs. The Placebo Syndrome and Led Zeppelin's "Ramble On," which is taken from the British rockers' 1969 record Led Zeppelin II.
His final pick came in the form of "Journey To Satchidananda" by Alice Coltrane. The song is the title track from the jazz icon's fourth solo album, which was released in 1971 and saw the artist begin to transition from her songwriting style on her early records to a more personal approach on later releases.
This summer, Flea will be performing his own basslines with Red Hot Chili Peppers as the band headline multiple festivals around the world. Events on its itinerary include BottleRock 2023, Chicago's Lollapalooza, and Madrid's Mad Cool.
Meanwhile, it will also perform a series of headline shows across the US, Europe, and South America, with the run extending until the end of November 2023.
Red Hot Chili Peppers toured with guitarist John Frusciante for the first time since he rejoined the band in 2022. Frusciante's reunion with his former bandmates was announced in 2019, although immediate touring plans were put on hold due to the pandemic.
The guitarist first joined the California rockers back in 1988, when the band will still reeling from the loss of founding guitarist Hillel Slovak, who died of an overdose. The teenaged guitar phenom reenergized the group during their recording for Mother's Milk (1989) and their crossover smash album Blood Sugar Sex Magik (1991) before departing and returning in 1998 for their albums Californication (1999), By the Way (2002) and Stadium Arcadium (2006).
Listen to the best of Red Hot Chili Peppers on Apple Music and Spotify.