Sophie And The Giants And Purple Disco Machine Reunite To Find 'Paradise'
After two chart-topping tracks, "Hypnotized" and "In The Dark," the pair once again unites to deliver the summer anthem of 2023.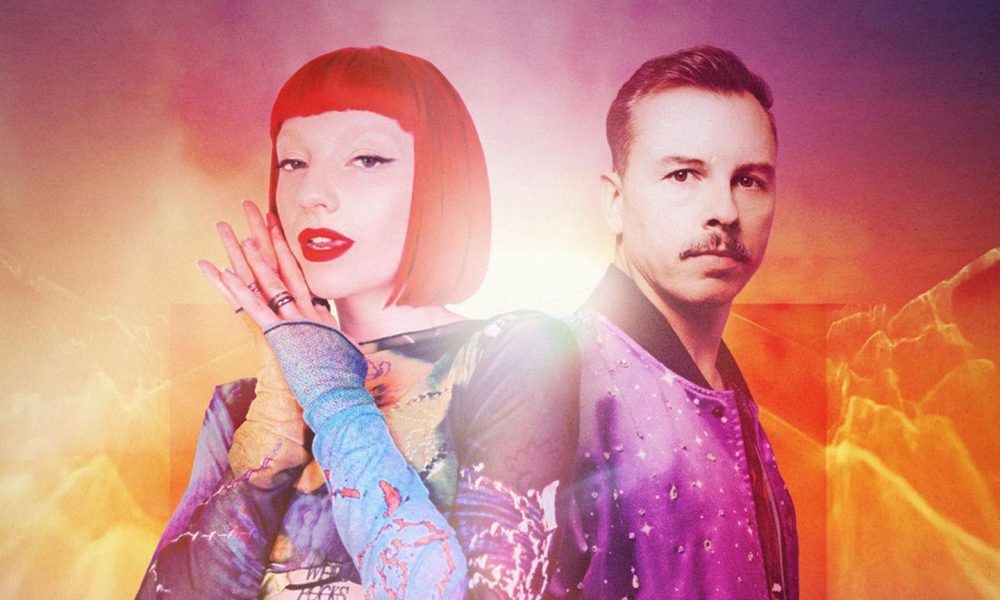 Sophie And the Giants and Purple Disco Machine return with new single "Paradise," a song which reunites one of modern pop music's most innovative and successful partnerships.
After two chart-topping tracks, "Hypnotized" and "In The Dark," the pair once again unites to deliver a song destined to be viewed as the summer anthem of 2023. You can check the song out below.
"Paradise" follows on from the duo's collaborative work on the international hits "Hypnotized" and "In the Dark," both of which appeared on the German producer and Grammy winner's 2021 album Exotica.
This time around, after writing the song, Sophie realized there was only one person who could help truly realize the club-dominating potential of "Paradise," and that was her friend and artistic foil Purple Disco Machine, AKA Tino Piontek.
"I wrote this song as a classic dancefloor hit, welcoming you into my "Paradise," explains Sophie of the new single. "It's so hypnotic that hedonistic arms will pull you onto the dance floor and make you want to scream out the lyrics while doing things you'll regret."
Driven by shimmering synths, an irresistible disco groove and Sophie's enticing vocals, "Paradise" is an evocative escape into a landscape of neon lights, pulsing strobes and kinetic limbs as the song cascades across the dancefloor.
"I hope "Paradise" makes people feel completely free and liberated, like nothing else matters but this moment," declares Sophie. "Whoever you are, forget about what is bringing you down, kiss somebody and move your body to this song!"
Sophie and the Giants and Purple Disco Machine's first collaboration, 2020's "Hypnotized," was a global hit amassing 425 million streams and 120 million plays on YouTube as it topped charts across Europe. 2022's "In The Dark," has already reached 200 million combined streams, and was Number 1 on APC's chart for the whole of the EU. Both songs have gone Gold and Platinum in a variety of territories since their releases.
This sustained success flows directly from the deep creative and artistic understanding that Sophie and Tino have developed working together in the studio, something "Paradise" draws on.
"I'm so excited to be collaborating with Purple Disco Machine for a third time," says Sophie of their latest musical mind-meld. "After the way we worked together on "Hypnotized" and "In The Dark," I knew as soon as I wrote Paradise it was meant for the two of us."
The new single follows on from the impact made by "DNA" ft Mearsy, which Sophie And The Giants released earlier in 2023, plus last summer's "We Own The Night," which both cemented the London-based artist's dancefloor credentials.
In addition, Sophie and The Giants are now set for a 2023 tour, including a full sweep of European festivals and a September headline tour of the UK and Europe.
Sophie and The Giants 2023 Tour dates:
6 July Mad Cool Festival, Madrid (with Purple Disco Machine)
8 July Bristol Love Parade
22 July Colours Festival, Ostrava, Czechia (with Purple Disco Machine)
29 July Pride Village, Padova
9 September NFT Convention, Lugano
15 September Open Air Fest, Dresden (with Purple Disco Machine)
18 September Berlin, Marie-Antoinette
19 September Warsaw, Hybrydy
21 September Cologne, Artheater
22 September Amsterdam, Paradiso
24 September Hamburg, Turmzimmer
25 September Antwerp, Kavka
27 September Milan, Fabrique
3 October London, Amazing Grace
Listen to the best of Sophie and the Giants on Apple Music and Spotify.