The Cadillac Three – Heavy But Southern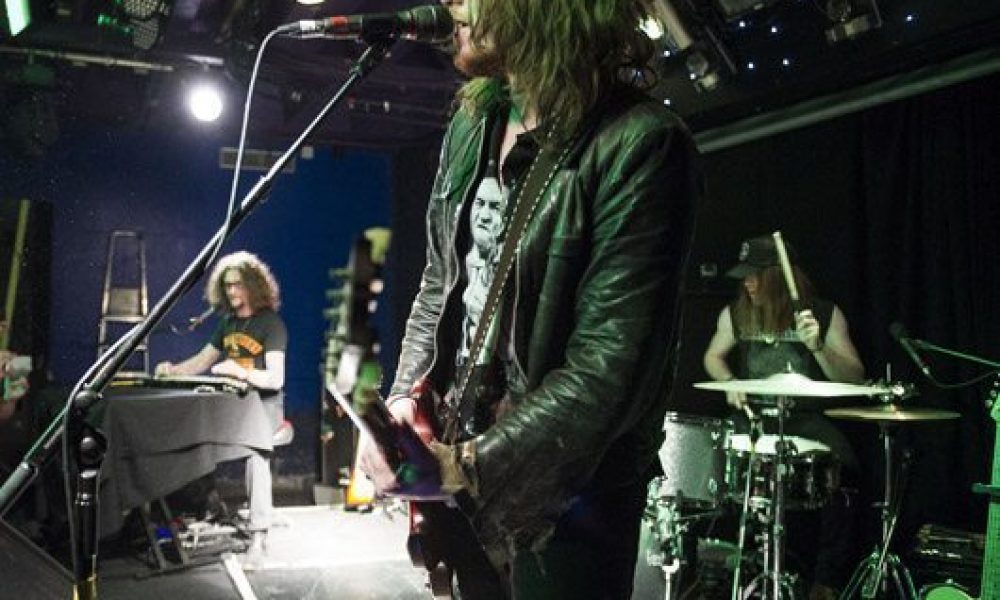 "The other night a fan came up to us after our gig and said, 'You guys are like Sabbath on cornbread!'" This is what Jaren Johnston, the singer and guitarist with Cadillac Three told us on Tuesday just before the final gig on their UK tour at the legendary Dingwall's in North London.
uDiscover was catching up just before the band went on stage as we're interested in knowing what powers this awesome threesome's music. "When you're around 13 this is the time that your musical taste is being shaped." Says Jaren, "I was listening to Nirvana, Metallica, Rage Against the Machine, Dinosaur Jr, Lynyrd Skynyrd, The Allman Brothers and also Muddy Waters; I was absorbing everything. But one of the biggest influences was when I came across Tom Petty & The Heartbreakers and it was one of the most important moments for me, as far as the song writing was concerned. I liked the way he put together songs and the sounds that he made."
"I was also when I was thirteen that I got my first guitar and coming from Nashville I was listening to country music on the radio. I then bought Metallica's '…And Justice For All' and 'Lynyrd Skynyrd's Greatest Hits', both on cassette tape, and to be honest if Garth Brooks or Waylon Jennings had had a metal band I would have been obsessed with it. In fact anything that was heavy but Southern was perfect for me."
The Cadillac Three are Jaren Johnston, bassist Kelby Ray and drummer Neil Mason who are all teenage school friends from Nashville. The trio called themselves Cadillac Black for a while before settling on the Cadillac Three – which seems to play up that Southern vibe. And while their influences are important to them their music speaks of their own experiences, with no concessions made to trend or fashion.
Their debut album released on Big Machine records (Spinefarm in the UK) is full of that great southern tradition, where lifestyle and location are celebrated in the music. There's is the world of pick-ups and porches, dirt-roads and double-shots, Friday nights and free spirits, all wrapped up in a record that, in a just and fair society, would come with a bath-tub full of iced beer, with tequila shots to follow.
And so to their gig at Dingwells. Any show that ends with cold champagne in the dressing room (courtesy of the promoter) plus a visit from Chrissie Hynde, has to be a bit special. An evening to cherish. And for The Cadillac Three, playing the last night of a sold-out-in-advance UK tour, this Dingwalls date was indeed just that…
Since releasing their debut 'Tennessee Mojo' album late in 2013, the Nashville trio have been to the UK on five occasions, headlining, co-headlining and playing festivals, and the work they're putting in and the dues they're paying are now very much paying off…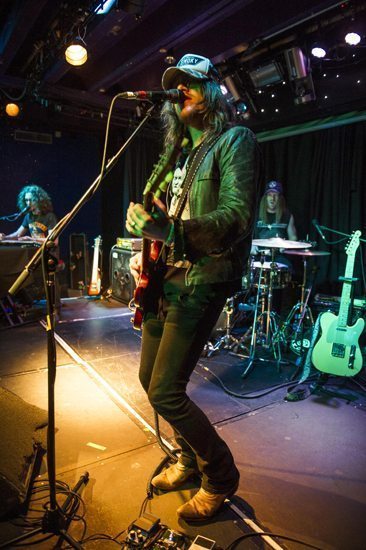 It doesn't hurt, of course, that 'Tennessee Mojo' is full of great songs – the title track itself, plus 'Back It Up', 'Get Your Buzz On', 'The South' and more, with latest single, 'Party Like You', currently standing as the most played track on Planet Rock Radio… But for TC3, a band naturally blending country swagger with the cooler trappings of rock, the recorded versions of their songs are just the starting position, the point of launch, with the live version of 'Down To The River' – closing track on the new UK-only 'Peace Love & Dixie' EP – showing just what happens once the Jack Daniels is flowing and the amps are glowing hot…
In studio guise, 'Down To The River' is under four and a half minutes long, whereas the live rendition is in excess of seven – expanded to include a new deeply rockin' denouement plus a neat nod to Metallica; not every TC3 song is re-worked to this extent onstage, but what they all possess is an extra shot of wild-eyed abandon – the sort that comes when set-lists and backing tapes (and caution) are replaced with good ol'-fashioned chemistry and the desire to bounce off an audience who know all of the words and are more than ready to help out with the singing…
In this respect, 'White Lightning' has emerged as a genuine fan favourite; a heart-on-sleeve composition from Jaren Johnston, it has been known to have the frontman choking back the emotion as the crowd take over the vocals, and tonight the song lives up to its show-stopping repute. It would be easy an' obvious to hold this one back until the very end, but these days the band are confident enough to place it pretty early in a 90-minute set that includes two tracks from the aforementioned EP ('Peace Love & Dixie' & 'Hot Damn'), plus most of the songs from 'Tennessee Mojo'.
Along the way, Johnston engages those in front of him with southern charm and skilful, sinewy guitar playing; for this tour, he's brought out a Gibson SG that, in his own words, "sounds like a machete", and he's fully fired-up right from the start – juggling feedback, falling to his knees and delivering the sort of riffs that often rock the cap clean off his head. Behind him, drummer Neil Mason pounds with real power, breaking sticks and swigging Jack, ably supported by Kelby Ray, whose unique lap-steel set-up (referred to as a "science project" by Johnston) allows him to combine pickin' and slides with huge bottom-end weight. It's all done with pedals and split-signals, but more importantly it sounds great and gets the floor-boards shaking.
At one point, Johnston – a trained drummer in his own right – puts down his guitar, grabs a pair of sticks and joins Mason for a duel around the kit, showing that The Cadillac Three, friends from way back, come with all sorts of surprises up their collective sleeve.
They say they're returning to the UK later this year, and where they come from that's as good as a promise. What won't surprise anyone is that they won't be playing a medium-sized venue like Dingwalls again. Which I guess makes this particular night even more special…
There was a time when you could drive through the Southern States of the U.S. and see bumper stickers carrying the legend, 'The South Will Rise Again'. Well we think it just has…
Words: Dante Bonutto & uDiscover
Photos: Zoran Veselinovic/RETNA
Listen to the Cadillac Three on Spotify, buy on iTunes
Format:
UK English