'Black & Loud': The Roots' Stro Elliot Talks Remixing James Brown
With 'Black & Loud,' Stro Elliot is having a conversation with history, and demonstrating that no matter how many years pass, we're still speaking the same language as James Brown and his legendary band.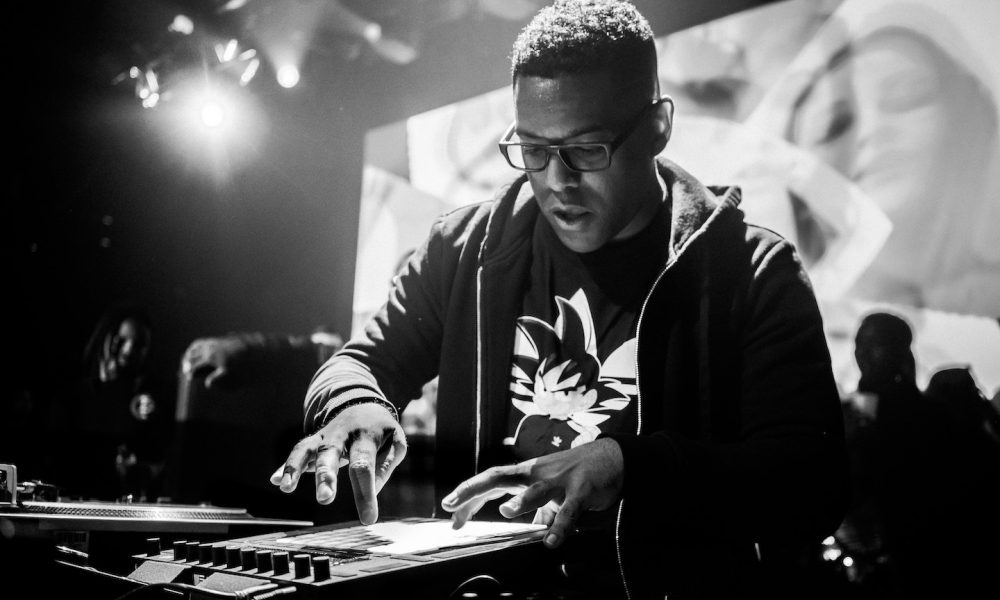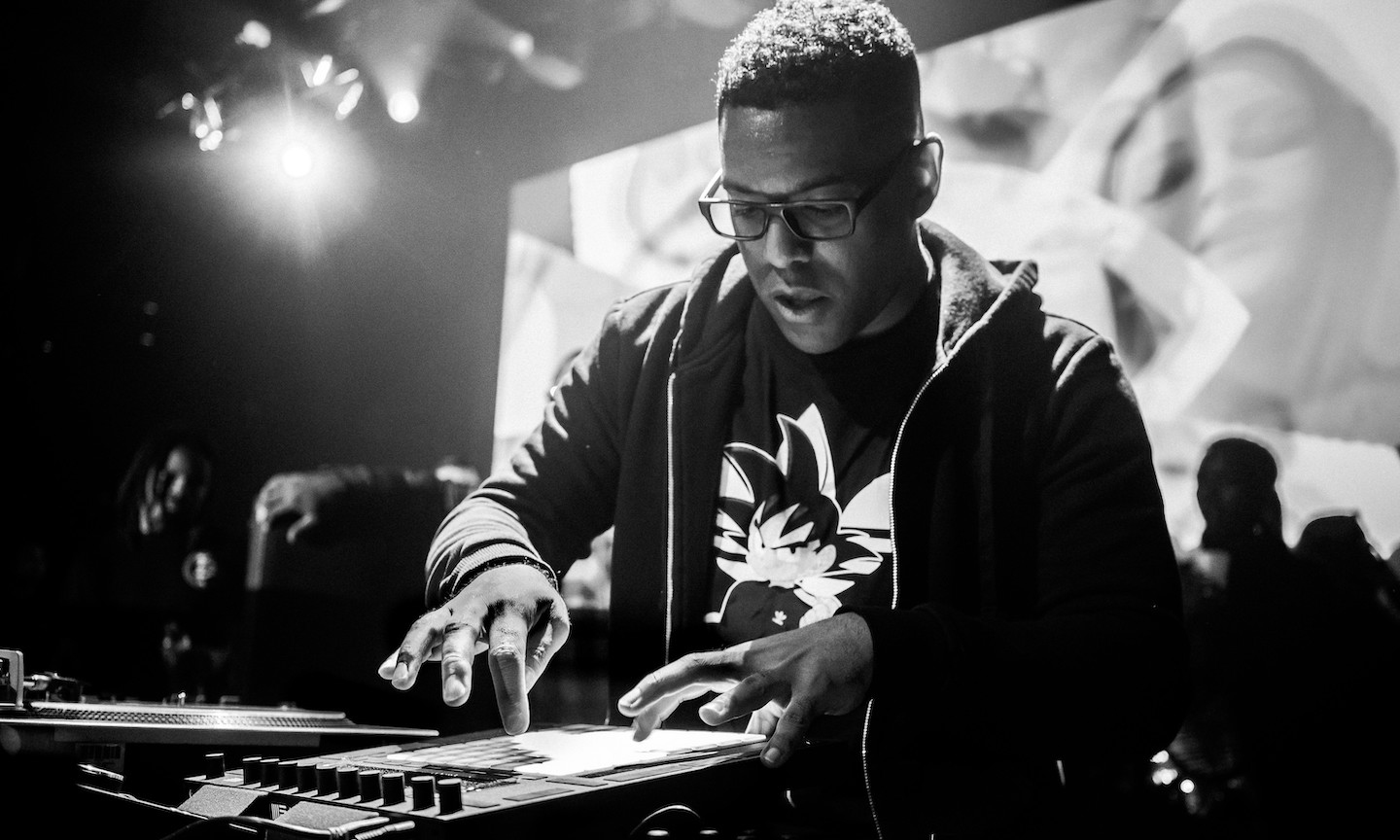 Stro Elliot is no stranger to the remix game, but when he was tasked with tackling James Brown's discography, even he had some reservations. "I'm always thinking to myself, 'Why would you switch these drums out? Why would you change anything?' I can say that about a lot of stuff, but specifically James Brown records," the producer and Roots member explained with a chuckle. But at the heart of Elliot's mission is to explore the links between music past and present. As a multi-instrumentalist and producer, he uses his remixes to strip tracks down to their basics and build them back up as new creations. On his new James Brown project, Black & Loud, he's not suggesting a new way for Brown's music to sound, but instead imagining the music approached from a different mindset than it was in its first iteration.
Elliot, who has released music on legendary DJ House Shoes' Street Corner Music, now spends his day as a member of The Roots. The backing of these two camps, specifically The Roots' drummer, Amir "Questlove" Thompson, has given him the confidence that he's the right man to approach the towering catalog of James Brown. Encouragement from Thompson, who is a Brown aficionado himself, came from Elliot's ability and his approach. "I tend to take the ultimate care in the way I approach it," explains Elliot. "Though I try to put my own special spices on it, I try my hardest to kind of stay true to the track's initial vibe."
Elliot is a DJ and producer by trade, but his work with The Roots has led him to explore Brown's music from the perspective of multiple instruments. On some songs, he tweaks guitars, on others drums and bass. He even plays with Brown's voice from time to time, keeping the spirit of the legend's music in the work, but adding his own style to the songs he tackles. With Black & Loud, Stro Elliot is having a conversation with history, and demonstrating that no matter how many years pass, we're still speaking the same language as James Brown and his legendary band.
Pre-order Black & Loud: James Brown Reimagined by Stro Elliot
How did you initially sign on to tackle this James Brown remix project?
For people who knew me before this project, they knew that I had a hand in remixing a lot of classic artists, whether it be Michael Jackson, Prince, or others. There were two James Brown remixes I had done in the past, one of which was called "James Baby," which was getting a lot of circulation and a lot of spin. It was gaining traction among DJs specifically, who I always give the ultimate credit to, because they're the people who ultimately pushed – not only that record, but probably every other record I've ever released – as far as remixes go.
"James Baby" found its way to Questlove of The Roots, and House Shoes from Street Corner Music. They both had mutual friends who worked at Universal who were excited about potentially doing a project for James Brown. I was, at the very least, on a shortlist of people to do it. When the world shut down in 2020, I was right in the middle of trying to get things together for the project. I ended up having a bunch of time, and I took on the project with Universal.
Were you working with stems or were you remixing from whole tracks? How did you approach creating this project?
I had already started one of the tracks before I even knew that I would be a part of the project. It was called "Get Up Off." That one was instigated by Questlove during a taping. On Jimmy Fallon, we play music over the house speakers in between commercials. The original song came on, and he dared me to mess with it, which he does with certain songs that seem unflippable. He's like, "I dare you to do something to one of the cheesiest James Brown songs ever. That was the one I started before they reached out. In total, I want to say there were maybe four of the 10 total songs they sent stems for. The rest of them were just me working with what I could.
Do you prefer it that way, where there's some constraint?
It depends, because there's a certain stubbornness to the way that I work, during which I sometimes like the challenge of trying to figure some things out without having the stems right there and everything mapped out. But for some songs, it definitely wouldn't have turned out as well if I didn't have a clear James Brown vocal, or certain guitar or horn parts, and things that make the track pop. It just depends on the track or whatever the vibe I'm going for.
What was your relationship with James Brown's music growing up?
I imagine everyone who had parents who listened to music at all, especially soul or funk music, grew up with James. James Brown was a person who transcended genres in terms of what your parents might have in their household. I grew up with kids whose parents mostly had classic rock or even country, but they had at least one or two James Brown records. So my parents were no different in the sense that they had a widespread collection of things. We mostly had soul and jazz, but there was definitely a collection of James Brown records that I grew up with.
Is it ever intimidating to go up against some of the giants of music and put your own spin on it? Or at this point, are you used to it?
Absolutely. Anytime you have the balls to say, "Oh, I'm going to grab this Michael Jackson track make my own version of it, reconfigure it, or kind of make a mess out of it without necessarily knowing what the reception will be," it's intense. Luckily, I've been fortunate that the majority of them have gotten a good reception.
But it could have very easily gone the other way, especially amongst DJs where they'll be the first to tell you, "No, you had no business touching this song." Sometimes a fan base will tell you, "No, this is a classic song. Don't touch it. It doesn't need a remixer or anything done to it." Because of that, I tend to take the ultimate care in the way I approach it. Though I try to put my own special spices on it, I try my hardest to stay true to the track's original vibe and the energy.
Is there anything you've learned from playing with The Roots that you applied to making this record?
Oh, absolutely. With this project in particular, and probably a lot of things moving forward, their fingerprints will be on my work, because I've never been in a band of that caliber before. Being around musicians like that on a daily basis, on top of what's demanded of you, and being on a show like The Tonight Show where everything moves so fast, a lot of things happen on the fly.
I also think the musicality that I'm able to bear witness to every day adds to it. Being around a bass player every day, you notice what he does in certain sections of the songs when they move or certain keys change. It's the same with every other member of the band, whether it's guitars or keys. You take each part more seriously than you would if you were just being "a beatmaker." They've definitely added to the way that I approach music, even if they're just "remixes."
How would you describe your process?
The best way I explain my process is that it's a one-man jam session. It can start with anything. It could start with vocals. It can start with drums. Drums are usually the starting point for me, because that's the way I start a lot of things. I get a vibe of what I want to do drum wise, but things are subject to change in terms of tempo. If the drums are too busy, I may start taking things out once I start adding vocals and other things. With this particular project, it was a mix of everything. There are certain tracks where I started with just his vocals and tracks that I started with what the guitarist was doing, and building around that.
On Black & Loud, there are a lot of times where the vibe switches halfway. Certain James Brown tracks open themselves up to, "Oh, here's where a bridge comes in out of nowhere." Or, "Here's where all of a sudden the horns are doing something different than they were doing in the first half." It's the most fun in the world to be able to cater to that, and build around all these changes.
Would you say your overarching philosophy is to breathe new life into old classics?
I think there's a part of me that feels like it would be fun to try to see what I could do. Like on the "Sex Machine" remix, I imagined James Brown being in the studio with Fela Kuti. On the album, I liked to imagine James working with some of my favorite artists and producers. I try to make myself a person in the studio with these other two artists that I have a lot of respect for, and imagine what that might sound like.
Who else would you want to have in conversation with James Brown, musically speaking?
Oh, wow. Well, I want Questlove in a conversation with anyone playing music. That's a given. I would like to see DJ Premier on a project like that, or maybe Clark Kent, who's also a DJ. In terms of producers and DJs, I think, those artists that I named, along with Pete Rock, who started implementing a lot of James Brown productions into his work as well. The history of Brown's music is just so rich.
Black & Loud: James Brown Reimagined by Stro Elliot is out on February 4 and available for pre-order.