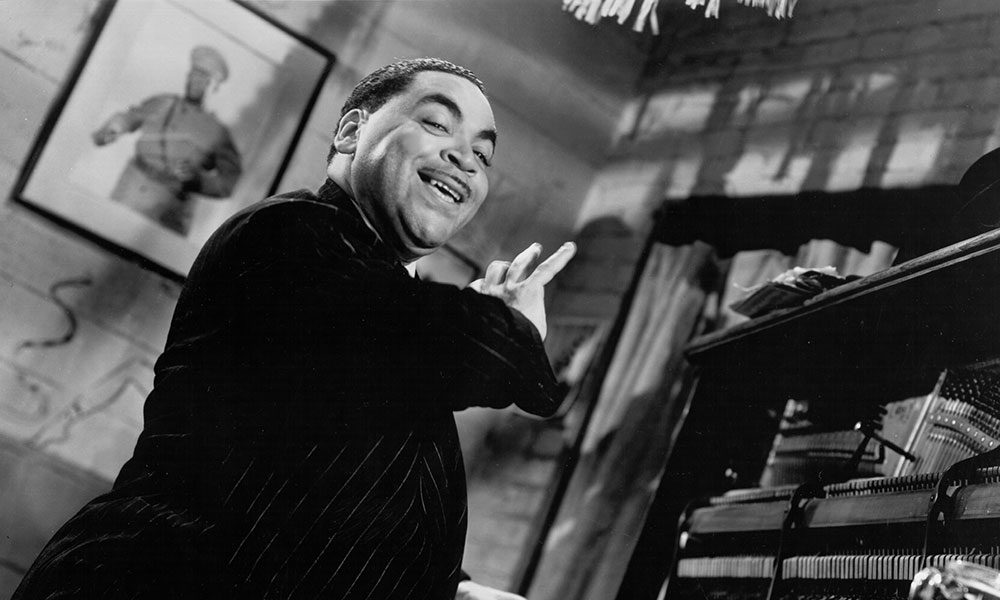 Jazz notable Jason Moran's brand new tribute album to one of the greatest names in the genre's history, 'Fats' Waller, is released next week by Blue Note. But in the week ahead of its appearance, it's available to stream in full.
NPR Radio in the US is hosting a preview here this week of 'All Rise: A Joyful Elegy For Fats Waller' in its First Listen series. The album is a heartfelt tribute by Moran, the 39-year-old pianist from Houston, to an inimitable pianist and singer who died more than 30 years before he was born. The record includes Moran's versions of Waller standards that have lasted across the generations such as 'Ain't Misbehavin,'' 'Honeysuckle Rose' and 'Ain't Nobody's Business.'
The idea for the album came when Moran was commissioned to create a tribute concert for Waller. He rearranged the tunes, hired professional dancers to set the mood and the audience moving, and hired Me'Shell Ndegeocello to front the band.
The new set is Moran's follow-up to his last album as a bandleader, 2010's 'Ten,' although he's been in recording action much more recently than that, last year teaming with both Charles Lloyd for 'Hagar's Song' and Ralph Alessi for 'Baida.' His first album as frontman came in 1999 with 'Soundtrack To Human Motion.'
Alongside all of his recording and touring commitments, Moran is now the artistic director for jazz at the Kennedy Centre. He premiered his latest commission, 'Looks Of A Lot,' at the Chicago Symphony Centre in June. His upcoming shows include an appearance this month with fellow Blue Note artist Robert Glasper on September 19 at the Monterey Jazz Festival, where the following night he will help launch his new release with a Fats Waller Dance Party. On the 21st at Monterey, Moran is part of the Charles Lloyd New Quartet. He then has shows in Italy and France in October before an official European tour with his group the Bandwagon.
Moran is far from the first to take inspiration from the great Fats Waller. Louis Armstrong recorded a fantastic album in tribute to the singer, pianist and composer who died tragically early aged thirty-nine in 1943. And Louis is just one of many that have been inspired in this way.
Thomas Wright Waller, the King of the Harlem Stride pianists, was born the son of a preacher in New York City. His first musical experiences were playing the harmonium for his Father's services. It was not long before he was entertaining his classmates with his piano playing, accompanied by his trademark 'eye-rolling' and funny faces.
After leaving school he began to earn a living playing the organ to accompany silent films. It was at this time that he met James P. Johnson, the writer of the 'Charleston'. Johnson began to coach young Thomas and he was soon playing Harlem house rent parties and in 1922 he recorded his first piano roll. Soon Waller was writing songs with Andy Razaf and their partnership produced such gems as 'Honeysuckle Rose' and 'Ain't Misbehavin'. The latter was written for the 1929 Broadway show Hot Chocolates, which featured Louis Armstrong.
While his piano playing becomes an inspiration to many it was not until Fats began singing in 1930 that he found real fame. In 1932, he joined radio station WLW at Cincinnati, where he broadcast the "Fats" Waller Rhythm Club, which did much to further his reputation. It was in 1934 at a party given by the composer George Gershwin that Fats got his biggest break. Fats entertained the party with his singing, playing and clowning and a Victor Records executive offered Fats a lucrative recording contract. Most of Fat's records for Victor were released as Fats Waller and his Rhythm…..and what a rhythm. It was his phrasing and piano style that secured him his place in the story of the Blues. Virtually every one of his piano playing contemporaries, and those that followed owed something to Fats' style. In all he made over 500 recordings, often recording as many as ten sides in a day.
In 1935 he made his movie debut in Hooray For Love, followed in 1936 by King of Burlesque and in 1943, the year of his death he co-starred in Stormy Weather with Lena Horne and cab Calloway. Fat's was a renowned drinker and it was this that contributed to his death aged just 39 onboard a train at Union Station Kansas City in 1943.
Format:
UK English