U2 Previews New Song 'Atomic City' For Las Vegas Visitors Ahead Of Residency
The band gathered for a 'low budget' video shoot, according to Bono.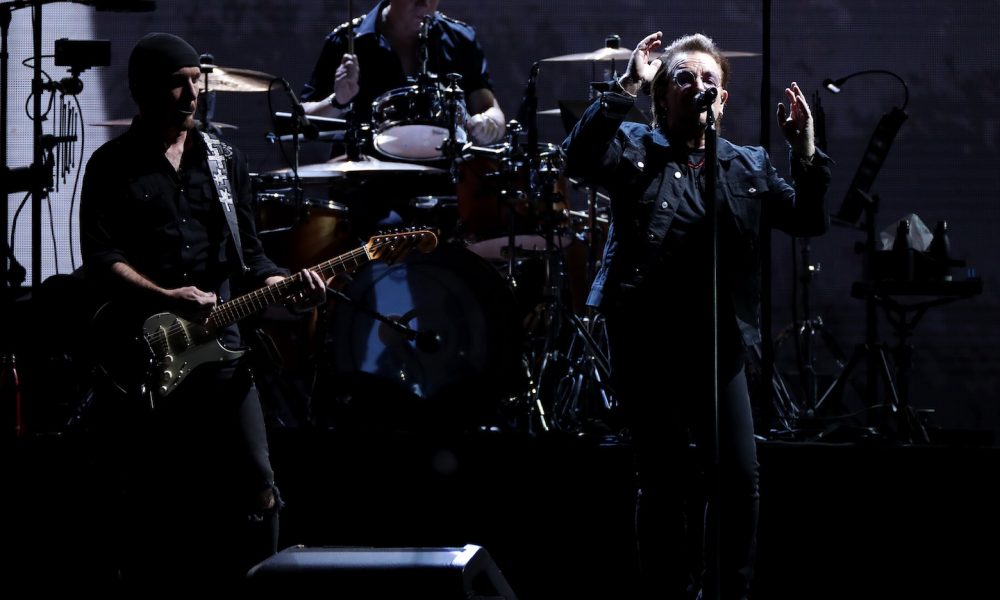 U2 offered up an impromptu performance for tourists cruising the Las Vegas strip. The band gathered for a "low budget" (according to Bono) video shoot, performing the song for the first time ever without any advertising.
Shop the best of U2's discography on vinyl and more.
The band reportedly played the track twice, and then offered up a teaser of the video for fans as they screened footage on a flatbed truck. The performance coincided with U2's forthcoming return to the stage for U2:UV Achtung Baby Live At The Sphere, which is set to open on September 29 in Las Vegas.
In other U2 news, a 30th anniversary limited edition pressing of the band's 1993 landmark Zooropa will be released by Island Records and UMR in October. Ahead of that, the anniversary will be further marked by a special livestream and a limited merch capsule collection.
Zooropa – 30th Anniversary Limited Edition Gatefold, which can be pre-ordered now, will be a transparent yellow vinyl pressing of the band's Grammy-winning eighth studio album.
Zooropa, produced by Flood, Brian Eno and The Edge and recorded in just six weeks – U2's fastest-ever recording – was released by Island on July 5, 1993 on Island Records, only some five months after U2 began to write and record it in Dublin. In a period of creative intensity, this was in a six-month hiatus between legs of the ZOO TV Tour, and the record blossomed from the originally-planned EP into a a fully-fledged, ten-track album.
The album included the singles "Numb," "Lemon," and "Stay (Faraway, So Close!)," and was informed and inspired by the band's recent experiences on the ZOO TV Tour, expanded on many of its themes such as technology and media oversaturation. The album became a No.1 hit in Ireland, the US, the UK, Japan, Canada, Australia, New Zealand, Italy, Sweden, Austria, France, Switzerland, Germany, Holland, Norway, Denmark and Iceland. At the following year's Grammys, Zooropa won for Best Alternative Music Album.