Watch Katy Perry's 'Mushroom' Spectacular On 'Saturday Night Live'
The pop superstar gave the audience a taste of her residency in Las Vegas, 'Katy Perry: PLAY.'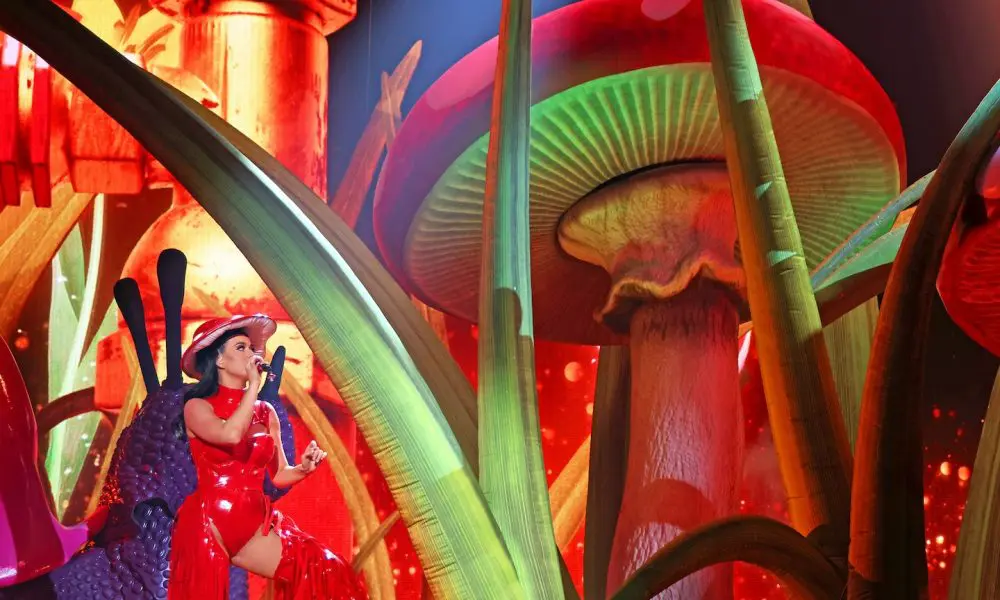 Katy Perry starred on NBC's Saturday Night Live last night (29) with performances of both "When I'm Gone" and "Never Really Over."
In her fourth appearance on SNL and first for five years, the pop superstar gave the audience a taste of her residency in Las Vegas, Katy Perry: PLAY, which opened at the 5,000 capacity Resorts World Las Vegas last December. "Live from New York, it's PLAY(.)," she had posted on Instagram. "Can't wait to bring my slice of Sin City to the Big Apple (and ur [TV emoji)]." Last night's show was hosted by actor Willem Dafoe.
On Friday, she posted photos with the words "Hold on to ur W.I.G." and, yesterday, "flew into a blizzard to bring some heat to @nbcsnl see u tonight." Perry's SNL debut was in 2010; she made her hosting debut the following year and was a musical guest again in 2013 and 2017.
As in the much-acclaimed Vegas show, Perry sang "When I'm Gone" in red, layered fringe chaps with a coordinating mushroom hat, accompanied by dancers dressed as mushrooms, widely described on social media as "phallic." The performance drew media descriptions of "trippy" and many comparisons with Alice In Wonderland.
The song, with Alesso, who joined her for last night's performance, was released on December 29, to coincide with the first PLAY show. On SNL, she returned later in a powder blue gown to present a slowed-down version of "Never Really Over," the 2019 single that went on to be part of 2020's Smile album.
As reported, 16 more dates have been added for the Las Vegas residency, and they went on sale yesterday at 10am PST. The final date in the run is now on August 13. Perry will also return as a judge on season 20 of American Idol, with Lionel Richie, Luke Bryan, and host Ryan Seacrest. The series premiere is on Sunday, February 27 at 8pm.
Buy or stream the Smile album.