Yola Shares Sultry Performance Of 'Dancing Away In Tears' From 'Jimmy Fallon'
The fast-rising UK singer's new single, 'Dancing Away In Tears' also features on her Grammy-nominated album, 'Stand For Myself'.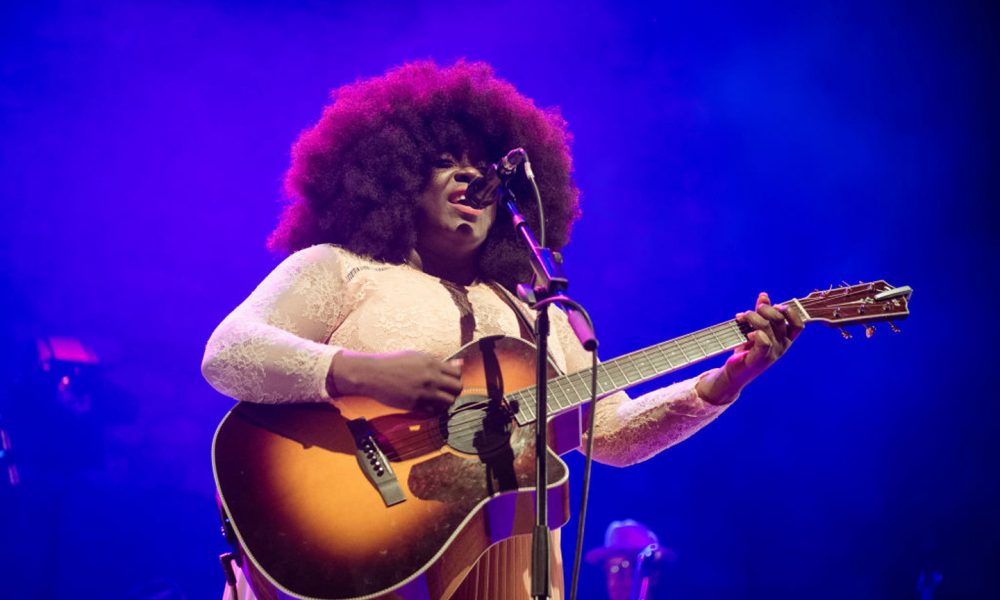 Last night, rising superstar Yola gave a sultry, powerhouse performance of her disco-infused break-up single "Dancing Away In Tears" on The Tonight Show with Jimmy Fallon, making this the television debut of the new single from her Grammy-nominated album Stand For Myself. You can watch it below.
The Black British singer-songwriter is currently nominated for Best Americana Album for Stand For Myself and Best American Roots Song for "Diamond Studded Shoes," making her a six-time Grammy nominee.
Following the performance of "Dancing Away In Tears", an in-depth profile piece with Anthony Mason aired on CBS Mornings, charting Yola's upbringing, music influences, career and life in Nashville, and coming into her own. Yola and Mason chatted at local East Nashville bar Attaboy, where she gave a stunning solo acoustic performance of her song "Barely Alive." They also walked through the National Museum of African American Music, where they spoke about Yola's influences such as Aretha Franklin and Mavis Staples.
Yola's sophomore album Stand For Myself, released via Easy Eye Sound on July 30, 2021, reflects on Yola's belief in the possibility of paradigm shift beyond the mental programming that creates tokenism and bigotry, which have deeply impacted her personal life and professional career. It has also been hailed as a singular sonic shift, by publications including Billboard who included "Diamond Studded Shoes" in the best songs of 2021 so far.
Rolling Stone described it as "an album that reflects her musical journey, with songs that nod to various styles of R&B and dance music." Slate praised her new music as "absolutely remarkable" and Entertainment Weekly claimed "her vocals recall the poise and grandeur of music's greatest vintage pop singers, from Dusty Springfield to Shirley Bassey."
Produced by Dan Auerbach, the album traces a musical thread to Yola's most eclectic musical inspirations. From the seminal albums Yola discovered via her mother's 70s record collection, to her love of eclectic British radio, which featured a fluid mix of rock, 90s neo soul, R&B and britpop—all which soundtracked her childhood and teenage years in Bristol, England.
Some songs began in the twilight hours of Yola's pandemic isolation, reflecting on her personal and our collective moments of longing and awakening. Other songs germinated years ago and were inspired by personal moments, including "Break The Bough," which Yola started to write following her mother's funeral.
Tracks were also co-written with Dan Auerbach, Ruby Amanfu, John Bettis, Pat McLaughlin, Natalie Hemby, Joy Oladokun, Paul Overstreet, Liz Rose, Aaron Lee Tasjan, Hannah Vasanth and Bobby Wood. Recorded during the fall of 2020 with a rhythm section that includes bassist Nick Movshon, noted for his work with Amy Winehouse and Bruno Mars, alongside drummer and rising solo artist, Aaron Frazer.
Yola experienced prejudice throughout her childhood and career and navigated these experiences, as well as homelessness in London and stress-induced voice loss to launch her solo career in 2016. She achieved breakout success with her debut album, Walk Through Fire, which landed her four Grammy nominations including Best New Artist, critical acclaim and fans from Elton John to Estelle.