20 Of The Best Billie Holiday Songs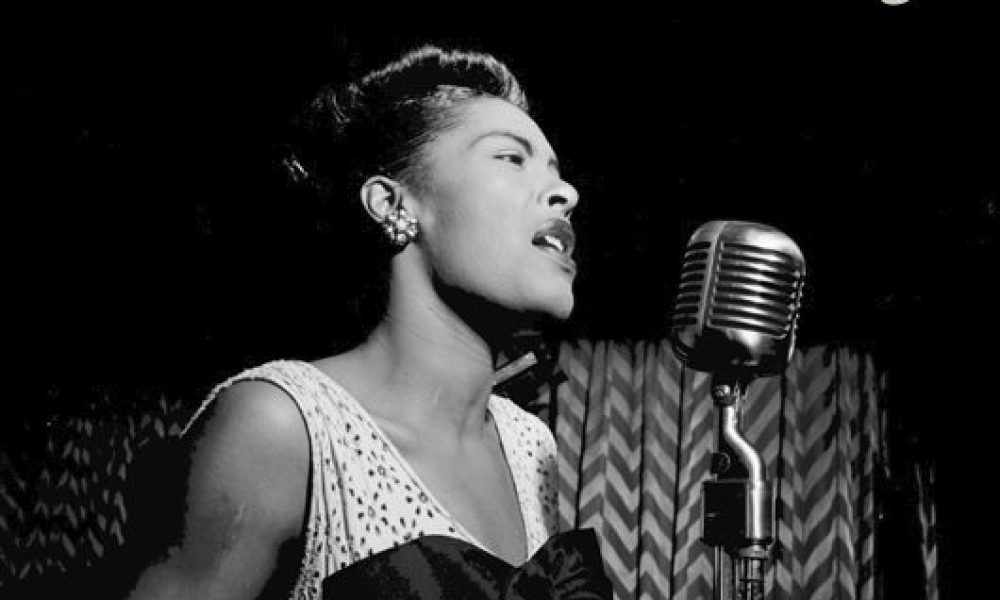 According to The Chairman of the Board, "With a few exceptions every major pop singer in the US during her generation has been touched in some way by her genius." Today, legendary artists seem to be ten a penny. Back when Billie Holiday was first accorded the accolade it really meant something.
So we're attempting the impossible, to come up with 20 tracks that tell the story of her career in just 20 Billie Holiday songs. As usual we'll start at the very beginning – well almost. Billie's first visit to a recording studio was on 18 October 1933 with clarinettist, Benny Goodman and his Orchestra that included Gene Krupa on drums. Billie recorded one song that day, but 'Your Mother's son-in-Law' gives no real hint of her promise. Two months later, a few days before Christmas 1933, Billie did 'Riffin' the Scotch' with Goodman, which is better and it's the first song on our playlist.
In 1935, Billie had a small role as a woman being abused by her lover in Duke Ellington's short Symphony in Black: A Rhapsody of Negro Life. In her one scene, she sings, 'Saddest Tale'.
On 2 July 1935 20 year old Billie began a recording partnership with pianist Teddy Wilson that proved to be very productive and included some classic sides. At their first session, with trumpeter Roy Eldridge, Benny Goodman and tenor saxophonist Ben Webster they cut 4 sides including the wonderful, 'What a Little Moonlight Can Do.' The light and airy playing of the band perfectly complements Billie's elegant and by now fast maturing vocals.
Over the next twelve months Billie recorded about a dozen more sides with Teddy before going into the studio under her own name, with her own orchestra. The first session was on 10 July 1936 when she did four songs including 'Billie's Blues' on which Bunny Berigan played trumpet, Artie Shaw clarinet, Joe Bushkin the piano, Dick McDonough guitar, Pete Peterson bass and Cozy Cole on drums; they created a fabulous sound.
In January 1937 Billie recorded 'I've Got My Love To Keep Me Warm', again with her own orchestra that featured both Teddy Wilson and Ben Webster. In May 1937, once again with Teddy Wilson's Orchestra Billie recorded, 'Mean To Me' that featured Johnny Hodges on alto and the incomparable Lester Young on tenor saxophone. It was Lester that named Billie, Lady Day and she in turn christened him, Pres.
In 1937 Billie sang with Count Basie's orchestra and the following year she appeared with Artie Shaw, becoming one of the first black singers to appear with a white orchestra. It was not an easy engagement for Billie. It was shortly after this that Frank Sinatra came under her spell, "First heard her (Billie) standing under a spotlight in a 52nd Street jazz spot. I was dazzled by her soft, breath taking beauty." Frank later recorded many songs that Billie had made previously her own.
By 1939 Billie was appearing at Café Society in Greenwich Village, a gig that helped her cross over to a larger white audience. Billie's performances at Café Society amazed all that heard her, they were especially enamoured with the torch songs including 'I Cover The Waterfront', which Sinatra would later record. However, there was one song that became synonymous with Billie's spell at the club. One night a New York public school teacher named, Abel Meeropol spoke with Barney Josephson, the owner of Café Society, about a song he'd written and asked if she would perhaps sing it. She readily agreed and so began the fascinating tale of 'Strange Fruit'.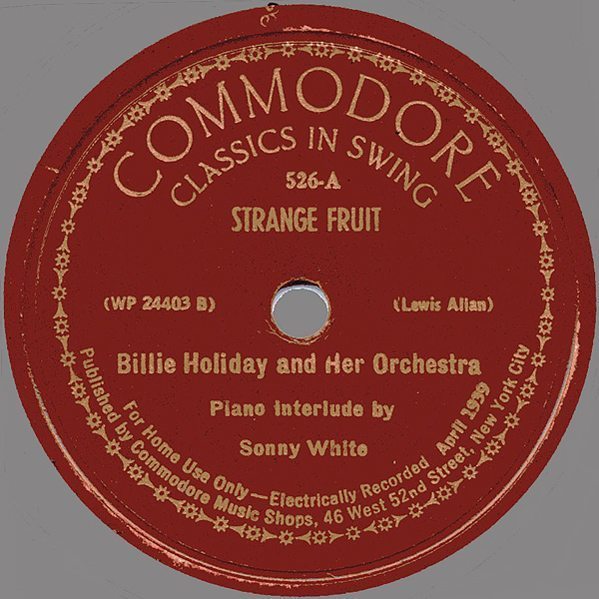 The song is about the lynching of a black man somewhere in the Deep South; it pulled no punches. The anti-lynching protest poem set to music is incredibly powerful and Columbia, Billie's label refused to release it. The Commodore label, run by Milt Gabler who owned Commodore Records in New York had no such qualms. When Billie performed it, live audiences could be stunned into silence, while men as well as women would weep.
At the same session in April 1939 as she recorded 'Strange Fruit' Billie recorded 'I've Got a Right To Sing The Blues', there are fewer more personal statements. Two years later in May 1941 she cut one of the songs for which many people know Billie, the evocative, 'God Bless The Child'.
Billie's issues with drugs and in particular heroin were becoming an issue around this time, but it did not stop her signing to Decca Records and at her first session for her new label in October 1944 she recorded a song with which she has become synonymous, the beautiful, 'Lover Man (Oh, Where Can you Be)'. A month later she recorded another gem, 'That Ole Devil Called Love', which like 'Lover Ma' includes strings that do so much to add to the lushness of Billie's voice.
In 1946 Billie made her debut at Jazz at the Philharmonic and performed a set that included 'The Man I Love' with a band that included Coleman Hawkins and Pres on tenor saxophones
Billie was also being seen as more than just a singer and she was offered a part in 'New Orleans' a film that also featured Louis Armstrong. It was about the birth of jazz; a typical Hollywood affair in which she performed 'Farewell to Storyville' with Satchmo. Three years later Billie and Louis recorded 'Sweet Hunk O' Trash'
In 1952 through her connections to Norman Granz Billie signed to Mercury Records, through Granz's Clef label and at her first session she cut the haunting, 'You Go To My Head' that came out on the LP, Songs By Billie Holiday – Solitude. A few weeks later she did another session for the same album where she did the equally haunting, 'Tenderly' that gives you everything that makes Billie so loved and respected as a singer. The session included the brilliant Oscar Peterson with Flip Phillips playing a beautiful tenor sax accompaniment, Charlie Shavers' s muted trumpet and Barney Kessel's guitar adding sweet little frills; musical perfection.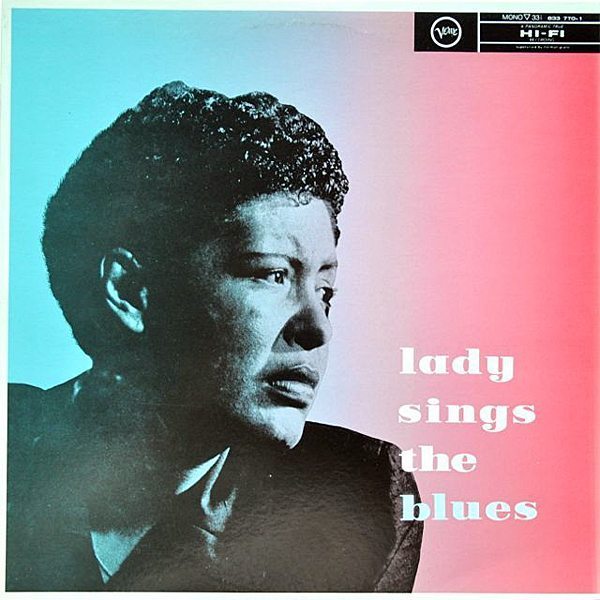 Several Clef albums followed and by 1956 when Granz had formed Verve Records Billie was switched to that label to record the album that accompanied her autobiography, 'Lady Sings The Blues.' There are some that say that by this point Billie had lost it, and there is no question that the ravages of her addictions had done irreparable damage. But listen to 'Ill Wind' with its gorgeous Barney Kessel guitar accompaniment and a Ben Webster tenor solo that cushion her voice and you still believe every word that she sings. Her voice may have been damaged but her timing and her innate ability to make us all believers shine through.
At the end of 1956, to celebrate the release of her autobiography, there was a concert at Carnegie Hall at which Billie performed many of her greatest hits including a stellar version of 'I Cover the Waterfront'
At Billie's penultimate session for Verve in January 1957 she did, 'One for My Baby (And One More for the Road)'. It is perfect. The Harold Arlen, Johnny Mercer classic is one that Frank Sinatra made his own, recording it for the first time a decade before Billie. In 1958 Sinatra recorded the song again for his Only the Lonely album, it would be nice to think it was Billie that had once again inspired him.
11 March 1959 was Billie's last ever recording session, this one with Ray Ellis and his Orchestra in New York and the last song at the session was 'Baby Won't You Please Come Home.' Four days later Lester Young passed away. It was the last and hardest blow for Billie to take. Two months later she was in hospital having collapsed from drug use. She had been refused entry to one hospital because she took drugs and even in this second one, where they were more tolerant, it was toleration that didn't extend to the actual taking of drugs while being treated. A nurse found drugs at her beside in early June and called the police. Despite being in hospital she was arrested. Just over a month later Billie Holiday died, still in hospital, still under arrest.
Billie Holiday was complex. She could exasperate her friends, but at other times she was the sweetest natured woman alive. Before the drugs, the booze and the lifestyle of an addict ravaged her voice, and her body, she could sing with such intensity and with such soul that she transcended people's belief about just how moving a singer's voice can be.
Billie Holiday's Classic Lady Day Box Set is available to buy on 5-LP vinyl here or as 5-CD set here.
Follow the Billie Holiday Best Of playlist here.
Format:
UK English