ABBA Visit No. 1 With Their "First Masterpiece"
The album that signalled the end of ABBA as a current recording act was a hot item on 19 December 1981. The Visitors, the eighth and final studio release by the multi-million-selling Scandinavians, debuted at No. 1 on the UK charts.
By doing so, it extended their run of consecutive album chart-toppers there to seven, two of them greatest hits collections, with another of those to come the following year. That run of eight No. 1 LPs, going back to the first hits retrospective in 1976, meant that ABBA topped the British bestsellers for a total of almost a year, 49 weeks, in real time of six and a half years. Another six weeks at the summit for the Gold album in the 1990s made the total 55.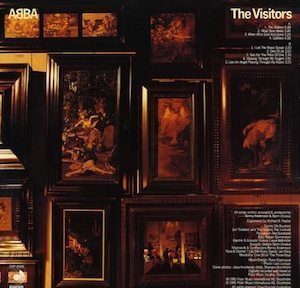 The Visitors may not have contained as many mega-singles as all of its predecessors did, and its songs and spirit reflected the divides within the group's personal relationships by the early 1980s. But it was a rewarding album for the millions of ABBA fans who were interested to see the development and maturing of the group's sound.
While there was plenty of pure, sophisticated pop throughout the record, the opening title track in particular, with its darker, almost psychedelic pop flavours, is a tantalising glimpse of where the group might have gone if they had stayed together. Billboard magazine described it as "ABBA's first true masterpiece."
The album was released almost concurrently with its first single 'One Of Us,' which proved to be the group's last major hit single. There were further singles releases in various markets for 'When All Is Said and Done,' 'Head Over Heels,' 'Under Attack,' the title track and the particularly sophisticated 'The Day Before You Came.'
The album went straight to the UK summit as the previous week's bestseller, Pure Hits '81, fell to No. 4, in the days before compilation albums were redirected into their own chart in that market. The Visitors reigned for three weeks, pursued by Queen's Greatest Hits, into the new year, before the Human League went to No. 1 with Dare.
Purchase the half-speed mastered, 45rpm cut double-LP version of the 1977 set ABBA — The Album, out for its 40th anniversary, here.
Follow the official ABBA Best Of playlist.