Angela Morley: Groundbreaking Composer and Orchestrator
Largely forgotten today, Angela Morley's keen ear for music enlivened iconic movies like 'Star Wars,' 'Watership Down,' and 'Schindler's List.'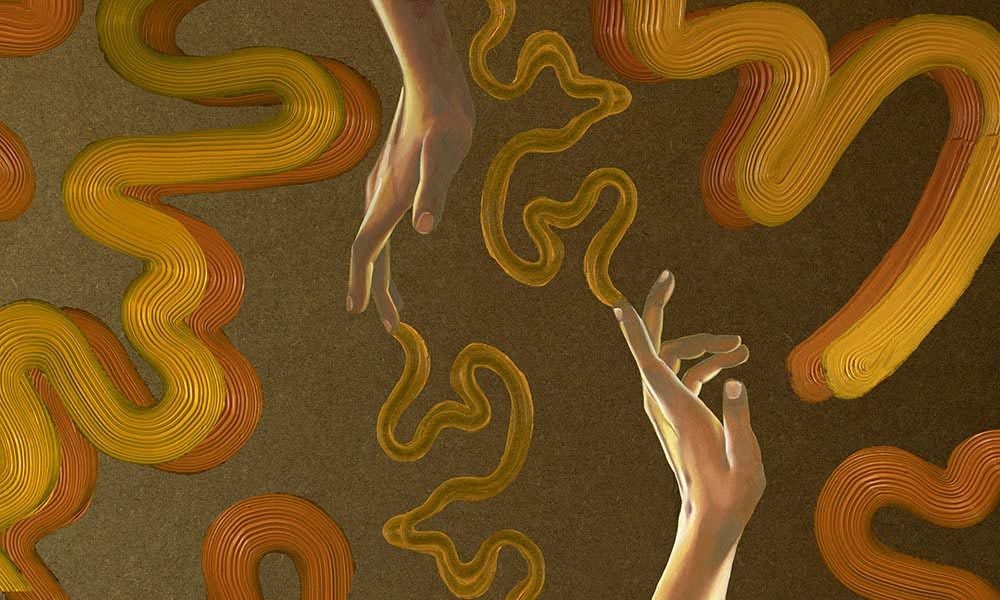 In the very first Star Wars movie, the 1977 watershed that, upon its release, had everything to prove and everything to lose, there's a moment where it looks as though all the characters' efforts might veer into disaster. Luke Skywalker is flying his spaceship through a canal in the side of the Death Star. Just when Luke's concentration peaks, the voice of his dead mentor Obi-Wan Kenobi drifts into his head. The "force theme," heard earlier in the movie when Luke is standing atop a dune on his home planet wishing to lift off onto the sky, crests alongside the disembodied voice. He turns off the targeting computer, trusts his intuition, fires, and lands the impossible shot.
Throughout this sequence, the music careens from theme to theme. Pieces of John Williams' indelible main title circulate in major and minor keys; there's that lovely force string swell; there are horns and drums counting down the seconds until Luke gets his one and only shot to save the galaxy. Williams composed these moments. His longtime collaborator Angela Morley orchestrated them, mapping his sketches onto staves, completing the circuit between Williams' ideas and the players in the orchestra who ultimately executed them.
Listen to Angela Morley's work on The Star Wars soundtrack on Apple Music and Spotify.
Drawing on decades of experience as a musician, orchestrator, and composer, someone with intimate knowledge of how different instruments played against each other and how the subtleties of their dynamics could enhance the drama of a scene, Morley became a quiet powerhouse in American film and television music in the latter half of the 20th century. She played largely unheralded but indispensable musical roles in a host of iconic 20th century movies, including the first two entries in the Star Wars franchise, E.T.: The Extra-Terrestrial, 1978's Superman, Home Alone, and Schindler's List.
John Williams: E.T. - Flying Theme
Early years
By the time she got to Star Wars, Morley was nearly three decades into a long career as a composer, orchestrator, and arranger for film and television soundtracks. Born in Leeds, in 1924, she cycled through the piano, violin, and accordion as a child before she finally settled on the alto saxophone. After being bowled over by a live performance at a vaudeville theater, she left home to join a touring dance band at age 15. Morley came of age during the second World War, when many musicians quit civilian life to join the armed forces. The vacancies they left behind enabled her to begin playing professionally while still in her teens. In 1941, at 17, she joined the popular Oscar Rabin Band on sax, began learning how to arrange instruments, and made her first recordings as part of the group.
Three years later, Morley was invited to join the Geraldo Orchestra, one of the UK's most beloved bands and known for their frequent appearances on radio. Their performances spanned both dance numbers and symphonic pieces; Morley played second alto and arranged Geraldo's dance compositions while familiarizing herself for the first time with the dynamics of classical music. During this time, she took lessons on harmony and composition with the Hungarian-born composer Mátyás Seiber to deepen her knowledge of music theory.
Phillips Records
At age 26, Morley concluded her career as a touring musician, and over the next few years began making her name as an arranger and composer for film, radio, and television. At 29, she signed on as the music director for a new record label called Phillips, expanding her focus to pop music production. Throughout the 50s and 60s, in addition to scoring films under her own name for the first time instead of as a ghostwriter, Morley would arrange and conduct arrangements for a variety of singles. Her fingerprint can be heard on songs by Shirley Bassey (on 1957's "The Banana Boat Song"), Marlene Dietrich (1954's "I Am a Camera"), Frankie Vaughan (the 1961 Burt Bacharach song "Tower of Strength"), and Dusty Springfield (1966's "All I See Is You").
Her playful, inventive ear would go on to serve as the perfect foil to the lapsed teen idol Scott Walker, who in the late 60s was doing his best to cast off the bubblegum trappings of his former group The Walker Brothers. From 1967 to 1970, Morley's arrangements rooted five of Walker's first six solo albums: the four self-titled LPs and 'Til the Band Comes In. Walker used these records to create a new persona: the dark, sardonic provocateur with a honeyed baritone, a sneering crooner locked out of time in his own personal hell. Morley's miasma of droning strings on "It's Raining Today," the opener to Scott 3, set an ominous backdrop for Walker's clear and melancholic voice, punctuated by the occasional discordantly cheery chime. Walker would later comment that working with Morley on Scott 3 "was like having [English composer Frederick] Delius writing for you." A black comedy emerged between the two artists, both of whom had abundant experience at young ages spinning music into sugar, and both of whom seemed equally interested in pitching sweetness all the way into nausea.
Early film work
At the start of the 70s, Morley's name had gathered enough renown that she was able to begin working on higher-profile movies. Her scores accompanied 1970's The Looking Glass War and 1971's When Eight Bells Toll, two otherwise unrelated movies that each starred a young Anthony Hopkins as a British spy. During this time, Morley quietly made arrangements to begin her gender transition, something she did not disclose to her colleagues until after she had recovered from gender confirmation surgery. In 1972, she went on an extended vacation to Scandinavia and came back fully outside the closet, disclosing her identity by simply appearing in new clothes and reintroducing herself with her new name. Some of Philips' artists responded cruelly to the revelation, and Morley almost quit her position; her close collaborator, the producer and A&R executive Johnny Franz, ultimately convinced her to stay on at the label.
Not long after she assumed her real name and gender, Morley went on to earn two Oscar nominations for her film work, becoming the first openly transgender person to be nominated for any Academy Award. She contributed to the scores for the 1974 musical adaptation of Antoine de Saint-Exupéry's The Little Prince and the 1976 live-action take on Cinderella, The Slipper and the Rose. Both are children's stories tinged with a darkness that can't be scrubbed out; The Little Prince makes literal the death of childhood with the suicide of its eponymous character, a turn that's all the more distressing when human actors play it out onscreen. And though it's a clumsy, strange, perhaps overly faithful adaptation of a delicately written children's book, the 1974 film finds emotional tethering in Morley's orchestration of its score. The final scene, where the protagonist flies away from the Sahara and hears the stars laughing in the Little Prince's voice, is accompanied by an airy, disembodied choral arrangement that ripples like a heat mirage, a gesture that seals the gravity of the movie's climax, where we watch a child pass away.
Watership Down
The ability to join the whimsical and the macabre might be the defining characteristic of Angela Morley's most elegant work, the score to the 1978 movie Watership Down. Like The Little Prince, it is, ostensibly, a children's film, a story about rabbits seeking a home away from danger. In one of its first scenes, an elder rabbit has a vision of a nearby field getting soaked with blood; terrified, he rallies to evacuate his neighbors from their warren. In their search for paradise, the rabbits are ensnared, hunted, shot, and maimed; once they've moved into their new home, they go to war with a neighboring clan. The beautiful, impressionistic animation renders these violent moments in brilliant, visceral vermilion. This is no Disney film. These rabbits are flesh and blood, running for their lives in a world spiked on all sides with teeth.
Thanks in large part to Morley's score, whose daring orchestral sweeps infuse every corner of the story with full, overwhelming belief, Watership Down works. It stuns, a story of yearning and danger and loss, acted out by rabbits with English accents on a cosmological scale.
Sarah Wooley, who wrote a 2015 radio drama about Morley's involvement with the film, noted that the composer needed some convincing before she agreed to work on it. "Something changed her mind. She watched the Watership Down footage and read the book. It's a quest story, about finding a new home. There was something she saw in it. She went and composed a fantastic score inside two weeks."
Angela Morley, who died in 2009 at the age of 84 in Scottsdale, Arizona, lived through numerous sea changes in musical styles and recording technologies. Throughout the decades, as she steadily produced a vast body of work, she retained a penchant for both bombast and gravitas. Her playful, curious ear teased out that precipice where fear gives way to wonder, in childhood especially but also past it, that dizzying place where the moment opens up and the impossible crystallizes into the real.
Editor's note: This article was first published in 2021.