Best Antonio Carlos Jobim Songs: 20 Brazilian Classics
An introduction to one of the most important songwriters of the 20th century.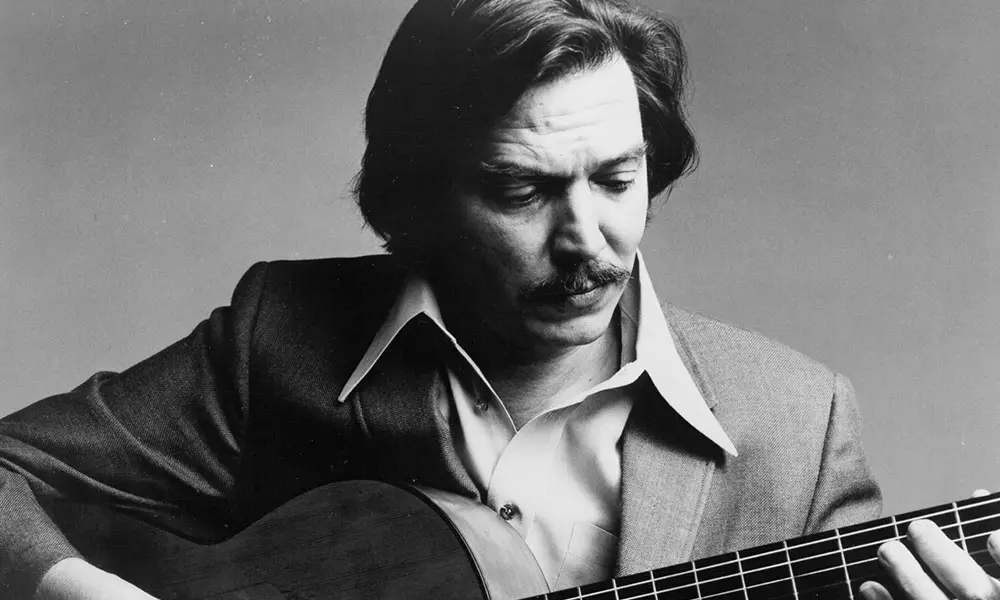 Antonio Carlos Jobim, better known as "Tom Jobim" in his homeland, is arguably one of the most important songwriters of the 20th century, rivaling Gershwin, Porter, McCartney & Lennon, and Wonder for sheer consistency and diversity of output. The sheer number of cover versions in circulation since the 60s keeps Jobim relevant globally among jazz and pop musicians. While Jobim will forever be associated with the Bossa Nova style he helped create alongside Vinicius de Moraes and João Gilberto, his legacy cannot be contained in one genre.
Born into a middle-class family in Rio de Janeiro, the young Jobim played piano in bars and nightclubs before graduating into the bustling Rio recording industry in the mid-'50s. In 1956, he teamed up with poet and diplomat Vinicius de Moraes to write the music for the play Orfeu da Conceição, which later became hit arthouse film Black Orpheus in 1959. It was around this time that João Gilberto showed up in Rio with a revolutionary new style that would soon be dubbed Bossa Nova, with Jobim's compositions fueling Gilberto's career in those early years.
Listen to the best Antonio Carlos Jobim songs on Apple Music and Spotify.
The Bossa Nova brought Jobim to the US in 1962 where he stayed off and on for the rest of his life, recording albums for Verve, Warner Brothers, Reprise, A&M/CTI, MCA, and Columbia as well as a handful of duet and ensemble albums released only in Brazil. Beyond his signature tune, "The Girl from Ipanema," Jobim penned a majority of the best-known Brazilian songs to crossover into international pop and jazz.
As a composer, arranger, pianist, and vocalist, Antonio Carlos Jobim can be heard on not only his own recordings, but also close collaborators and duet partners like Frank Sinatra, Elis Regina, and Sergio Mendes. Picking merely 20 songs to summarize his career is an impossible task, but the following recordings (all Jobim compositions) are some of the best versions of his songs.
Antonio Carlos Jobim's Breakthrough Bossa Nova Songs
("A Felicidade," "Chega de Saudade," "One Note Samba," "Insensatez (How Insensitive)," "The Girl from Ipanema")
The Rio de Janeiro music scene that birthed the Bossa Nova was lousy with talented composers like Carlos Lyra, Roberto Menescal, Baden Powell, João Donato, and more, but it would not be hyperbole to imagine a "Greatest Hits of Bossa Nova" composed entirely of Antonio Carlos Jobim's best songs. That's how much his musical presence defined the era. Between 1958 and 1968 Jobim composed countless classics.
"A Felicidade" (The Happiness) is one of Jobim's most iconic tunes that memorably anchors the film Black Orpheus. If you haven't seen the movie, do yourself a favor and bask in its technicolor wonder and brilliant soundtrack. Historians pinpoint the first song containing all of the elements that define Bossa Nova as Elizeth Cardoso's recording of the Jobim-De Moraes composition "Chega de Saudade" (No More Blues) with João Gilberto on guitar and Jobim on piano and arrangements from 1958. Within a few years of João Gilberto's debut album in 1958, his imported albums traded hands amongst the hippest jazz players in New York and Los Angeles, leading to the flautist Herbie Mann's 1962 trip to record in Rio de Janeiro where he invited Jobim to sing (for the first time on wax) on his own song, "One Note Samba."
Later that year Jobim starred in Bossa Nova's coming out party at Carnegie Hall. He stayed in the US and started his solo recording career in 1963 with his instrumental album for Verve, including the classic "Insensatez (Insensitive)" with his signature spare piano playing. The album also marked the beginning of a decades-long partnership with arranger Claus Ogerman. "The Girl from Ipanema" in its iconic rendition by João Gilberto, Astrud Gilberto, and Stan Getz was recorded later in 1963 and featured Jobim again on piano, but wasn't released until 1964 and earned a Grammy for Record of the Year in 1965.
Insensatez (How Insensitive)
The Stateside Songs
("Quiet Nights of Quiet Stars (Corcovado)," "Bonita," "Surfboard," "Desafinado," "Stone Flower")
The runaway success of "The Girl from Ipanema" solidified Antonio Carlos Jobim's international career. He wrote all but two songs of the songs on the full length from which the hit emerged, Getz/Gilberto, including the beloved ode to the Rio de Janeiro peak upon which the giant Christ statue stands: "Quiet Nights of Quiet Stars (Corcovado)." By the mid-'60s Jobim was a hot commodity in the US, securing him a successful recording career in the US with Warner, first with red-velvet romantic tunes like the English-language Bossa Nova "Bonita."
Corcovado (Quiet Nights Of Quiet Stars) (Mono Version)
His 1967 album features a new batch of instant classics like the easy-listening rerecording of "Surfboard" with help from organist Dick Hyman and arrangements by Claus Ogerman. Jobim tackles one of his most perfect tunes, "Off Key (Desafinado)" with his charmingly imperfect voice and the buoyant support of Ogerman's soaring arrangement.
After leaving Warner Brothers, Jobim expanded his musical vision for his next three albums recorded for A&M/CTI with longer compositions, more jazz musicians, and a more cinematic style. "Stone Flower," the title track from his 1970 album is a perfect example of this next phase in his career, a moody baião rhythm from the northeast of Brazil anchored by Ron Carter on bass and Airto Moreira on percussion. This new sound appealed to a whole new generation of music lovers, like Carlos Santana who chose to cover this song a few years later.
Antonio Carlos Jobim's Duets & Collaborations
("Ela é Carioca," "Água de Beber," "Dindi," "Águas de Março," "Samba do Soho")
Antonio Carlos Jobim didn't just compose classic songs, he often involved himself in the recordings of his songs by friends and fellow musicians both in Brazil and in the US. Before he'd become a minor celebrity in the States, he arranged some of his songs for his mentee, Sergio Mendes' brilliant samba-jazz album released in 1964, including a jazzy version of "Ela E Carioca." Riding the wave of "The Girl From Ipanema", unsuspecting star vocalist Astrud Gilberto found herself recording for Verve. For her first album in 1965, she leaned on Jobim for songs, moral support, some background vocals, and piano, most beautifully on his tune, "Água de Beber."
1967 was a very good year for Jobim with three albums bearing his name, including his historic collaboration with Frank Sinatra. While the second of Jobim's album-length collaborations with The Chairman wasn't officially released during either of their lifetimes, it's worth noting that Sinatra never dedicated more than one album to a particular composer aside from Jobim. "Dindi" perfectly suits Sinatra's languid delivery with Jobim's gentle guitar urging the singer along. Their first collaboration received a Grammy nomination for Album of the Year in 1968.
Recorded in 1973 in Los Angeles, Elis & Tom is worthy of all the accolades if only for their duet version on one of Jobim's greatest songs, "Águas de Março," or "Waters of March." Not unlike the vocal simpatico between Louis Armstrong & Ella Fitzgerald, Jobim and Regina have a delicious vocal chemistry and once it's married to a masterwork of composition, "Aguas de Março" becomes one of the greatest performances ever committed to tape. Relocating to New York, "Samba do Soho" is an effervescent composition from his 1987 album, Passarim.
The Moody Movements
("Valsa de Porto Das Caixas," "Wave," "Children's Game," "Sabiá," "Ligia")
Antonio Carlos Jobim cited Debussy and Ravel alongside the Brazilian composers Ary Barosso and Heitor Villa-Lobos as some of his primary influences. These five songs demonstrate his classical lineage and ability to conjure a mood, whether it's pensiveness ("Valsa de Porto das Caixas"), nostalgia ("Wave"), naivety ("Children's Game"), melancholy ("Sabía"), or yearning ("Ligia").
Jobim snuck "Valsa de Porto das Caixas," a beautiful, spare instrumental ballad onto his first album for Warner Brothers, wedged between future bossa nova standards. Lacking both drums and guitar, this modern classic composition is brought to life by just flute, cello, and piano. "Wave" is one of Jobim's most celebrated songs, a joyous instrumental that later gained lyrics and countless cover versions. On the 1967 album of the same name, Jobim first manifested his grander vision for his music, moving away from jazz and pop and closer to classical recordings with a large string section and masterful arranger and conductor in Claus Ogerman.
"Children's Game" was originally written for the big-budget flop, The Adventurers, but the version he recorded for his own album, Stone Flower, is superior with its dreamy piano and playful percussion conjuring-up school-yard rhymes and childhood whimsy. Jobim collaborated with a number of different lyricists over the years, including Chico Buarque de Hollanda, who wrote the lyrics to "Sabía," referring to Brazil's national bird (a type of thrush) while exiled in Italy in 1968.
"Ligia" is a devastating torch ballad with an exquisite arrangement by Claus Ogerman (yet again) that wears its heartbreak on its sleeve – it's a shame Frank Sinatra never recorded this one. Recorded for his 1976 album Urubu, "Ligia" is another Jobim tune to earn standard status with its countless versions recorded in Brazil and beyond.
Think we've missed one of the best Antonio Carlos Jobim songs? Let us know in the comments section below.