Best Freddie Mercury Videos: 10 Essential Pop Epics
The best Freddie Mercury videos reveal how the Queen frontman harnessed powerful visuals to further express his boundless creativity.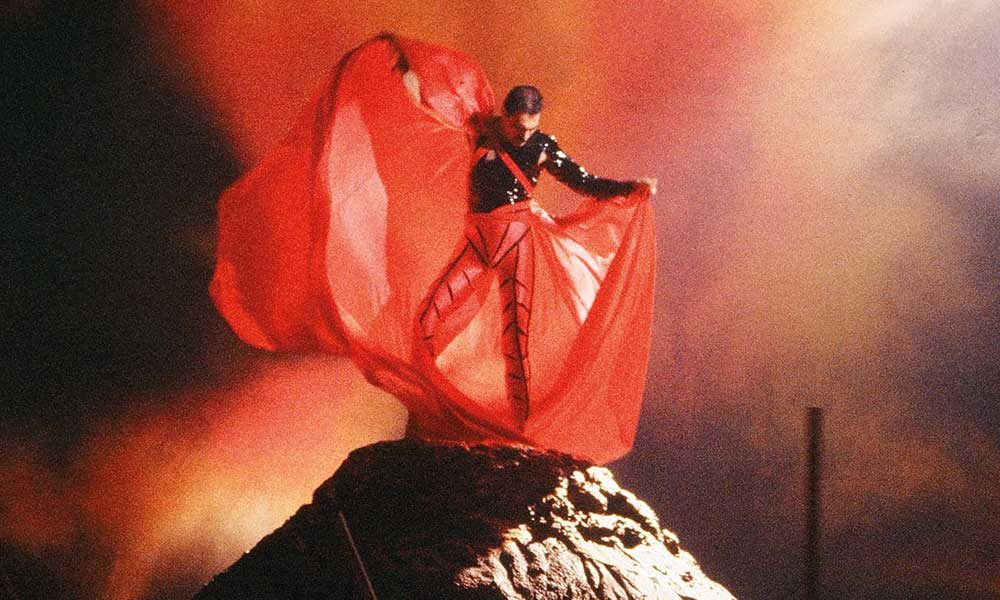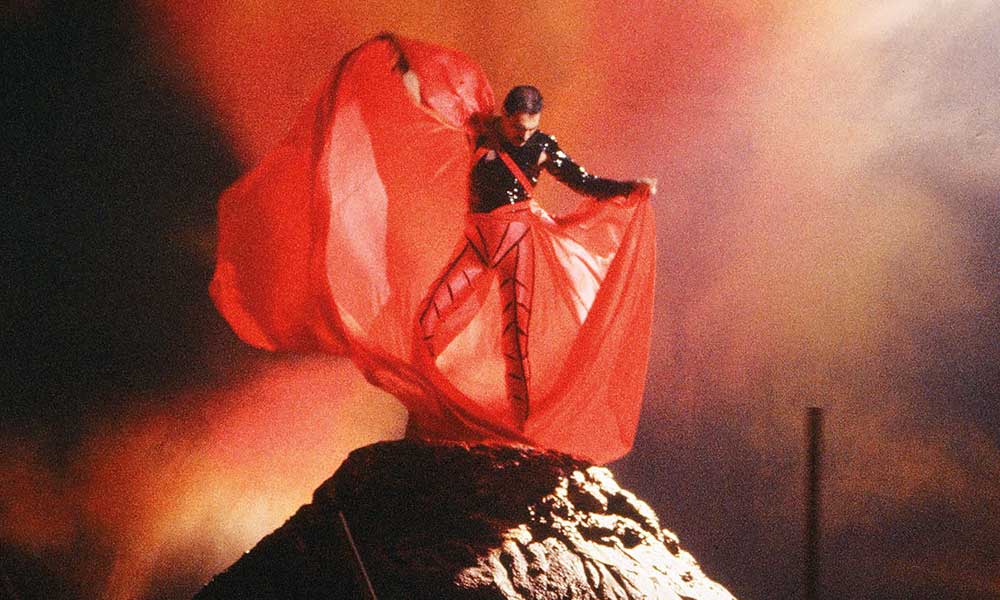 Long before he started his solo work with the Mr. Bad Guy and Barcelona albums, Freddie Mercury understood the power of music videos. His work with Queen included two of rock's most groundbreaking promos: "Bohemian Rhapsody" and "I Want To Break Free," and the best Freddie Mercury videos show how he used the power of visuals to enhance his solo recordings.
Mercury said that music videos were useful for fans because they sometimes provided "so much more insight into the song." He also said that it offered "a feel of maybe how the artist wanted it." He strove to be original in his video work. This run-down of the best Freddie Mercury videos, which have recently been remastered from 35mm originals into high-definition ultra HD 4k versions, will remind you what a charismatic star he was in front of the camera.
Listen to the best Freddie Mercury songs on Apple Music and Spotify.
10: Love Kills
"Love Kills' was a Freddie Mercury solo song that was originally used in Giorgio Moroder's re-edited version of the 1927 silent movie classic Metropolis. The song, which featured Reinhold Mack on synthesizers, reached No.10 in the UK singles chart in 1984. An official lyric video for the song was created in 2019.
Freddie Mercury - Love Kills (Official Lyric Video)
9: Living On My Own
"If you listen to my song 'Living On My Own,' that is very me. It's living on my own, but having fun," said Mercury. He had fun in outlandish, outrageous style in September 1985, just a few months after Queen's Live Aid triumph, when he threw a wild party for his 39th birthday. "Freddie rang me saying, 'Come to my birthday party in Munich! Everybody's dressing in drag. Everybody,'" recalled Queen photographer Richard Young. The party was held at Old Mrs Henderson night club (now Paradiso Tanzbar) and, the following day, Mercury returned to the venue to shoot the video for his 1985 single "Living On My Own," a track on his solo album Mr Bad Guy. The video was directed by Rudi Dolezal and Hannes Rossacher, and features a segment of Mercury scat singing in homage to Ella Fitzgerald.
Freddie Mercury - Living On My Own (Official Video Remastered)
8: Love Me Like There's No Tomorrow
Freddie Mercury was extremely proud of his song "Love Me Like There's No Tomorrow," which was first released in November 1985 as a single from his Mr Bad Guy album. "I like all the songs on the album, but in the end one of my favorite tracks is 'Love Me Like There's No Tomorrow,' because of the way it came out," said Mercury. "It was a very personal thing. I wrote it in five minutes and everything just gelled into place. It was just very emotional, very strong. I love that track."
His very personal song was given a new visual vision in September 2019, with a video created by directors Esteban Bravo and Beth David, with animation from Woodblock.
Bravo and David said of making this short film, "We wanted to tell a story that was relevant to Freddie's life, but not explicitly about him. The AIDS crisis of the 1980s is a huge part of LGBT+ history, and it's something that we knew needed to be handled with care."
Freddie Mercury - Love Me Like There's No Tomorrow (Official Video)
7: In My Defence
Austrian filmmaker Rudi Dolezal was 17 when he first met Mercury to interview him in the bar of the Munich Hilton. Dolezal went on to make a documentary about his friend Mercury. The filmmaker said that, despite being such a flamboyant performer, the rock star could also be "like a shy deer, hopping away into the snow." After Mercury's death in 1991, Dolezal directed the montage video for the song "In My Defence," which was from the 1986 musical Time by drummer Dave Clark. The video featured outtakes, photographs, and footage showing an exuberant Mercury.
6: How Can I Go On
The moving footage of Mercury and operatic soprano Montserrat Caballé singing "How Can I Go On" (a track co-written by Mercury and Mike Moran) was filmed at La Nit festival at Montjurich Castle in Barcelona, in October 1988, by Gavin Taylor. "How Can I Go On" was the third and last single to be released from the Barcelona album. Mercury, who was wearing a tuxedo, was proud to have collaborated with the famous Spanish singer. "A Montserrat Caballé performance is sensational," said Mercury. "She has that same kind of emotion as Aretha Franklin. The way she delivers a song is so very natural, and it's a very different gift. It was fantastic singing on stage with her. What an experience! It really was a dream come true."
5: Time Waits For No One
After finding a musical gem that had spent four decades in the vaults, Dave Clark played a key role in restoring the footage of Mercury singing a stripped-down version of "Time Waits For No One" that was made in 1986. The newly restored video was released in 2019.
The original video of Mercury was filmed at London's Dominion Theatre with a four-camera shoot, using high-quality 35mm film. Clark told uDiscover Music that the singer asked, "How do you want me to perform this?" just before shooting started at the theatre. Clark told him he wanted "a cross between Edith Piaf, Jennifer Holliday and Shirley Bassey." There is some sweet interview footage from 1986, in which Mercury is filmed recalling his response: "Well, dear. I have all the dresses. I can do it perfectly," he joked. The video of "Time Waits for No One" brilliantly captures Mercury's ability to passionately deliver emotional lyrics.
4: Barcelona
Mercury said that singing with Caballé was always "a fantastic rush" and he recalled fondly their duet at The Ibiza Festival, which took place at the Ku nightclub (now Privilege Ibiza). Mercury, such an active performer, said he gave some temperate guidance to the opera star about how they should behave as they sang their most celebrated song, "Barcelona," for the first time in public.
"She asked me how we should do it and I said, 'Oh, we should just stand there and deliver the song,' which is how operatic recitals are done. I had to sort of restrain myself, too. I had to keep in mind that I couldn't do all my usual balletic stuff, none of those prancy poses, and all that. No, I had to just deliver it – in a f__king tuxedo – which I'd never done in front of an audience before, and just go for it! The atmosphere was amazing."
Freddie Mercury & Montserrat Caballé - Barcelona (Original David Mallet Video 1987 Remastered)
3: The Great Pretender
Mercury's 1987 music video for "The Great Pretender," directed by longtime Queen collaborator David Mallet, parodied some of the Queen videos down the years. It also featured Queen drummer Roger Taylor and Doctor Who actor Peter Straker in drag, as backing singers.
Mercury had shaved his trademark moustache by the time the video was filmed. "Most of the stuff I do is pretending. It's like acting… I go on stage and pretend to be a macho man and all those things. I think 'The Great Pretender' is a great title for what I do, because I am The Great Pretender! I've always had that in the back of my mind. In that video, I go through some of the different characters from previous videos, and I'm pretending again. I've always believed that, in the end, in terms of videos, that no matter how good your image is, the song has to be good, too."
Freddie Mercury - The Great Pretender (Official Video Remastered)
2: I Was Born To Love You
Arlene Phillips, who was the choreographer for the 1985 video "I Was Born To Love You," described Mercury as a man who was "so physically creative." His dazzling movement was instrumental in the success of the video for "I Was Born To Love You," another song from Mr. Bad Guy. Mercury wanted "to take ballet to the masses," added Phillips.
The video was also directed by Mallet and filmed at the now-demolished Limehouse Studios in London. It shows Mercury dancing in front of a wall of mirrors, then running through a house with Debbie Ash, from Hot Gossip, before dancing on a podium. "When it comes to videos, I like to have fun in them," said Mercury. "'I Was Born To Love You' is basically a romp through my house. That's what I do every night, so that came very easily. The dancing is quite heavy and some of the outtakes are even heavier than the parts you see."
Mercury said he came up with the idea of people standing behind the mirrors and shaking them. "It was a very cheap way of getting the effect," he joked.
Freddie Mercury - I Was Born To Love You (Official Video Remastered)
1: Made In Heaven
"Videos are more important than radio," said Mercury, about the changes to the music landscape he had seen in the 70s and 80s. One of his most spectacular videos was again directed by Mallet: the single "Made In Heaven," from the album Mr. Bad Guy. The production was impressive. They had to hire a warehouse in north London and build a replica of the Royal Opera House. There were dozens of nude extras who helped recreate scenes from Dante's Inferno. Mercury wore a red-and-black outfit and was holding a red satin sheet. In a bold sequence near the end, the singer stood on top of a 67-foot rotating globe.
Freddie Mercury - Made In Heaven (Official Video Remastered)
The career-spanning Freddie Mercury box set, Never Boring, is out now.