Best Katy Perry Videos: 20 Clips That Took Pop Promos To New Heights
Pushing boundaries and creating talking points, the best Katy Perry videos are among the most widely seen and most revered in music history.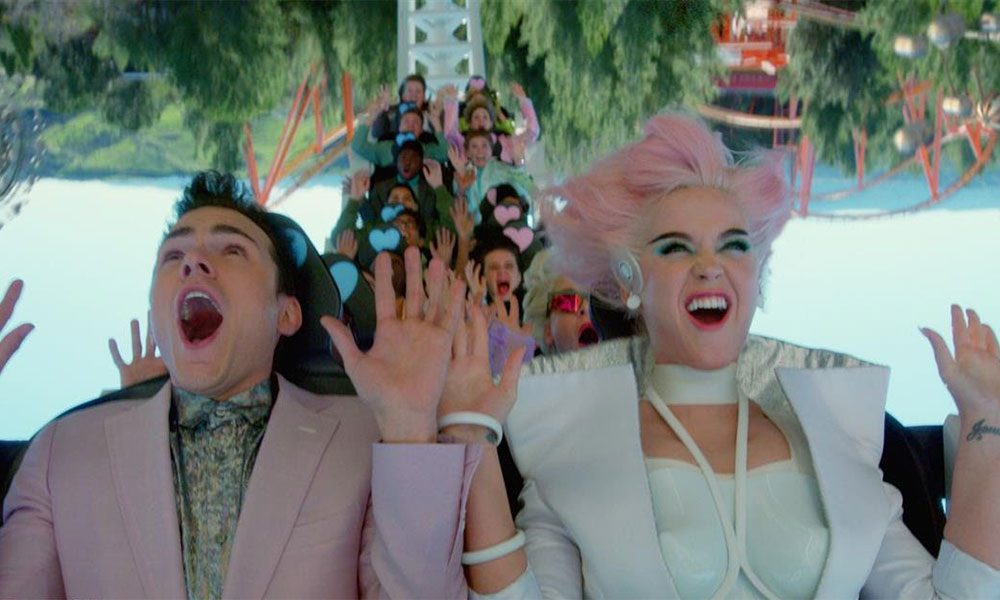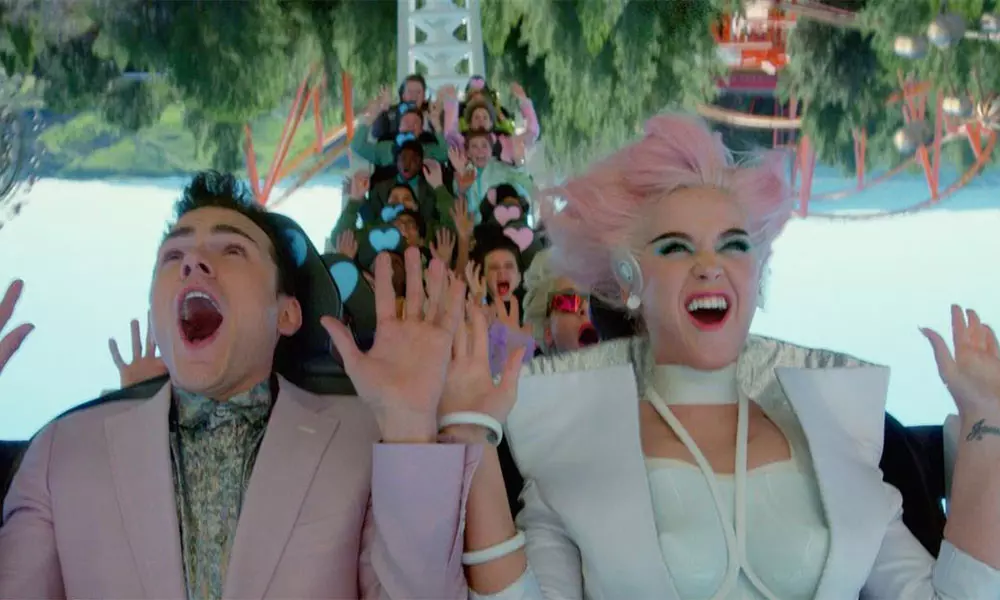 When video started to dominate the pop marketplace in the early 80s, a new generation of acts understood the power of a great visual to amplify the impact of a strong song. Now, well into the 21st century, the best Katy Perry videos are among the most widely seen and most revered in music history. We should have guessed – her breakthrough hit, "I Kissed A Girl," says everything you need to know about her canny ability to compose a great tune and create a talking point… And creating a talking point is all you really need to worry about when trying to make a standout video.
Celebrating the work of someone who has truly taken the pop video to new heights, we look at the 20 best Katy Perry videos.
Listen to the best of Katy Perry on Apple Music and Spotify, and scroll down to read our 20 best Katy Perry videos.
20: Rise
The dark electronica of "Rise" became an anthem of the 2016 Rio Olympic Games. Sometimes less is more, and this dramatic clip, directed by Joseph Lee and filmed in the Utah desert, said much about the gritty self-determination of those athletes performing at the greatest competition in the world.
Katy Perry - Rise (Official)
19: This Is How We Do
Pop-art styling for its video lifts "This Is How We Do," which failed to hit the heights of most Katy Perry releases when it reached radio in summer 2014. It blended retro references with an easy, anthemic message, and the EDM-infused pop worked perfectly as its jaunty backdrop. Filmed across three days in an LA studio, filmmaker Joel Kefali was pleased with the result, with one critic labeling it an "eye-popping colorgasm."
Katy Perry - This Is How We Do (Official)
18: Waking Up In Vegas
Avatar's Joel David Moore joined Katy on the clip for this Billboard Top 10 smash written by rock royalty Desmond Child and Swedish pop maestro Andreas Carlsson. It's a clever performance romp depicting a couple's experience in Sin City, which anyone who has visited the world's capital of fun will likely recognize.
Katy Perry - Waking Up In Vegas (Official)
17: Teenage Dream
This is a simple, evocative homage to the pure euphoria of summer and that first exciting chapter of adulthood, the clip's turbo-charged hormonal rush perfectly catching the lustful build of the song. Katy has rarely played on her sexual charisma, and doesn't here (in truth, the male actor is the more obvious object of that), but this video really gets the heartbeat racing, whatever your preference… As the second single from Katy's third album, Teenage Dream, this cut topped the US charts in 2010.
Katy Perry - Teenage Dream (Official Music Video)
16: I Kissed A Girl
With a new artist, no label executive would be prepared to sign-off on the sort of budgets Katy Perry's videos now command, but this cut works with one simple ingredient: the powerful charisma of its lead. This Cathy Dennis co-composition launched Katy as a global sensation and became her first classic hit. The visual styling and execution would scale up, but everything that makes Katy a star is already on show here.
Katy Perry - I Kissed A Girl (Official Music Video)
15: Firework
Perhaps Katy's most famous track – and certainly her first standard – this is one of the rare instances where a great video is simply overshadowed by an even greater song. The message of self-empowerment and respect for diversity is obvious while Katy largely lets the clip's stories do the talking. It proved that she had the ability to move beyond the high-concept characters that could (if not for simpler choices like these) swamp her wider musical reputation.
Katy Perry - Firework (Official Music Video)
14: Wide Awake
Representing a challenging time in Katy's personal life, this self-referencing ballad saw the singer revisit some of her previous video triumphs to chronicle the journey she had been on since exploding onto the world stage a few years earlier. In many ways, it was hard to know what came first: the powerful ballad or this strong video presentation, with Katy admitting she had scenes for the short worked out many months ahead of filming. The clip deservedly won an Art Direction prize at the MTV Video Awards.
Katy Perry - Wide Awake (Official Video)
13: Part Of Me
This power-pop song got a gritty makeover as Katy played the role of a woman who decides to enlist in the US Army. Less Private Benjamin (the classic Goldie Hawn 1980 comedy vehicle) and not quite GI Jane (the 1997 Demi Moore action movie), the "Part Of Me" video revisited the themes of self-belief and confidence that Katy has made her own. The song was lifted as a single from the repackaged Teenage Dream collection in 2012.
Katy Perry - Part Of Me (Official)
12: ET (featuring Kanye West)
The decision to ask Kanye West to work on a remix for "ET" proved sound, revealing that Katy's work could cut across radio formats and capture the tougher-to-crack urban market. The electro ballad was supported by this high-concept clip, which saw Katy reimagined as the song's lead, drifting through space. It was no wonder the video picked up a handful of awards for its impressive visual effects.
Katy Perry - E.T. ft. Kanye West (Official Music Video)
11: Hot N Cold
Another early video performance saw Katy displaying a natural flair for comedy that would prove to be one of her trademarks. This time, the cat-and-mouse capers are drawn from a wedding that looks more fun than any we're likely to attend. As Katy's critical follow-up to "I Kissed A Girl," "Hot N Cold" did the important job of cementing her chart credentials by becoming a respectable hit around the world.
Katy Perry - Hot N Cold (Official Music Video)
10: Birthday
Another exercise in making you laugh instead of think, "Birthday"'s video was a 70s-inspired highlight from the eclectic Prism album. At times the clip's hilarious sequences, which saw Katy dressed up incognito as an entertainer at five parties, almost threaten to overwhelm the song, but it holds together and helped the track into the charts.
Katy Perry - Birthday (Lyric Video)
9: Bon Appetit (featuring Migos)
Witness marked a more startling transformation than Katy had shown on previous albums. She was determined to present a more nuanced work and if the topics proved a little more demanding of her audience, then so be it. The clip for "Bon Appetit" was a troubling satire on the demands of modern celebrity and reviewers were quick to seize on its darker, more troubling themes. Perhaps not one for the youngest kids…
Katy Perry - Bon Appétit (Official) ft. Migos
8: Unconditionally
The lavish costume drama of this clip helped Prism's standout ballad become a huge hit in late 2013. For all its sharp styling and dazzling choreography, "Unconditionally" is largely a performance piece that drenches the electro ballad in layers of grand direction and drama.
Katy Perry - Unconditionally (Official)
7: 365 (Zedd and Katy Perry)
Joining Katy on segments of her Witness: The Tour, Zedd earned co-billing on "365" when it emerged in early 2019 as the first result of a working partnership with the Russian-born DJ-producer-songwriter. Directed by Warren Fu, the video finds Katy reimagined as a robot in a test relationship with Zedd, with the emotional punch at the close of the clip losing none of its impact on repeated viewings.
Zedd, Katy Perry - 365 (Official)
6: Last Friday Night (TGIF)
Glee's Darren Criss and Kevin McHale, Hanson, and 80s icons Debbie Gibson, Corey Feldman, and Kenny G join Katy on this hilarious clip inspired by the John Hughes movie Sixteen Candles and the hit TV show Ugly Betty. Named Favorite Music Video at 2012's People's Choice Awards, it depicts the messy aftermath of a party we'd all have liked an invite to (just as long as it wasn't at our place!). Katy's almost unrecognizable in her part, but it proved she wasn't afraid to let a bad look stand in her way.
Katy Perry - Last Friday Night (T.G.I.F.) (Official Music Video)
5: Dark Horse (featuring Juicy J)
Taking control of her musical direction more firmly, "Dark Horse" proved to be Katy's first bold crossover moment, and the song's success certainly fueled her confidence to take things further on later releases. With more than two billion views to date, the Ancient Egypt-inspired clip has become one of the most seen videos of all time.
Katy Perry - Dark Horse ft. Juicy J
4: Swish Swish (featuring Nicki Minaj)
Ask most people about this song and they'll focus on the Saturday Night Live performance, which saw Russell Horning (aka The Backpack Kid) showcase the floss dance and create a global sensation. He's nowhere to be seen here, which makes this comic masterpiece something of a forgotten gem. Characters from the U.S. comedy GLOW make cameos, and Nicki Minaj's appearance holds this EDM banger together. "Swish Swish" failed to make much impact on the Billboard Hot 100 but it topped the stateside club charts.
Katy Perry - Swish Swish (Official) ft. Nicki Minaj
3: California Gurls" featuring Snoop Dogg)
The summer anthem of 2010, "California Gurls" needed to launch Katy's second major-label album into orbit, and the kooky, high-concept video helped position the singer as something of a cartoon character, up there in the pantheon with those larger-than-life pop acts that characterize the best of the post-MTV age. The Katy-in-wonderland concept is playful and, for many, has become the default image for the star, who enjoyed a transatlantic chart-topper with the track.
Katy Perry - California Gurls (Official Music Video) ft. Snoop Dogg
2: Roar
The inspiration might be obvious, but the execution is faultless. "Roar" revisits the formula that worked so well for the launch campaign of Prism's predecessor. The new album was a more diverse record than Katy had released before, but this largely traditional hook-heavy pop cut boasted a strong video to help it make its mark. This time, the concept was Katy as Tarzan, with all the cute animal interplay and gender politics you might expect. Quickly passing one billion views, Katy became the first artist in history to have two tracks reach that milestone.
1: Chained To The Rhythm (featuring Skip Marley)
Everything works here: clear message, sharp song (co-written with Sia), and a clever video that accentuates the track's theme, without swamping it in a distracting visual narrative. Filmed at the Six Flags Magic Mountain theme park in California, its sharp commentary on the politics of the present is styled cleverly enough to work on many different levels. Little beats the euphoria of a great mainstream dance track, so if it packs a strong message as well, then so much the better. Power-pop, indeed!
Katy Perry - Chained To The Rhythm (Official) ft. Skip Marley