Best Lady Gaga Songs: Essential Pop Masterpieces
The best Lady Gaga songs take a look at stand-out moments in a career stuffed with mind-blowingly inventive, generation-defining 21st-century pop anthems.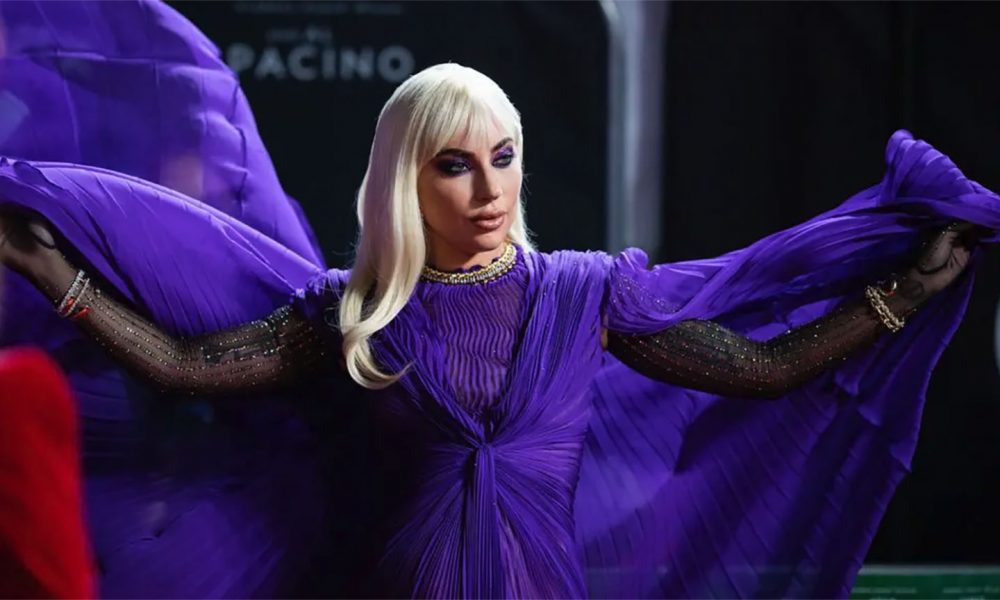 It's been too easy to be distracted by the visual drama surrounding Lady Gaga, but when "Just Dance" entered a handful of the international charts, there was little to signal the colorful, theatrical career that was to follow. New Yorker Stefani Joanne Angelina Germanotta was born on March 28, 1986, and used her time at school to develop her obvious-to-all musical talent. After a spell in local bands, she secured a contract with Interscope after landing a publishing deal that saw her first focus on writing for others before turning her attention to an alter ego and turning out a plethora of hits that would soon rank among the best Lady Gaga songs.
Listen to the best Lady Gaga songs on Apple Music and Spotify.
The Akon and RedOne co-write "Just Dance," famously penned in a mere 10 minutes, received decent notices as a debut, but its progress up the Billboard listings proved slow at first. What's evident today, however, is that "Just Dance" is simply a great dance-pop hybrid, steeped in the R&B synths so typical of the time. Eventually peaking at US No.1 in January 2009 – after a staggering 22-week climb – it became the first of many signature Lady Gaga songs that came to define the decade that followed.
The Fame / Fame Monster era
"Poker Face" was Gaga's second single from her solo debut album, The Fame, and its darker tone, wrapped up in a catchy pop melody, followed its predecessor to the top of the US charts and became the UK's best-selling single of 2009. It's been interpreted many times by the star during her tours and promotional appearances, and again made the setlist for 2017's Joanne World Tour. This sassy midtempo track was also the first to truly showcase the wit and style of her creative team, Haus Of Gaga.
Lady Gaga - Poker Face (Official Music Video)
Proving that sometimes less is more, The Fame's third single (though never released as a standalone in the UK and US), "Eh, Eh (Nothing Else I Can Say)," showed that Gaga was able to slow things down if the mood took her. The calypso-tinged ballad showcased the singer at her most mainstream and was an early indicator of her range.
"Paparazzi" was first among Lady Gaga songs to receive a classic video, directed by Jonas Åkerlund and starring the Swedish movie-star Alexander Skarsgård. But with its fantastically rich melody, written with hit producer Rob Fusari, the song was to prove a substantial radio hit worldwide and drew on contemporary themes for the first time.
Lady Gaga - Paparazzi (Official Music Video)
When Gaga was looking for a great song to launch her extended reissue of The Fame (billed as The Fame Monster), "Bad Romance" was the perfect pick. Showcased at Alexander McQueen's show at Paris Fashion Week 2009, it became one of the world's best-selling singles of all time. Another hugely memorable video and a brace of live performances ensured its impact on the wider public, marking the moment when Gaga became the biggest female pop artist on the planet.
But if, in 2010, Gaga had competition that crown, it came from Beyoncé. It was hard to imagine the coming together of these two very different musical titans, but their inspired pairing on the jittery electro anthem "Telephone" became one of the year's musical highlights. Though the song failed to top the US charts, it hit peak position in the UK and has shifted close to 10 million copies worldwide to date.
If increasing comparisons with Madonna would become hard to shake, "Alejandro" is when they first really started flying. Though this melancholic tune actually owes rather more to ABBA's Benny Andersson and Björn Ulvaeus than Madonna's back catalogue, its imagery could certainly have been lifted from the Ciconne manual on how to cause a fuss, with the Catholic Church proving the point when it condemned the song's music video. Imagine ABBA's "Fernando" dished up with a big serving of attitude and you'll have the idea.
Lady Gaga - Alejandro (Official Music Video)
Born This Way
Another track that drew comparisons with Madonna, "Born This Way" was actually just a spirited reinterpretation on the themes tackled by the Queen Of Pop's 1989 smash "Express Yourself." An anthem to the positive power of diversity, Gaga's devotees – known as Little Monsters – took "Born This Way" to their hearts, and it became the lead single from her 2011 album of the same name.
Teaming up again with RedOne, "Judas" was Born This Way's second single and is generally regarded as the best song on the album. The song's dark lyrical themes were bathed in uplifting synths and the track was a big club hit.
"The Edge Of Glory" marked another bold reinvention for Gaga, introducing a deeper electro-rock vibe to her songs that might have seen it placed in an episode of Miami Vice a quarter of a century earlier. With a rich, soulful vocal, Gaga's performance was a career-best to date, and proved that it was the music that really mattered to her. By now, however, Gaga's influence on fashion was indisputable and she had become a fixture of the tabloid press, piling pressure on the star.
Lady Gaga - The Edge Of Glory
The professional crush that Elton John has often proclaimed for Gaga was consummated over an unreleased duet, "Hello Hello," recorded for the movie Gnomeo And Juliet. Gaga repaid the praise properly with "You And I," the fourth single from Born This Way. The song was a classic 70s stomper in the style the Rocket Man himself had made his own almost four decades earlier. Gaga recorded it with Shania Twain and Def Leppard producer Robert John "Mutt" Lange and premiered the song at Elton's 2010 White Tie And Tiara fundraiser.
Artpop
The 2012 Artpop album marked a time when some seemed exhausted by the seemingly irrepressible imagination and creativity in each new batch of Lady Gaga songs. "Do What U Want" was the set's second single and another duet – this time with troubled R&B icon R Kelly. "Do What U Want" hit the markets in October 2013, but its video, shot with controversial photographer Terry Richardson, never actually saw the light of day.
Gaga has never shied away from controversy. "Swine" detailed a dark episode in her life, and the Artpop album track, performed extensively on the album's tour, is an intense, electrifying roar of pain that demonstrated her ongoing commitment to tackle more challenging issues in her work.
Cheek to Cheek era
Lady Gaga's love letter to one of her musical icons – the Tony Bennett duets album Cheek To Cheek, from 2014 – included one solo track: "Lush Life." The jazz standard, dating back to the 30s, was a glorious interpretation and Gaga's performance stands up there with others by legendary artists as diverse as Johnny Mathis, Linda Ronstadt and Ella Fitzgerald.
Elsewhere on that same album, "Nature Boy" is one of those songs that sounds fresh no matter how many times it is performed. The Nat "King" Cole standard, first released in 1948, here fuses the two very different approaches seamlessly, with Gaga and Tony Bennett performing it regularly on their 2014 tour.
Legendary songwriter Diane Warren's collaboration with Gaga, the haunting "Til It Happens To You," was written for a 2015 documentary about campus rape in the US, winning an Emmy Award and securing an Oscar nomination at the 2016 Academy Awards, where Gaga performed the song. The stripped-back lament is shocking in its vulnerability and became central to the recent wider reassessment of the star as a truly versatile performer.
Lady Gaga - Til It Happens To You (Official Music Video)
Joanne Era
With yet another change, "Perfect Illusion," the first single from Gaga's fifth studio album, Joanne, made its debut in London in September 2016 and is one of a number of Lady Gaga songs written with Mark Ronson, who helped steer the parent project. The dance-pop stomper may have revisited some familiar ground, but signalled a return to the out-there energy blast that had characterized the star's first success.
The reception that greeted its follow-up, "Million Reasons," saw the song elevated from promotional status to fully-fledged second single when the poignant, country-tinged song became a solid radio hit. A performance at the Super Bowl saw it finally crack the US Top 5, representing a major return to the charts.
Lady Gaga - Million Reasons (Official Music Video)
Lady Gaga took a starring role in two series of TV's American Horror Story anthology and was signed to a big-screen remake of A Star Is Born, so finding the time for a standalone single during 2017 should have been a tall order for the star torn between so many career choices. But "The Cure"'s anthemic R&B groove proved a startlingly simple statement of melodic credibility. Despite the distractions, Gaga proved once more she could knock it out the park each and every time.
A Star Is Born
By the time A Star Is Born hit the screens, in October 2018, There was one obvious contender for the song to launch the soundtrack. "Shallow," written by Lady Gaga with hit producer Mark Ronson, Dirty Pretty Things alumni Anthony Rossomando, and Miike Snow's Andrew Wyatt, it was shaped as a sparse guitar ballad by Bradley Cooper's character, Jackson Maine, that builds into a powerful duet with Lady Gaga's character, Ally. With a timeless, uplifting melody, it served as a significant plot hinge to the film and exploded across pop radio when featured extensively in the movie's trailer. Emerging as a massive hit single, it also scooped an Oscar, more than earning its place among the best Lady Gaga songs.
Another highlight from A Star Is Born is the charismatic ballad "I'll Never Love Again." It plays a triumphant part in the film's finale, but this sweeping statement of loss had personal resonance for Lady Gaga, as she recorded the song's scenes for the hit movie on the same day that a close friend had died. Much of the controlled dignity of that moment can be seen in her extraordinary performance, but the track carries just as much as gravitas. It received a belated release as a single from the soundtrack album and later won a Grammy for Best Song Written For Visual Media.
Chromatica
The birth of the Chromatica era came at a difficult time, with the world battling through the early stages of the COVID-19 pandemic. The recordings for Lady Gaga's sixth studio album had also been beset by the inevitable track leaks and stop-start nature of busy superstar schedules, but "Stupid Love" emerged triumphant as the project's first single. It marked the first time Lady Gaga had worked with Max Martin, hitmaker of his generation with a CV that includes Britney Spears, Taylor Swift, and The Weeknd. He blended up the undercooked demo into a frothing, hook-heavy electropop epic that did Top 5 business globally.
And then there was "Rain On Me." Pairing the planet's two biggest female artists seems a no-brainer now, but the collaboration almost didn't happen, with Lady Gaga admitting she was in a fragile, distant state during the recordings. The pair eventually found the chemistry that turned the song into one of 2020's biggest tracks, with a chart-topping performance both sides of the Atlantic and a trio of MTV Music Video Awards, including the prestigious Song Of The Year. It's a raucous Hi-NRG romp with the distinctive vocals from the two singers adding light and shade to a supremely catchy melody, ably produced by long-term producer Michael Tucker (AKA BloodPop). Another Grammy win from the hit laden Chromatica album, this single was the first female collaboration to win Best Pop Duo/Group in the awards' long history.
Lady Gaga, Ariana Grande - Rain On Me (Official Music Video)
Love for Sale
Gaga's second and final pairing with the legendary Tony Bennett, Love For Sale, was issued in late 2021 and the camp rework of the Cole Porter standard "I Get A Kick Out Of You" was picked as the collection's first single and received instant acclaim. It offers fresh evidence of the sparkling charisma of the partnership. His back catalogue is arguably perfect as it is, but this track proved – yet again – there can always be one more encore.
Tony Bennett, Lady Gaga - I Get A Kick Out Of You (Official Music Video)