Best Roger Miller Songs: 20 Classics From The King Of The Road
Best known as a country singer-songwriter, Roger Miller's songs and talents reached far beyond the borders of Nashville.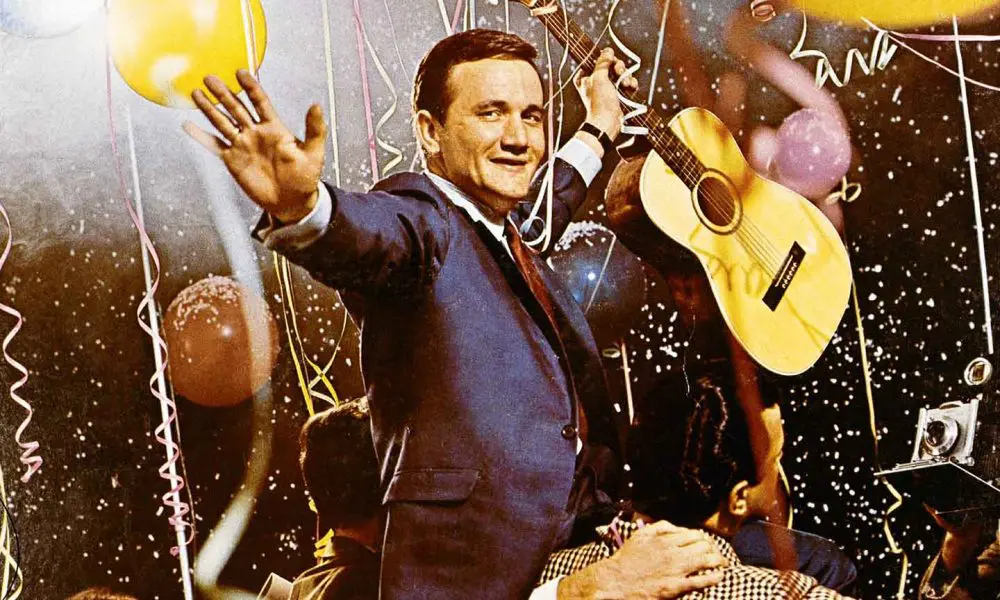 Ranking Roger Miller songs is a challenge. Not only does he have plenty of great ones to choose from, both as a writer and performer, but stylistically they span such a wide swath of American popular music that it can feel like comparing apples and oranges. Is the two-step-ready honky tonk tune better or worse than the improbably successful and still-compelling novelty song, or are his trendsetting almost-outlaw tracks better than all of them?
Luckily, there's no real need to choose. Miller, born in Fort Worth, Texas in 1936 and raised just over the Oklahoma border, produced songs and records at a consistent clip almost from the time he reached Nashville in the late 1950s to his death in 1992. His skill, both as a songwriter and one of the most dextrous and diverse singers country music has ever seen, brought him a few years of enormous commercial success during the mid-1960s. But even once that popular success faded, he was still deeply respected by country music aficionados.
Listen to Roger Miller's best songs on Apple Music or Spotify.
20. "Engine, Engine #9," The 3rd Time Around (1965)
Released during Roger Miller's commercial peak in the mid-1960s, the upbeat heartbreak tune found the singer tapping his more mainstream pop sensibilities to continued success. His deep, expressive voice is sometimes at odds with the forcefully cheery instrumentals behind him, but the lyrics are as distinctive and compelling as ever – iconic enough to earn a pivotal spot in rap duo Black Sheep's "The Choice Is Yours," bringing a whole new generation (and meaning) to "engine, engine #9."
19. "The Last Word in Lonesome Is Me," The 3rd Time Around (1965)
You hardly need much else when the title is that good, but Roger Miller pours it on with one of his most evocative vocal performances – cementing the song's status as a pitch-perfect country tune. Eddy Arnold made it a hit, but Miller's version is all heart, as is the Dolly Parton and Alison Krauss rendition from a recent Miller tribute album.
18. "When Two Worlds Collide," 1961
Even if it failed to instantly propel him to country superstardom, Roger Miller's first top 10 single became a standard of the genre, earning covers by everyone from Jerry Lee Lewis to John Prine and Trisha Yearwood. Miller co-wrote the matter-of-fact waltz with Bill Anderson, while Chet Atkins produced the understated recording, in which even the background chorus never interferes with the song's melancholy message.
17. "Chug-A-Lug," Roger And Out (1964)
The goofy song about being young and getting drunk became Roger Miller's second consecutive quasi-novelty track to become a massive hit, following "Dang Me" up Billboard's country and pop charts before peaking on the Hot 100 at No. 9. "Chug-A-Lug" flaunted Miller's skill at contorting his voice to humorous and evocative effect in a relatively stripped-down setting. His vivid depiction of kids drinking "grape wine in a Mason jar" on field trips evidently resonated with listeners as much as considerably more generic country drinking songs still do today.
16. "Kansas City Star," The 3rd Time Around (1965)
For all his storytelling, very few Roger Miller singles carried a nonautobiographical narrative from beginning to end. "Kansas City Star" is the punny exception to that rule, taking the tale of a local newscaster who would rather be a big fish in a small pond than advance their career; Miller's comic skills are centered in the recording, but the meat of the song is enjoyable as well – and plants the seeds for plenty of later tunes by one of Miller's foremost acolytes, John Prine.
15. "Old Friends," Old Friends (1982)
Roger Miller partnered with Willie Nelson for this 1982 album, and Ray Price joined the party for its title track, a lilting tribute to the Texan ensemble's long history together as well as friendship in general. Miller was long past having something to prove, and though age is evident in his voice (he passed a decade later), his singing is just as expressive as ever. The song became one of Miller's final radio hits, reaching No. 19 on Billboard's country chart.
14. "Tall, Tall Trees," A Trip In The Country (1970)
Originally recorded by George Jones and popularized several decades later by Alan Jackson, this Cajun-inspired love song shows Roger Miller's sweet side. He co-wrote the tune with Jones, another legend still early in his career, to channel the kind of simple subject and melody that makes the song sound much older than it is, like something that might have been passed down for years as part of country's songbook. Decades on from the Jackson cover, it's become exactly that.
13. "The Moon Is High and So Am I," Roger And Out (1964)
This eyebrow-raising tribute to hard living and its consequences is so memorable that it's hard to believe it hasn't been more prolifically covered. Its only single release came courtesy of 60s country duo Johnnie & Jack, who did little with it – Roger Miller's own recording is (unsurprisingly) much more dynamic, fast-paced and almost grungy in the most appealing way. His own struggles with substance abuse aside, this song deserves a full revival by contemporary country artists.
12. "You Can't Roller Skate in a Buffalo Herd," Golden Hits (1966)
Allegedly, Roger Miller called this the favorite of his own compositions – a claim that may have been a bit of a joke in itself, given the song's purposefully absurd lyrics. The refrain, though, isn't absurd at all: "You can be happy if you've a mind to," he repeats after every improbable verse, weaving a little sincerity into all the silliness. Miller released the song in the middle of a string of hits, and somewhat unsurprisingly it failed to be as radio-friendly as his other singles from the time – a bridge too far, perhaps. But it stands as evidence of Miller's good humor and classic country approach.
11. "Oo-De-Lally," Story And Songs From Robin Hood (1973)
As his pop radio hit streak faltered, Roger Miller found new ways to stay in the center of the American zeitgeist – including penning beloved songs for children's movies. He was not only the narrator (Alan-a-Dale, a rooster) of Disney's 1973 take on Robin Hood, but the creator of most of its soundtrack, including the mellow near-nursery rhyme "Oo-De-Lally." Sentimental, smart, and playful, the song is unadorned except by Miller's voice and finger-picked guitar – a choice that is impossible to imagine today.
10. "Husbands and Wives," Words and Music (1966)
This simple song still manages to effectively depict how marriages can fracture, and the emptiness of those that are beyond repair. In spite of its grim subject matter and sad tone, though, "Husbands and Wives" still continued Roger Miller's string of Top 40 hits, and proved to be one of his more lasting and frequently-covered compositions. Ringo Starr, Neil Diamond, and Brooks & Dunn are just a few of the artists who have put their own spin on the song, the latter taking to the top of the country charts over 30 years after Miller's release.
9. "Invitation To The Blues," A Trip In The Country (1970)
"In the beginning, I created heavenly, earthly songs," Roger Miller quipped in the liner notes for A Trip In The Country, a 1970 album on which he reprised many of the songs that helped him find his place in Nashville. "Invitation To The Blues" was one of his first compositions to find its way up the country charts when it was recorded by Miller's bandmate Ray Price in 1958. By the time Miller recorded his own rendition of the honky tonk classic, he'd already found plenty of success among both pop and country audiences – but rather than chase it much further, he opted to return to his roots.
8. "Do-Wacka-Do," The Return of Roger Miller (1965)
Importing some of the scatting and guitar licks from his hit "Dang Me," Roger Miller once again flaunted his vocal dexterity in this ode to jealousy. The track toes the line between humor and seriousness, landing somewhere around matter-of-factness (but with more than a few outlandish flourishes). The single brought country and pop audiences a taste of the kind of back porch humor and blues that still rarely made it into music's mainstream.
7. "River In The Rain," Roger Miller (1986)
This song is one of Roger Miller's Tony Award-winning compositions from the 1985 musical Big River, based on Mark Twain's The Adventures of Huckleberry Finn. There's no question it stands alone, though, a sweeping, poetic ballad that stretches far beyond the purview of most of Miller's country peers into something much broader and more universal. All but ignored as a single, it speaks to Miller's contributions far beyond what was successful on the radio.
6. "Where Have All the Average People Gone," Roger Miller (1969)
There's a distinct hint of the coming outlaw movement in this Roger Miller composition, which he recorded alongside his take on Kris Kristofferson's "Bobby McGee." It is candid and plainspoken, depicting a relatable problem: feeling between extremes, and adrift as a result. "The people in the city think I'm country," Miller sings. "…but the country folks all say I'm citified." The song was a modest success, reaching No. 14 on Billboard's country charts. Its message, though, still rings true.
5. "Me and Bobby McGee," Roger Miller (1969)
Though others have since performed much more famous versions of this legendary Kris Kristofferson composition, it was Roger Miller who picked the tune up first. He recorded it in a style not dissimilar to his peers in the burgeoning outlaw movement, with simple finger-picked guitar and a conversational singing style. Miller's take on the tune is straightforward, recorded with a songwriter's respect for the work of his peers, but powerful nevertheless.
4. "Little Green Apples," A Tender Look At Love (1968)
After Roger Miller's mid-1960s commercial peak, he briefly recorded albums – marketed as pop – with songs written by other people. One of those, written specifically for him by Bobby Russell, was "Little Green Apples," a song so understated it barely sounds like a major label recording much less a single. Miller's voice sounds fuzzy and distant as he sings the gentle ode to domestic bliss, which would eventually be made much more famous by the R&B singer O.C. Smith.
3. "I've Been a Long Time Leavin' (But I'll Be a Long Time Gone)," Words and Music (1966)
Roger Miller hit fans out of nowhere with this beautifully abstract song, moving between an effortless falsetto and a road dog's conversational patter to tell the story of leaving some woman who did him wrong. His gifts, both for melody and word play, are front-and-center in this recording, which was initially released as the A-side to the considerably more successful "Husbands and Wives" but never reached the charts. The track offers a glimpse of the folksy eclecticism that would eventually make Miller a cult hero as well as a massively successful pop star.
I've Been A Long Time Leavin' (But I'll Be A Long Time Gone)
2. "Dang Me," Roger and Out (1964)
Roger Miller's first major hit was an admittedly strange song, squeezing ahead-of-its-time talk-singing, twangy lyrics and scatting into one minute and 47 seconds of country eclecticism. Yet the kooky, self-deprecating little song and its memorable riffs spent six weeks atop Billboard's country charts in 1964 and reached No. 7 on the Hot 100. The single was something of a coming out party for Miller, who was already well-regarded behind the scenes as one of the industry's best songwriters. With its light-hearted approach to some pretty serious subject matter (and surprising arrangement), "Dang Me" also set the precedent for Miller's future success with novelty songs – and displayed his impressive vocal control and gift for melody.
1. "King of the Road," The Return of Roger Miller (1965)
Not only the most iconic song in Roger Miller's repertoire, "King of the Road" is one of the most memorable songs in American popular music. The deceptively simple memoir of some unknown vagabond became an international hit, quickly reaching No. 4 on Billboard's Hot 100 even before it spent five weeks atop the country chart (and eventually won five Grammy awards). The song's endurance, from Bob Moore's pitch-perfect bass line to bohemian snaps to its singular "Trailers for sale or rent" opener – apocryphally inspired by a sign Miller saw on the road somewhere outside Chicago – is a testament to its polished, evergreen storytelling and the reach of Jerry Kennedy's Nashville Sound production, a sound that expanded the possibilities of what country music could be.
There are so many impressive details in the song's two-and-a-half minutes that it might be easy to overlook Miller's effortless, conversational singing. But it was instantly covered by dozens of artists and none even caught a whiff of the kind of success Miller had, a testament to the power of his performance. He painted a portrait of a traveling man who is neither hero nor villain, and all the realer for it.
Listen to Roger Miller's best songs on Apple Music or Spotify.