'Both Directions At Once': Lost Coltrane Album Provides Revelatory Insights
Unearthed after 55 years in the shadows, 'Both Directions At Once' reveals a fascinating lost chapter in the life of John Coltrane.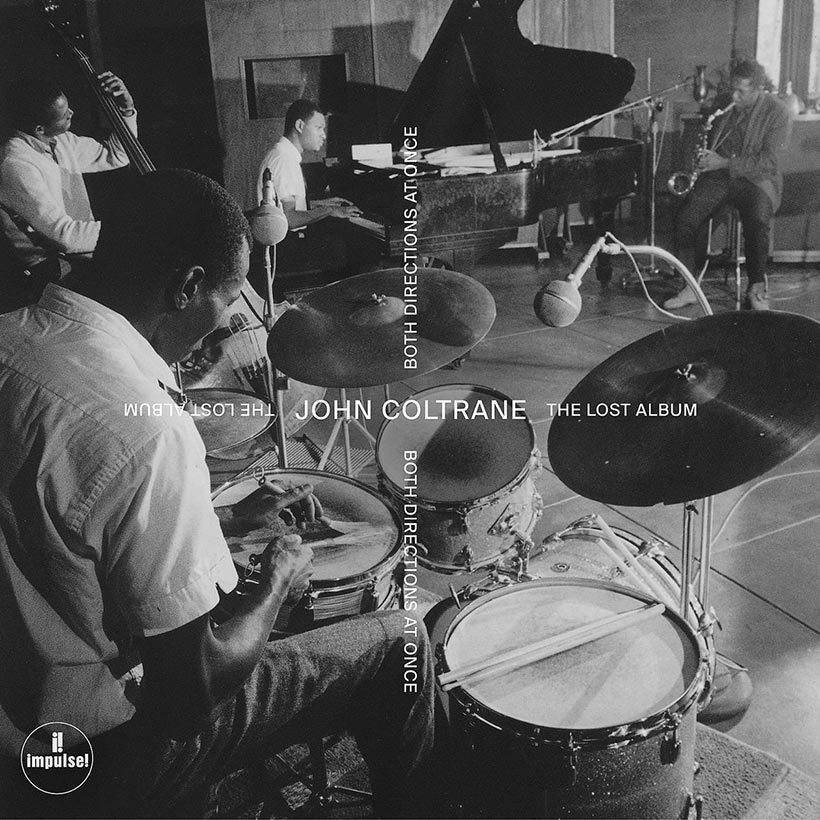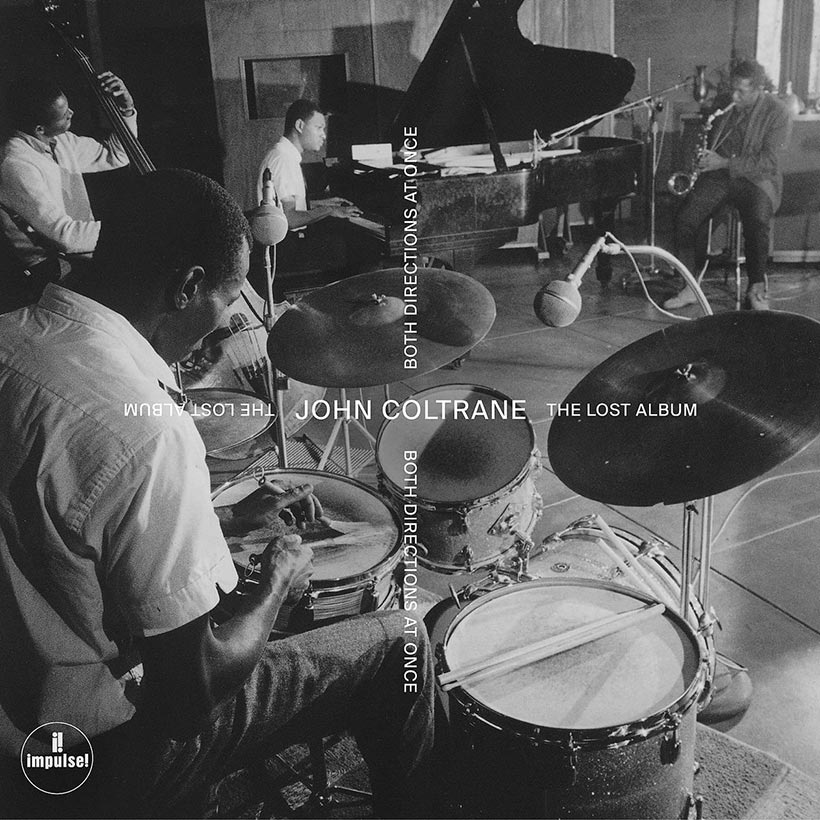 It's one o'clock in the afternoon on Wednesday, March 6, 1963, and John Coltrane, McCoy Tyner, Jimmy Garrison, and Elvin Jones have just arrived at Van Gelder Studio, New Jersey, for a recording session with producer Bob Thiele. It's the first of two studio dates scheduled that week by Impulse! Records for Coltrane's quartet; they are due to return the following day to cut an album with resonant-voiced crooner Johnny Hartman. This first session, however, would go unreleased for 55 years, before finally emerging, on June 29, 2018, as what some have called jazz's Holy Grail: the aptly-titled Both Directions At Once: The Lost Album.
Listen to Both Directions At Once on Apple Music and Spotify.
As Coltrane and his group have got a gig later that night – their final one at Birdland, in New York, where they've had a two-week run – time is of the essence. They quickly unpack and set up their equipment, do sound-level checks with engineer Rudy Van Gelder, and prepare to do some run-throughs of songs before committing the music to tape. Significantly, Coltrane has brought in three freshly-written compositions for the session, two of them so new that they don't have titles yet.
The recording session is booked until six o'clock – enough time to lay down an album's worth of tunes and record several different takes – after which time, the quartet pack up and take a 40-minute drive out to Manhattan to prepare for the night's gig. Prior to their departure, Bob Thiele hands Coltrane four quarter-inch reel-to-reel reference tapes of the session so that the saxophonist can listen back to the recording at his leisure. It's lucky for us that this happened, as we otherwise wouldn't have Both Directions At Once, arguably the most important jazz discovery in living memory.
"Like finding a new room in the Great Pyramid"
The original master reel has been long lost, but Trane's mono audition tape survived and was discovered gathering dust in the home of one of the relatives of the saxophonist's first wife, Naima. Mercifully, the tape was well preserved, and its release, 55 years later, allowed fans to relive five forgotten hours in the life of one of jazz's most important pathfinders.
So why wasn't this album, whose discovery Sonny Rollins has recently described as "like finding a new room in the Great Pyramid," released in the first place? Coltrane historian Ashley Kahn writes in the set's liner notes that there's no evidence to suggest that Impulse! had considered releasing the session at the time of its recording – two of the songs still didn't have titles and the master tape wasn't edited or mastered for release. Furthermore, no catalogue number was assigned, and there's no evidence of any cover art being prepared.
If that's the case, then, it's because Coltrane wanted it that way. Irked by his previous labels, Prestige and Atlantic, who confused the jazz public by releasing old sessions masquerading as new albums, at Impulse!, Coltrane had an understanding with label head Bob Thiele that resulted in him releasing only what he wanted to share with the public. In the early 60s, the saxophonist was perpetually advancing his sound, with his music evolving at a rapid, hard-to-keep-up-with, rate – so much so that if a session was left on the shelf for a few months, it wouldn't reflect the current state of Coltrane's musical development.
A crucial transformational point
Trane's bassist Reggie Workman later recalled, "John mentioned to me that he wanted to put into his contract that [his recordings] had to come out within a certain amount of time." Perhaps, then, what we now know as Both Directions At Once was shelved because Trane felt that he had something fresher to offer when it was time for another album release. The fact that Coltrane's son, Ravi, says of the album, "To my ears, it was a kicking-the-tires kind of session," suggests that he, too, views Both Directions At Once as a kind of informal, woodshedding exercise, where the band, hot from the Birdland bandstand, were able to just blow and let off some steam.
Even so, this shouldn't detract from the revelatory nature of the album. It might not possess the thematic coherence of the saxophonist's magnum opus, A Love Supreme, recorded 16 months later, but it's still a momentous find. Both Directions At Once is deeply significant because it captures Coltrane at a crucial transformational point: a crossroads separating the past and the jazz tradition from the future and a new, hitherto undiscovered, world of sound.
Though the album's title comes from a conversation between Coltrane and Wayne Shorter about the former's approach to soloing ("I start in the middle and move both directions at once," Shorter has recalled him saying) it also encapsulates the quartet's juxtaposition of standards with original material. The former is represented by the inclusion of two covers – one is "Nature Boy," a haunting song by eden abhez that was a hit in 1948 for Nat "King" Cole and quickly became a jazz standard, and the other is "Vilia," a jazz deconstruction of an Artie Shaw hit from 1939 whose main theme adapted a melody taken from Franz Lehar's 19th-century operetta The Merry Widow.
A unique piece of jazz history
Both Directions At Once begins, though, with a self-penned number, "Untitled Original 11383." With its serpentine, eastern-flavored, soprano sax melody, it's a gripping example of cutting-edge Coltrane during his modal jazz period. What's also uniquely memorable is Jimmy Garrison's bowed bass solo.
John Coltrane - Untitled Original 11386 (Audio)
The tranquil "Nature Boy" follows, but what's striking is the absence of McCoy Tyner's piano, which allows greater space for Coltrane's tenor sax as it weaves ornate melodies over Elvin Jones' gently swirling drums. Coltrane recorded the song again two years later, for the 1965 album The John Coltrane Quartet Plays, though that version was longer and more discursive.
Tyner, so often a fire-bringer in Coltrane's quartet, returns to the piano for "Untitled Original 11386," a mid-paced swinger that features its composer on soprano saxophone. In acute contrast, the blithe, bop-infused "Vilia" – with Trane on tenor sax – is much more accessible and its blend of an attractive melody and an easy-swinging gait seems to hark back to earlier, less progressive, pre-Impulse! Coltrane albums.
Next up is "Impressions," one of the saxophonist's most popular numbers from his Impulse! tenure. A live recording of it became the title track of an Impulse! album that was released a few months after the Both Directions At Once session, but what distinguishes this studio version is the absence of McCoy Tyner's piano, which allows Coltrane greater freedom in his improvisations.
John Coltrane - Impressions (Audio)
"Slow Blues," meanwhile, featuring its composer on tenor, is the album's final previously unknown Coltrane composition. The longest cut on the album, it offers much more than its posthumously-given title indicates, starting off at a languid pace, with Coltrane taking the blues in an otherworldly direction with exploratory sax lines over an ambling groove played by Garrison and Jones. McCoy Tyner doesn't enter until almost six minutes into the piece, when he steps straight in with a blues-infused solo. Towards the seven-minute mark, the tempo rapidly picks up, and "Slow Blues" morphs into a swinging uptempo piece with Tyner still soloing. Trane re-enters while the groove is simmering on a high heat, and his solo increases the tension before the song eases down to a relaxed groove.
The turbo-charged "One Up, One Down" (not to be confused with a similarly-titled Coltrane composition, "One Down, One Up") closes Both Directions At Once on an intense high. The only studio version of a tune that had only previously been preserved on a bootlegged concert, it's fierce and exploratory and distinguished by a mesmerizing, clarion call-like hook line. It also showcases the power of Coltrane's quartet at full-throttle.
For those that want to relive the whole recording session in full, the deluxe version of Both Directions At Once contains an extra disc of seven alternate takes: three different versions of "Impressions," plus two iterations of "Untitled Original 11386," and one each of "Vilia" (a soprano sax-led take) and "One Up, One Down."
From this distance, the recordings that comprise Both Directions At Once: The Lost Album offer a unique piece of jazz history – a priceless ticket that allows you to access a fascinating lost chapter in the life of the John Coltrane Quartet. New jazz discoveries don't get much more exciting – or significant – than this.