The British Jazz Explosion Of The Late 60s And Early 70s
A new retrospective shines a light on a rich and fertile period in UK jazz.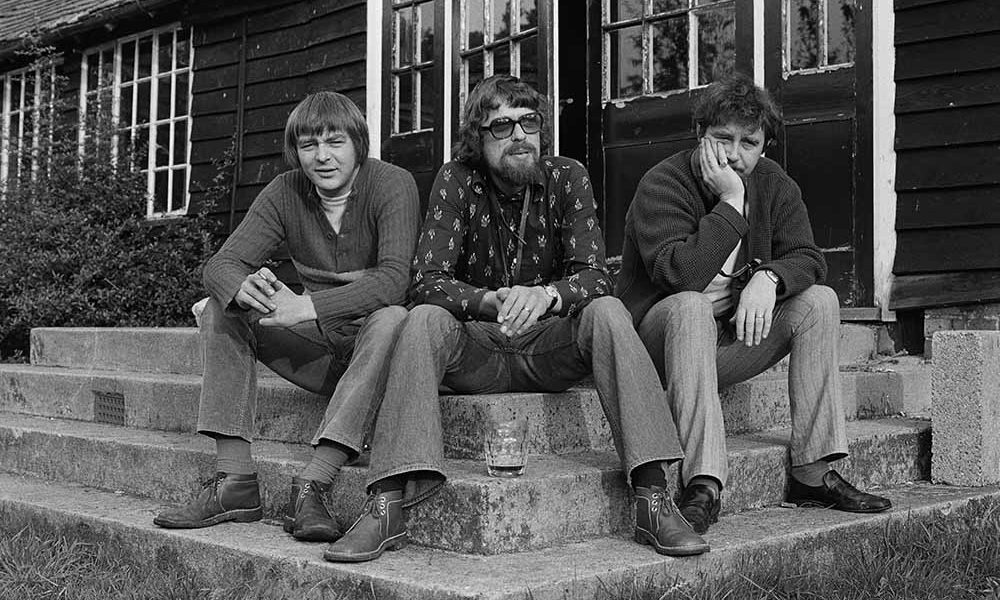 From the Barbadian-influenced dance music of Sons of Kemet to the spiritual meditations of saxophonist Nubya Garcia and the electronic wizardry of multi-instrumentalist Jacob Collier, the varied jazz-influenced sounds emanating from London are piquing the interest of fans around the world. To say that the city is the epicenter of an exciting British jazz renaissance is not an exaggeration, though it's hardly the first time.
UK jazz was last in the spotlight during the late 1980s when saxophonists Courtney Pine and Steve Williamson rejuvenated the London scene. But today's scene has more in common with the late 1960s and early 70s. That's when the arrival of a new generation of young composers, bandleaders, and instrumentalists helped British jazz find its own voice and identity. Their groundbreaking work is showcased on Journeys In Modern Jazz: Britain (1965-1972), a double-vinyl retrospective whose 14 tracks vividly bring a largely forgotten era in British music history back to life.
Compiled and curated by writer, producer, and British jazz expert Tony Higgins, the new compilation tells the story of how London was a crucible of creativity and innovation. Saxophonist Alan Skidmore, who features in the retrospective, remembers that era vividly. "It felt like an explosion," laughs the 79-year-old. "It was a wonderful, heady time."
Listen to Journeys In Modern Jazz: Britain (1965-1972) now.
As British pop and rock music in the late 60s grew more overtly progressive, jazz musicians had a similar artistic inquisitiveness. "It really felt like it was a sudden thing but had probably been building for a long time," states the eminent British jazz critic and author, Dave Gelly MBE. "One of the interesting things about it was the number of jazz composers that suddenly turned up, like (pianist) John Taylor, (trombonist) Michael Gibbs, (pianist) Mike Westbrook, and (trumpeter) Harry Beckett. So you had a whole lot of people writing music, sometimes for small bands of their own, sometimes for bigger bands, and there were lots of people moving from band to band. It was a very busy scene."
The importance of Ronnie Scott's jazz club
For Skidmore, the spark that lit the touchpaper for the British jazz explosion was when Ronnie Scott's jazz club in London's Gerard Street began presenting international jazz artists in the early 1960s. It allowed the saxophonist and other aspiring young jazz musicians to see and hear American players up close for the first time. "Ronnie Scott was bringing over giants from New York like Dexter Gordon and Sonny Rollins to play," recalls Skidmore, who says he got to meet and become friends with some of his American music heroes. More importantly, the experience of seeing them in the flesh gave him and his contemporaries the impetus to forge their own path.
New opportunities for young British musicians came in 1965 when Scott moved his club to a new location but kept his previous premises open for another two years, primarily as a venue to showcase the talents of London's new wave of jazz instrumentalists. "Ronnie Scott did a lot for us," remembers jazz-rock guitar doyen John McLaughlin, who can be heard on Kenny Wheeler's "Don The Dreamer" on Journeys In Modern Jazz. "When his club moved to Frith Street, he kept what we used to call The Old Place open so we young musicians could play."
Don The Dreamer (Remastered 2020)
Saxophonist/composer John Surman, who moved to London from Devon in 1962 to go to music college, believes that The Old Place was crucial: "It was undoubtedly a blessing, not only for the part that the public saw – where young musicians could play six nights a week – but also because it was somewhere for us to rehearse after hours. It allowed us to jam and hold workshops. Before that it was difficult finding a place to practice."
One of The Old Place's main attractions was the Mike Westbrook Concert Band, whose haunting "Waltz (For Joanna)" features on the compilation. Westbrook rose to fame as one of the key British jazz composers of the late 60s. "He was so original," says Dave Gelly. "I remember the time when (New Jazz Orchestra drummer) John Hiseman came to me and said, 'Hey, I've just heard this amazing band.' I went to see them and I'd never heard anything like it."
A diverse set of influences
London had enjoyed a vibrant modern jazz scene before all of this. In the late 1950s, there was saxophonist/composer John Dankworth and the hard bop group, The Jazz Couriers (featuring saxophonists Ronnie Scott and Tubby Hayes). They were heavily influenced by the bebop style of American alto saxophonist Charlie Parker. A decade later, a new generation arrived, touched by John Coltrane's music. The American musician had a profound impact on Alan Skidmore. "He changed my life immeasurably," the saxophonist reveals. "I didn't try to play like him, but I've been very influenced by his spirit."
Skidmore, like many of the young British jazz musicians of the late 60s, also worked outside of the genre; he contributed to Don't Send Me No Flowers, an LP by American bluesman Sonny Boy Williamson in 1965 which featured a pre-Led Zeppelin Jimmy Page on guitar, and also worked in the bands of noted British blues gurus Alexis Korner and John Mayall.
John Surman, too, played with the influential Korner and also recorded with the popular British R&B singer Georgie Fame. He says performing alongside those two musicians rubbed off on his own style: "It was great to play with people who were really deeply into the blues, because it was a really fundamental thing to build on."
Surman also absorbed other sounds he heard in multicultural London. "I was living right next to the West Indian community so I was able to jam with (Trinidadian pianist and steel pan player) Russ Henderson and some calypso guys. I wanted to be everywhere and try everything. And you could do that then. There was always a jam somewhere."
Forging their own sound
Despite (or perhaps because of) their wide array of influences, the young musicians involved in the British jazz explosion of the late 60s were able to forge individual musical approaches. The diversity of the tracks on Journeys In Modern Jazz: Britain is breathtaking, running the gamut from pointillistic soundscapes (The New Jazz Orchestra) to storming modal jazz workouts (John Surman with John Warren). In between, you'll encounter lush pictorial tone poems (Kenny Wheeler), spacey funk grooves (Harry Beckett), and large ensemble jazz-rock pieces (Michael Gibbs).
"I think British jazz musicians found their own distinct identity because there were so many of us," says Dave Gelly, who played saxophone in the ranks of The New Jazz Orchestra before he became a jazz writer in the 70s. "They all had their own styles. Most of the bands were slightly different so you couldn't confuse one with the other in any way. And nobody was particularly copying anybody, which was unusual."
"At that time, you could play whatever you felt was right," says John Surman, who was emboldened by the sense of musical liberation and experimentation that became the norm in the late 60s. "Before, we'd been learning from the Americans and following them, but because of the times we lived in, I think we felt we'd got permission to be ourselves."
The outside world takes notice
This phenomenal explosion of jazz talent didn't go unnoticed by the record companies, many of which were flush with money from the huge sales of rock and pop records in the late 60s. Several of the UK majors had started their own boutique imprints to handle the boom in progressive music, which included contemporary jazz as well as psychedelic rock and pop. Decca began a subsidiary label called Deram whose roster in 1969 included John Surman, Mike Westbrook, and Alan Skidmore alongside David Bowie and The Moody Blues. The label's eclectic roster reflected how musical barriers were dissolving at the time. "For a short time, maybe 18 months, modern free jazz, blues, and progressive rock all coexisted together at some of the music festivals," remembers John Surman.
Alan Skidmore remembers Deram offered him a record deal after his quintet went down a storm at Switzerland's Montreux Jazz Festival in 1969. "The BBC asked me to put a quintet together to represent the UK at the festival, which in those days was run like a competition," he reveals. "There were six prizes spread amongst 14 countries and we won three of them, including the press award for the best group. When we came back to England, everything changed."
British jazz was getting noticed – and not just by domestic audiences. Bassist Dave Holland, who played on Kenny Wheeler's "Don The Dreamer" even impressed a famous American trumpet player. "Dave was playing with (pianist) Stan Tracey in 68 when Miles (Davis) came to Ronnie's and snatched him up," remembers John McLaughlin. "We thought it was fantastic."
Not long after, McLaughlin, too, was invited to America. "Dave and I had a jam session with (drummer) Jack DeJohnette, who was in town with (pianist) Bill Evans. Unbeknownst to me, Jack had recorded us and played it to (US drummer) Tony Williams after Tony had asked him if he knew of a guitar player." Williams liked what he heard and asked McLaughlin to join his new jazz-rock group, Lifetime, which in turn led the Yorkshire-born guitarist to work with Miles Davis and begin a hugely successful international career.
The aftermath of the British jazz explosion
But the British jazz explosion, which peaked around 1970, was short-lived: by 1973, the major labels' fascination with jazz had waned significantly. Musical tastes were changing and the boom period of the swinging 60s which had filled the record companies' coffers to bursting point was followed by a marked financial downturn. "In the 1960s, there was so much money kicking about the record business, it just wasn't true," says Dave Gelly. "But that changed when the sale of records went down in the post-Beatles period."
John Surman offers another perspective. "The bubble burst when fusion came in and the direction of everything became very disparate," he says. "The jazz boom had chilled and it was pretty bleak." Surman eventually struck up an alliance with producer Manfred Eicher's legendary German label, ECM Records, with whom he has enjoyed a long and fruitful association for the past 40 years. Kenny Wheeler, too, recorded for ECM while Mike Westbrook, Michael Garrick, Alan Skidmore, and many of the other musicians on the retrospective all found outlets for their music via other independent labels.
Journeys In Modern Jazz: Britain, though, takes us back to an important inflection point in the history of British jazz. It shows how the genre was evolving, steered by a cadre of adventurous young composers and instrumentalists who took the music to many new and exciting destinations. The effect can still be felt today. Sons Of Kemet's Shabaka Hutchings recently explained that "recordings by people like Michael Garrick, Mike Westbrook, and John Surman are what really inspired me." It's an acknowledgment of how Britain's rich musical past was crucial in shaping the sounds of its future.