Dexter Gordon – Master of the Tenor Sax
Dexter Gordon was an amiable gentle giant whose sound, style, and easy-going attitude epitomized bebop at its coolest.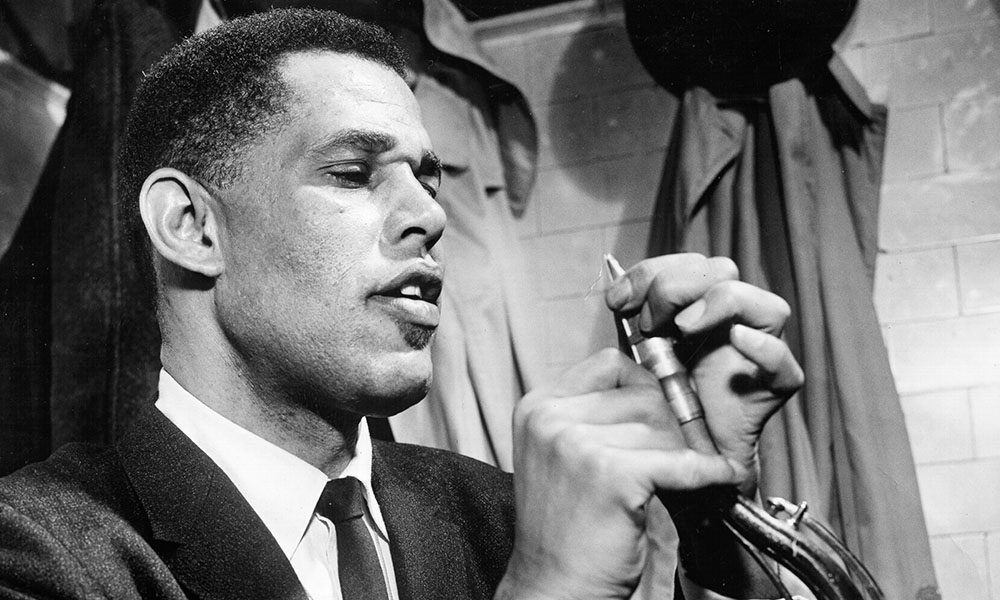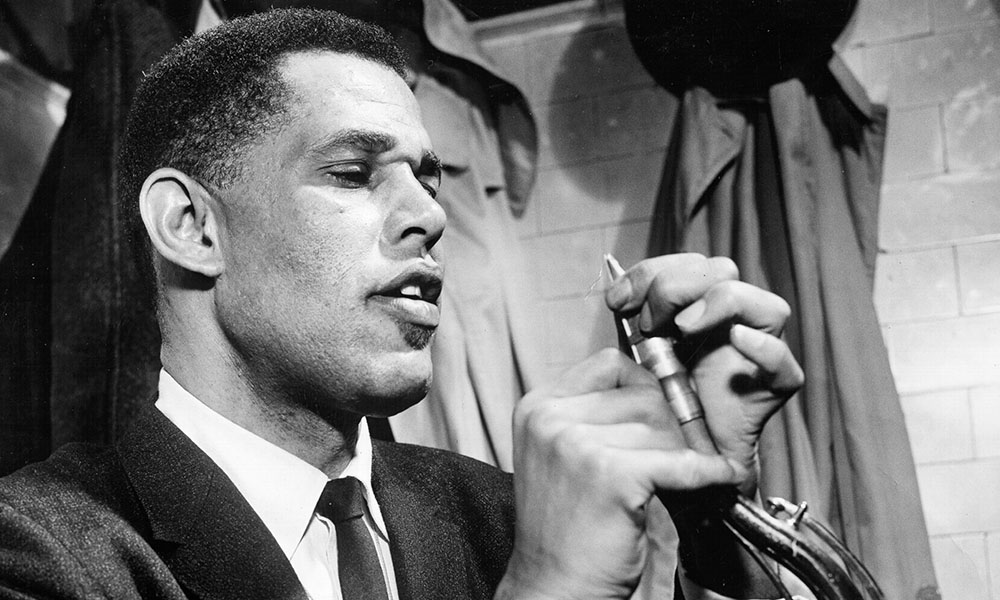 Dexter Gordon wasn't hard to miss. Standing at a very conspicuous 6′ 6″ tall, the legendary American tenor saxophonist brought a literal meaning to the term "jazz giant." But despite his imposing physique, he was a gentle man who spoke in a soft, melodious baritone voice. His saxophone sound, however, mirrored his stature; big and powerful with a commanding presence – though it also possessed a lithe, storytelling eloquence, especially on tender romantic ballads, where Gordon's deep, dark, sonorous tone became smoky and languorous.
And yet despite his many accomplishments, Dexter Gordon is sometimes overlooked as a master of the tenor saxophone, and in some people's minds is eclipsed by Lester Young, Coleman Hawkins, and Ben Webster, a potent triumvirate of top tenor players that dominated jazz in the 1930s and 40s. There's no question that the "Big Three Tenors" were there first, but that in no way diminishes what Dexter brought to the instrument and the mark he left on jazz.
Listen to the best of Dexter Gordon now.
The early years of Dexter Gordon
Unlike most African American jazz musicians at that time, Gordon came from an affluent middle-class background; his father, Frank, was a university-educated doctor with a thriving practice in Los Angeles, where Gordon was born in 1923. As an eminent physician in his community, Gordon's father attended concerts by famous jazz musicians and afterward entertained them in his home; they included Duke Ellington, Lionel Hampton, and Ethel Waters. Rubbing shoulders with these giants and listening to their music, both in person and on the radio, fuelled young Gordon's ambition to be a musician. After learning to play a clarinet at the age of thirteen, he switched to the alto saxophone a year later before settling on the bigger, deeper-sounding, tenor version of the instrument at fifteen.
Two years later, Gordon, who had been skipping school and making a name for himself playing gigs in nightclubs and bars, successfully auditioned for vibraphonist Lionel Hampton's big band and left home to tour America's southern states. He stayed with "Hamp" until 1943, and a year later joined the orchestra of Louis Armstrong after the trumpeter told him, "Son, I really liked that sound you get."
Joining the bebop revolution
Gordon left Armstrong in September 1944 to join a more cutting-edge outfit based in New York; singer Billy Eckstine's groundbreaking band, which was the crucible for an exciting fresh sound in jazz called bebop, a new idiom defined by darting melodic improvisation over advanced harmonies and syncopated rhythms. The music's main architects had cut their teeth in Eckstine's band; alto saxophonist Charlie "Bird" Parker, who had left by the time Gordon joined, and trumpeter Dizzy Gillespie. It was with Eckstine that Gordon found his unique musical voice, forging a bridge between swing and bebop by combining Lester Young's rotund silky tone with the quicksilver melodic athleticism of Charlie Parker. What gave Gordon a unique signature, though, was his penchant for seasoning his solos with short quotes from other songs.
Though Eckstine fired Gordon in 1945 for a drug habit that made him increasingly unreliable, the saxophonist recorded a couple of 78 rpm singles with Dizzy Gillespie before cutting his first sides for Herman Lubinsky's Savoy label later the same year; they included the classic tracks "Long Tall Dexter" and "Dexter Rides Again," both hard-driving swingers brimming with melodic invention.
A return to the west coast saw Gordon record a slew of bebop-oriented sides for Ross Russell's Dial label, including "The Chase," one of several famed gladiatorial-like saxophone face-offs with fellow tenorist Wardell Gray. But as the 40s rolled into the 50s, Gordon's spiraling drug habit began to play havoc with his career.
Road to redemption
Gordon's personal and musical rebirth began in 1960, when he was paroled from prison and performed – as both a musician and actor – in the Los Angeles production of a play called The Connection, in which, ironically, he portrayed a drug addict (even though he had kicked his heroin habit by that time). Appearing in the play boosted Gordon's confidence and although he hadn't recorded since 1955, alto saxophonist Cannonball Adderley encouraged him to make an LP with a sextet for the Riverside label's Jazzland imprint. Released as The Resurgence Of Dexter Gordon in 1960, the album – a cache of swinging hard bop – showed that Gordon's saxophone playing, though a tad rusty, was still top-notch and became the launchpad for his career's great third act.
By now, Gordon was on the radar of producer Alfred Lion, co-founder of New York's leading independent jazz label, Blue Note, which had aided the careers of Miles Davis, Sonny Rollins, and John Coltrane. Gordon signed with Blue Note in November 1960; it marked the beginning of an incredibly fertile spell for the tenor player, who opened his account with the label in 1962 at the age of 39 with the LP Doin' Allright, a blend of standards with original numbers. Lion surrounded Gordon with some of modern jazz's rising young stars, including trumpeter Freddie Hubbard and pianist Horace Parlan, who helped raise the saxophonist's game.
I Was Doing All Right (Rudy Van Gelder/24-Bit Mastering/Digital Remaster/2004)
More albums for Blue Note followed, including the 1962 LP Go!, which is widely considered Gordon's masterpiece and featured the saxophonist's signature tune '"Cheese Cake." The saxophonist considered Go! his favorite recording, once stating that the rhythm section (pianist Sonny Clark, bassist Butch Warren, and drummer Billy Higgins) was "as close to perfect as you can get." They gave his tenor sax the perfect bed on which to improvise – often, as was Gordon's style, just slightly behind the beat. He regarded "Smiling Billy'" (Higgins) as the "swingingest" drummer in the world. The sessions for Blue Note marked a watershed and helped re-establish his reputation as a virtuoso player.
Cheese Cake (Remastered 1999/Rudy Van Gelder Edition)
European sojourn
An invitation to appear in London, England, at Ronnie Scott's jazz club in September 1962 changed the course of the saxophonist's career. Compared with America, where Black musicians suffered daily racial harassment, Gordon discovered that Europe offered him respect and freedom, which led him to seek a new life there. After playing a concert in Copenhagen, he settled in Denmark, where he learned its language, became familiar with its customs, and like many Danes, rode a bicycle to travel about town.
Gordon was still with Blue Note at that point and recorded Our Man In Paris, one of his most iconic albums for the label, in France's capital city. Joining the saxophonist were pianist Bud Powell, who had moved to Paris in 1959, and drummer Kenny Clarke, who was also living in the city at that time. The album includes "A Night In Tunisia," one of Gordon's greatest ever performances, made even more so by the fact that it was his first take. Every track offers different shades of the Gordon tenor saxophone, from the lyrical and sultry "Stairway To The Stars" through to the upbeat "Scrapple From The Apple." Given four stars at the time of its release by Billboard, it has come to be recognized as one of the jewels of both Dexter Gordon's and the tenor saxophone canon.
A Night In Tunisia (Rudy Van Gelder Edition / 2003 Remaster)
Though Gordon found plenty of work in Europe and enjoyed living there, he couldn't escape his drug-taking proclivities and was arrested for buying heroin in Paris in 1966. Though initially imprisoned, he was released on bail and given a suspended sentence but the experience was a chastening one for the saxophonist, who, in a revealing article he penned later the same year for the British music magazine, Melody Maker, wrote openly about his ongoing battle with heroin. "I've just got to try to kill the habit before it kills me," he concluded with a grim realization of the task he faced.
Keeping bebop alive
But face it, he did, and eventually succeeded in his goal, beating his addiction. In 1968, he became an official resident of Denmark – even so, most of the records he made between 1969 and 1973, when he was signed to the Prestige label, were recorded during short trips back to New York; like The Panther and Tower Of Power, bebop-inflected albums that were stylistically at odds with the electric fusion and jazz-rock revolution led by Miles Davis and his cohorts that was shaking up jazz in the USA. But perhaps because he lived and worked in Europe, Gordon resisted joining the fusion movement and kept the flag flying for straight-ahead jazz.
Initially with Prestige and then with the Danish label, SteepleChase, Gordon was prolific in the studio during the first half of 1970s, recording a clutch of satisfying bop-based albums with both American and European musicians. But in 1976, after fourteen years of living in Europe, the 53-year-old tenor titan returned to America for good; his arrival heralded by a sold-out New York concert that was dubbed "The Homecoming."
Hero's homecoming
Dexter Gordon was big news again in the American jazz world and signed a major label deal with Columbia, releasing a series of albums that helped cement his place in the pantheon of jazz greats. But one of his greatest achievements during this period was when he took on the role of expatriate US jazz musician Dale Turner, the main character in French director Bertrand Tavernier's 1986 movie, Round Midnight; a story loosely based on the life of pianist Bud Powell but which also had parallels with the saxophonist's own life. The gritty authenticity of Gordon's performance won him an Academy Award nomination and brought him greater notoriety than ever before. (Interestingly, the same year, the French government, which had incarcerated him 20 years earlier, bestowed upon him its top cultural honor, Ordre des Arts et des Lettres).
But just as his popularity peaked, Gordon was taken ill and in 1990 died of cancer at the age of 67. His passing brought down the curtain on a storied career that had lasted 47 years and had unfurled like an epic play in five acts; an auspicious beginning leading to a decade in the wilderness, followed by an unlikely resurrection and then a long exile that eventually culminated in a triumphant hero's return. Listeners could sense all those different experiences embedded deep in the DNA of his music but his effortlessly flowing saxophone improvisations never dwelled too long on sadness and always exuded an uplifting optimistic warmth.
In recent years, vinyl reissues together with a veritable avalanche of previously unreleased live recordings and a critically acclaimed biography (Sophisticated Giant, by his widow and former manager, Maxine Gordon) have helped to keep Dexter Gordon's name alive and his music in the public consciousness. Long after his death, he's fondly remembered not only as one of jazz's greatest ever tenor saxophonists but also one of its most likable characters; an amiable gentle giant whose sound, style, and easy-going attitude epitomized bebop at its coolest.