'The Platform': Dilated Peoples' Decade-In-The-Making Debut
On their debut record 'The Platform,' LA trio Dilated Peoples reenergized the rap underground, bringing alternative hip-hop back to the mainstream.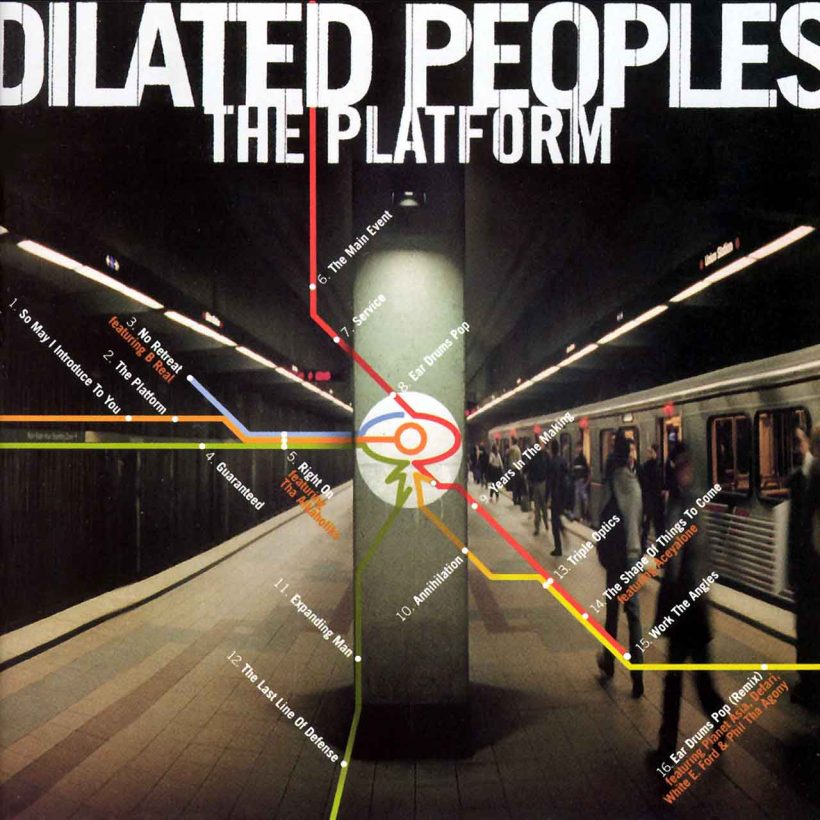 After dominating LA's underground hip-hop scene, Dilated Peoples' debut record The Platform provided just that – a platform to showcase their lyricism and turntablism to a larger audience. Mainstream hip-hop was less concerned with lyricism and turntablism at the time, but The Platform was too good to be denied, a classic album that combined an old school ethos and new school experimentation.
Listen to The Platform on Apple Music and Spotify.
Dilated Peoples' journey was "Years in the Making," as the song suggests, and filled with the sort of roadblocks most groups don't normally survive. MCs Evidence (Michael Perretta) and Rakaa Iriscience (Rakaa Taylor) got together in 1992, eventually teaming up with DJ Babu (Chris Oroc) to complete the line-up.
Hip-hop preservationists
After signing with Epic sub-label Immortal Records, Dilated Peoples recorded an entire album, produced mainly by Evidence and Babu, which included a feature by future rap star Redman. Imagery, Battle Hymns, & Political Poetry was shelved in 1994 and they were dropped from the label; it remains unreleased to this day. The group soldiered on, releasing a pair of singles in the late 90s on producer Beni-B's underground hip-hop label ABB Records, before signing to another major – Capitol Records. The LA institution is where they finally released their debut album.
In the eight years between forming and releasing The Platform, Dilated Peoples' musical formula of battle rhymes and innovative production went from being hip-hop standard practice to rarity. By the time The Platform arrived on May 23, 2000, they weren't making the music of their peers, but rather taking a stand that defied the changing times. By the turn of a new millennium, the genre had fractured into a "mainstream" vs "underground" dichotomy, with Evidence, Rakaa and Babu squarely in the underground camp.
Following in hip-hop tradition
The Platform employs an astonishing nine producers (six plus the group members themselves) but maintains a consistent sound front to back. E-Swift of Tha Alkaholiks, T-Ray (White Boys, Cypress Hill, Bo$$, Kool G Rap), Joey Chavez (Rasco, Dr. Dooom, Swollen Members) and KutMasta Kurt (Dr. Octagon, Chino XL, Rasco) contribute one track each, while Beni-B and Joey Chavez team up separately with Evidence. A whopping five songs (including the title track) are handled by The Alchemist, who was an honorary fourth Dilated Peoples member of sorts.
Dilated Peoples - Work The Angles (Official Video)
As you might expect, the chopped-up samples on The Platform come from a diverse set of sources, from Love Unlimited Orchestra to Millie Jackson and composer Ennio Morricone. The group also tip their hat to late 80s/early 90s rap hits by Big Daddy Kane, Eric B & Rakim, and A Tribe Called Quest in many of the intros and choruses on the album, a formula pioneered by DJ/Producer Marley Marl and distilled into a science by DJ Premier. These musical passages are in qualified hands, thanks to Babu, who was a card-carrying member of the turntablist collective The World Famous Beat Junkies at the time.
Songs like "Right On" and "Ear Drums Pop" follow the hip-hop tradition of lyrically referencing older classics like Kool G Rap & DJ Polo's "Ill Street Blues" and EPMD's "Strictly Business," however, namechecking Yes guitarist Steve Howe and The Larry Sanders Show might be hip-hop firsts. Breaking up LL Cool J's reading of the alphabet from the intro of "It Gets No Rougher" and reconfiguring his voice to spell out "Dilated Peoples" at the end of "The Platform" is a stroke of genius. Songs often segue into each other with unrelated instrumental interludes – a practice popularized by Pete Rock and CL Smooth.
While The Platform served as an introduction to the group, it also boasted several features. Cypress Hill of B-Real lends his unmistakable high-pitched vocals on "No Retreat," with an uplifting verse about staying focused and never giving up. In "Right On," E-Swift, J-Ro, and Tash of Tha Alkaholiks, take turns on the mic, but Rakaa has the best line: "Feds pull strings and watch me like Truman / But I can't front, I love LA like Randy Newman."
Meanwhile "Ear Drums Pop" gets reprised as a remix for the album closer, switching up the samples but maintaining its smooth pace. The addition of Everlast, Defari, Planet Asia, and Phil Da Agony turned the song into a posse cut for the ages, even if Everlast's verse kicked off beef with Eminem.
The Platform received critical and underground acclaim and landed Dilated Peoples their debut on the Billboard chart. Unlike many of the more commercially successful hip-hop albums from that era, the last two decades have been kind to it. With The Platform, Dilated Peoples signaled the return of alternative hip-hop and proved their staying power with their breakthrough follow-up Expansion Team.