'Watertown': Frank Sinatra's Overlooked Masterpiece
An ambitious concept album about an imaginary town, Frank Sinatra's 'Watertown' is one of his least-known albums, but remains a high-water mark in his career.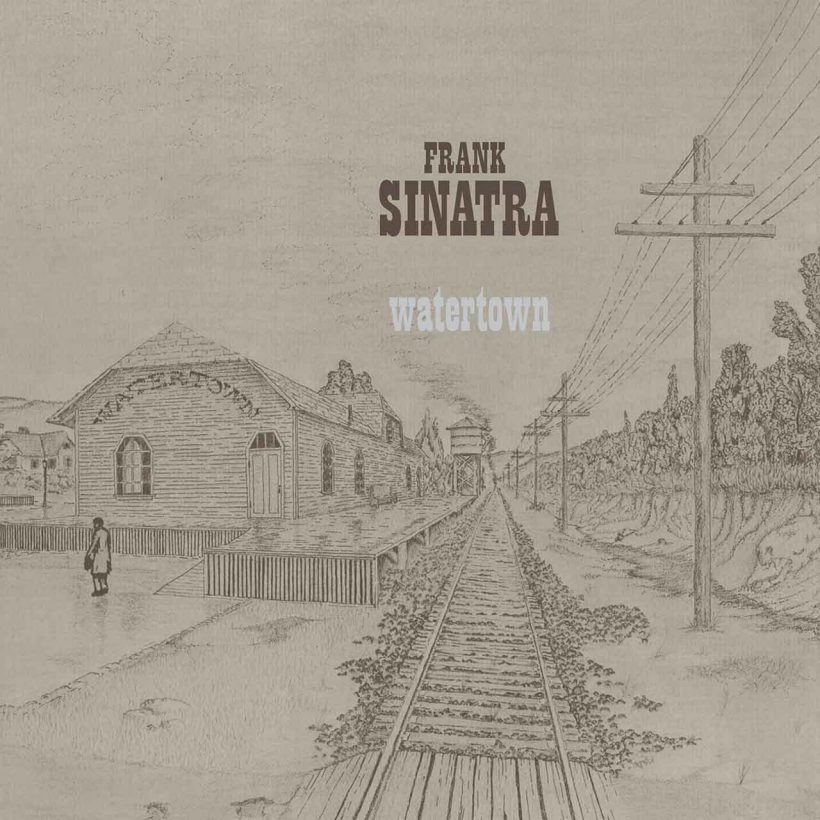 Despite his no-nonsense, tough guy image, Frank Sinatra wasn't invulnerable. And he certainly wasn't a stranger to heartbreak; after all, some of his most successful long-playing records, like the classic In The Wee Small Hours and Frank Sinatra Sings For Only The Lonely, both released in the 1950s, were lovelorn concept albums that found him nursing a broken heart. But as forlorn as those two long-players undoubtedly were, they didn't match the existential bleakness of Watertown, which sounds unlike any other record in the Chairman of the Board's canon.
In 1969, when Frank Sinatra recorded Watertown, he was 54 and though many regarded him as an iconic artist who was still "king of the hill and top of the heap," the pop world that he knew was changing beyond recognition. He was still selling records to an adoring public – as the success of his album My Way proved – but pop was in a state of transition; it was the height of the counterculture age, when acid rock, psychedelic soul, and the rise of singer-songwriter pop was pushing easy listening music out of the limelight. Sinatra had made a concession to contemporary rock and pop on My Way by covering tunes by Lennon & McCartney, Paul Simon, Jimmy Webb, and Stevie Wonder, but for his next project, he went even further into uncharted musical terrain.
Order the LP, CD and digital editions of Frank Sinatra's Watertown.
The brainchild of songwriters Bob Gaudio and Jake Holmes, Watertown was a song cycle about a man whose wife leaves him and their two boys after being seduced by the allure of the big city. Sinatra portrays a character who is both the album's narrator and central protagonist, telling his story via a series of descriptive vignettes.
The project grew out of a conversation that Gaudio's band mate in The Four Seasons, singer Frankie Valli, had with Sinatra about recording a more contemporary project. The idea piqued Sinatra's interest, and consequently, Valli introduced him to Gaudio, who had just finished working on The Four Seasons' 1968 concept album Genuine Imitation Life Gazette, which was a product of his first collaboration with Holmes.
Gaudio remembered being asked by Sinatra to "come up with something unusual, something different; a concept album" and after giving it some thought, he reconvened with Holmes to begin work on what became Watertown. Sinatra certainly got something different. "Jake and I tried to picture some place he hadn't been musically or lyrically. That, for us, was the story of someone whose wife left him, and he was bringing up the kids in a small town," he explained in the liner notes to the 2022 edition of the album.
In real life, Sinatra epitomized urban hipness but in Watertown, he played an everyman character who existed in an altogether more mundane world set in a rural backwater where the only connection with the wider world was the railroad.
Gaudio and Holmes wrote eleven songs and then submitted a demo of one of them to Irving "Sarge" Weiss, Sinatra's music director, who took it to his boss. A week later, Weiss had a message for the two songwriters from Sinatra: "He wants to do all of them."
"I think he fell in love with the concept, the love story," Gaudio has said, explaining Sinatra's enthusiasm for the project, which they began recording in July 1969. The backing tracks were recorded first with Sinatra's vocals added later; though he preferred to record live with an orchestra, Sinatra took advantage of the layered approach of modern recording methods. Gaudio explained that "overdubbing gave him the luxury of not worrying about how in charge he would be with unfamiliar songs and knowing the songs inside-out as he did with standards."
Sinatra's vulnerable tone is perfect for expressing his character's sense of quiet despondency as the world he knew and trusted falls apart. We learn that he's a solid and dependable man ("All those years I've worked for Santa Fe, never ever missed a day") and relies, perhaps a little too much, on life's certainties ("As far as anyone can tell, the sun will rise tomorrow"); but it seems that his lack of ambition and small-town mentality is the cause of his wife's departure.
We get a taste of what life in Watertown is like via the opening title song, whose somber atmosphere sets the tone for the rest of the album. Propelled by an ominously plodding bassline and martial drum beats, it's a song where Bob Gaudio's orchestration, both bleak and spare, matches Sinatra's haunted introspection as he sings of a place where "everyone knows the perfect crime is killing time."
Sinatra's character lovingly etches a portrait of his wife in "Elizabeth" and recalls their happier, younger, days on the nostalgic "What A Funny Girl (You Used To Be)." But despite his best efforts (via "What's Now Is Now," where he tells her "we can still begin again"), she won't go back on her decision to leave him.
His wife's farewell is described in the heartbreakingly poignant "Goodbye (She Quietly Says)." Though it's a momentous, life-changing, event for the main character, it feels strangely underwhelming to him. "There is no great big ending, no big explosions in the sky," he sings with incredulity as he watches his marriage fizzle out with barely a whimper in "a coffee shop with cheesecake and apple pie."
Goodbye (She Quietly Says)
Though Watertown focused on the failure of a marriage, its overriding message wasn't about defeat; rather, it highlighted the value of stoicism and surviving the obstacles to happiness that life throws at people.
Released in March 1970 on Sinatra's own Reprise label, Watertown was relatively well-received by the press but it stalled at a disappointing No. 101 on the Billboard 200. Though it was one of Sinatra's least commercially successful LPs in the USA, Watertown proved to be one of Ol' Blues Eyes' greatest artistic triumphs. It showed that at 54, he was still boldly ambitious and taking creative risks; something that the staid character he portrayed in Watertown would likely never venture.
Order the LP, CD and digital editions of Frank Sinatra's Watertown.