Ghost Facts: 10 Things You Need To Know About The High Priests Of Swedish Metal
Are they Nameless Ghouls? Who is the real Papa Emeritus? Ghost are perfect enigmas. Here are ten facts you need to know about Sweden's heavy metal icons.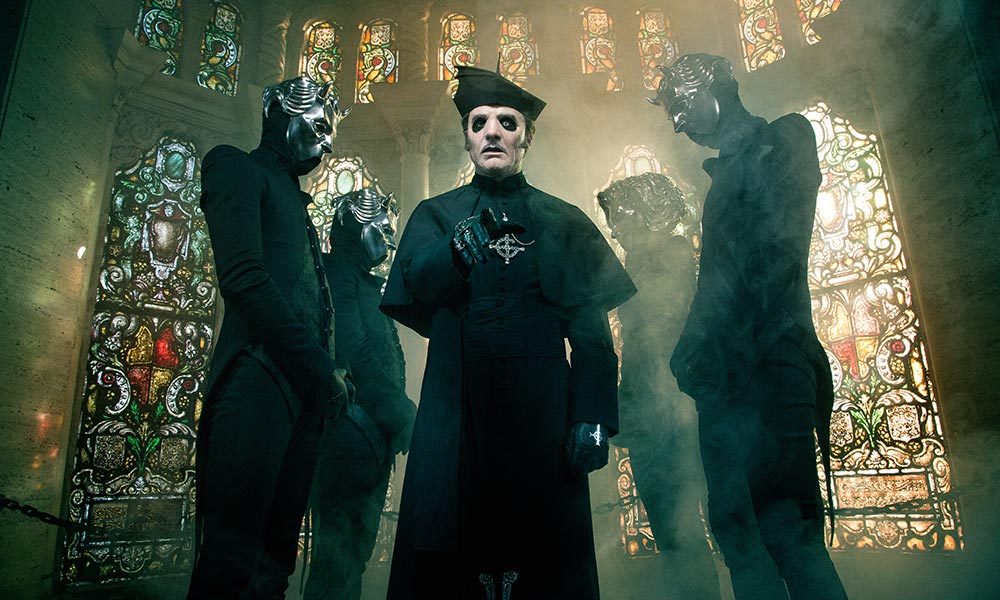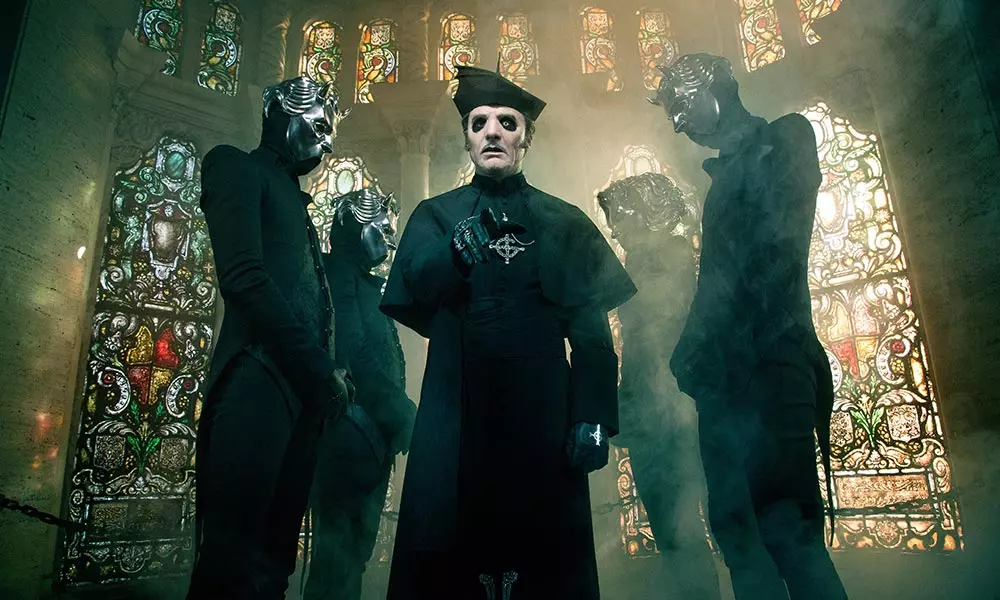 Image goes hand in hand with music, whether it's the skinny black jeans and white hi-tops of thrash metal in the 80s, the flannel and combats of grunge in the 90s, or the comic-book space demons of KISS. Few bands today, however, push the envelope to the point where their theatrics are as important as their music. Ghost is a rare exception. Their very existence comes with a concept, backstory, and elaborate visuals, with these embellishments being as inherent to the band's performances as guitars or drums. Here, then, are ten facts that uncover the mystery behind the Swedish heavy metal band Ghost.
Listen to the best of Ghost on Apple Music and Spotify.
The Satanic cult
Religious imagery and satanism have forever been intertwined with heavy metal music; genre pioneers Black Sabbath were masters of marrying the two. But Ghost takes the construct to the next level. Their stage set during live concerts is dressed as a church. The idea is to present music as salvation, with the live show playing the role of a religious service. Then are the musicians: fronted by a satanic priest-like figure in papal regalia who possesses a voice with an unexpectedly enticing charm and vulnerability, backed by a group of cardinals known as the "Nameless Ghouls."
Ghost's frontmen
Ghost has so far appointed four frontmen. First was Papa Emeritus, who took on vocal duties for their debut album, Opus Eponymous, and its consequent tour. He was replaced in 2012 by Papa Emeritus II, for the Infestissumam cycle; in 2015, his younger brother, Papa Emeritus III, took over for the Meliora run. In September 2017, Papa Emeritus III was publicly ousted while performing in Gothenburg, Sweden, to be replaced by the significantly older Papa Emeritus 0 – later named Papa Nihil, an ancestor to all other Papas. However, Ghost's new leader was named, in April 2018, as Cardinal Copia, an "apprentice" priest yet to earn his full Ghost regalia.
Ghost - Chapter Two: The Cardinal
Anonymity
Since the band's inception, in 2006, Ghost has maintained a strictly anonymous existence. The various frontmen never gave interviews, instead press duties were handled by the Nameless Ghouls. These are likely to be Ghost mastermind Tobias Forge, who also portrayed each of the Papa characters and is currently serving as Cardinal Copia. Forge was forced to give up his identity in 2017 when former bandmates sued him over royalties. His backing band retain their anonymity and maintain their mystery at record store signings by stamping their ascribed alchemical symbols for fire, water, air, earth, and ether.
Ghost formed around one song
Prior to forming Ghost, Tobias Forge was in the death metal band Repugnant, and sleaze metal band Crashdïet. In 2006 he came up with a riff that he described as "probably the heaviest metal riff that has ever existed." To accompany it, he penned a chorus that "haunted my dreams." The song developed into "Stand By Him" from Ghost's debut album, Opus Eponymous, but Forge knew that he couldn't carry off such a dark sound with his clean-cut looks. Instead, he created the concept and characters of Ghost as a vehicle for his new musical project.
Forge's brother died the day Ghost came alive
Further to "Stand By Him," Forge penned the tracks "Prime Mover" and "Death Knell," and in 2008 entered a recording studio with former Repugnant bandmate Gustaf Lindström to lay them down. Those songs were later posted onto MySpace on March 12, 2010 and would attract immediate attention from record labels and managers wanting to sign the group. Little did Forge know that, as he uploaded the songs, his brother, Sebastian, would succumb to heart disease later that day. Forge looked up to his brother, who was 13 years older, and introduced him to many of the artists that would later influence Ghost.
Wide-ranging influences
What you see is not necessarily what you get, musically speaking. Though Forge's main influence was the black metal of King Diamond and Mercyful Fate, you might be surprised to hear a far more prominent pop and AOR influence in Ghost's music. Though genres as diverse as doom metal, hard rock, prog rock, arena rock, and psychedelic rock have been used to describe Ghost, their sound is rooted in black metal, with Forge adding that they are influenced by "everything ranging from classic rock to the extreme underground metal bands of the 80s to film scores to the grandeur of emotional harmonic music."
The live band is not the same as the studio one
When the identity of Ghost's various frontmen was revealed by way of the 2017 royalties dispute, Forge went on the record to describe exactly how he saw the band. He described Ghost as a solo project that utilized hired musicians to translate his work in the live arena. Forge often records all the instruments himself in the studio, calling in his favorite musicians where he feels they will be of good use. And since all touring members of Ghost have other bands anyway, Forge prefers to give them time off between tours so that they can tend to their other projects and come back fresh.
Dave Grohl was once a Nameless Ghoul
Though the identities of the Nameless Ghouls remain a mystery, members are very approachable to fans who hang around the backstage door after the show. However, those die-hards remain respectful to Ghost's anonymity and any shameless selfies are kept away from social media, so speculation abounds as to who the other members might be. But it was confirmed in an interview with Jack Osbourne, for Fuse News, in August 2013, that Foo Fighters frontman and one-time Nirvana drummer Dave Grohl once donned the Nameless Ghouls costume to play with them live. He had also produced Ghost's 2013 EP, If You Have Ghost.
Ghost - If You Have Ghosts (Roky Erickson Cover)
Banned in the USA
Ghost's controversial image, lyrical themes, and artwork haven't always worked in their favor. When they required a choir for the Infestissumam album, they were unable to find one in Nashville – where they were holed up in the studio – willing to commit the band's lyrics to tape. Then, when it came to pressing the album, no US manufacturer was willing to take on the project due to the graphic nature of the artwork. In Ghost's earlier days, too, no chain stores, TV shows or commercial radio stations would touch their music. Mainstream America seems to have warmed to them over the years: Ghost appeared on a Halloween-themed Late Show with Stephen Colbert in October 2015.
Ghost have won multiple awards
Further to their acceptance into mainstream culture, Ghost has won multiple awards in their Swedish homeland. The Grammis are the Swedish equivalent to the American Recording Academy's Grammys, and Ghost won the award for Best Hard Rock/Metal Album in three consecutive years, for 2014's Infestissumam, the following year's Meliora, and the 2016 EP Popestar. They also won a coveted Grammy for Best Metal Performance, for the Meliora track "Cirice," in 2016, and earned further nominations for Prequelle as Best Rock Album and "Rats' as Best Rock Song in 2019.
Ghost - Rats (Official Music Video)
Listen to the best of Ghost on Apple Music and Spotify.