'It Seemed Like Fate Was Always Leading Me To The Right Door': Glen Campbell In His Own Words
The incredible life and times of the great American singer and guitarist, as remembered by the man himself.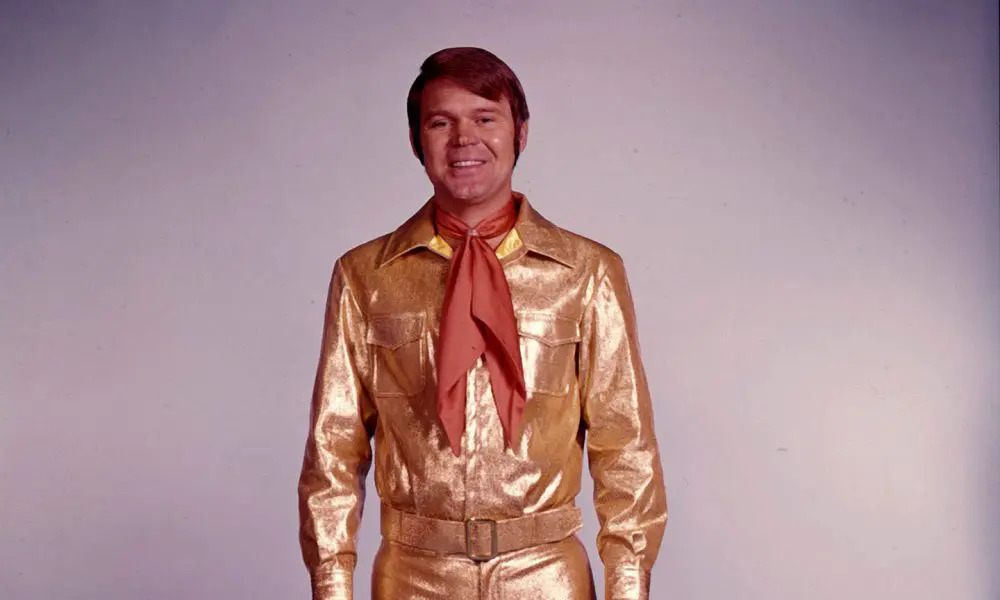 Glen Campbell gave thousands of interviews in his epic career. We're taking a long look through the archives to choose 20 quotes that illustrate the incredible life and times of the man born in Delight, Arkansas on April 22, 1936.
The following selection includes several interviews that have been largely unseen for many years. We hope they give an insight into the life and times of an artist who grew up dirt poor, paid his dues on the live circuit and then made his name in the industry, as one of the top session guitarists of all time. We then follow his route to worldwide stardom, his personal problems and recovery to marital and spiritual fulfilment. This is the Rhinestone Cowboy in his own words.
Glen Campbell - Rhinestone Cowboy (Official Music Video)
"We didn't have electricity when we were kids. Daddy used to put the radio on the cook-stove to get a couple more days out of the batteries. We were really out in the sticks. So I heard country and western, Sinatra, everything. Picking up the guitar came natural. It was all I did. There wasn't a lot else to do on the farm" (Mojo, 2003)
"I was this little kid living in the middle of nowhere in Arkansas. I found out really quickly that I didn't want to look at the south end of a northbound mule. Because of music, it's led to this incredible life" (San Francisco Chronicle, 2011)
On his guitar inspirations:
"Django Reinhardt. Best guitar player that ever lived. He and Stephane Grappelli gave us some of the best playing I've ever heard, and they did that in the 30s. He was a mad player. It inspired me. It really did make me want to play like that" (Guitar Player, 2008)
"I played my country music in clubs around the South till 1961, and then I got lucky and started to pick up session work. I played with some of the biggest in the business…Elvis, Sinatra, Nat 'King' Cole, Sammy Davis, Dean Martin. In one year alone, I played on no less than 586 recording sessions" (NME, 1970)
"Doing all those session dates brought me a lot of money, but they stopped me concentrating on my singing career, which should have been more important to me. The trouble was, at that time I had no confidence in myself. None of those singing stars I backed even knew my name. I was just the guy at the end of the line, picking guitar" (NME, 1970)
On playing the club circuit in the western US:
"They should have had 'Fightin' And Dancin' Nightly' advertised outside some of those clubs. I was playing at a place called the Hitching Post, and some of the guys I worked with in the daytime, they would come out and dance. Some cowboy would smart off to them, and they would jump right in. I would take my guitar and hide it. Protect it. If a flying bottle hit it, man, you couldn't replace it. I never thought of shielding myself, the first thing I thought of was, get the guitar out of the way" (The Guardian, 2000)
"All I ever did ever since I can remember was eat, live and breathe singing and playing guitar. I worked at a service station for a week, almost took my hand off, changing a flat tyre. Well, I quit that, because I wanted to play my guitar, and I couldn't do that with smashed fingers" (The Guardian, 2000)
On working with Phil Spector:
"Obviously he was a good producer. I never got to know him that well. He was quiet. He probably didn't weigh 125lbs. But he was a chip-on-the-shoulder kinda guy. I remember playing on Ronnie and the Ronettes, the Crystals, Darlene Love, the Righteous Brothers" (Mojo, 2003)
"It was in 1965. I'd played on all the Beach Boys' recording sessions and I knew their songs. So one day they called me and asked if I'd play a concert in Dallas with them because Brian Wilson was sick. I said sure. I went to Dallas and made about two million mistakes, but nobody could hear them over the screamin' and hollerin' of 17,000 kids" (NME, 1970)
Glen Campbell - By The Time I Get To Phoenix
On his new-found stardom:
"I want to get back to Delight [Arkansas], where momma and poppa are living, and I want to build them a house with central heating, so they won't have to go out and chop firewood anymore" (New York Times, 1968)
"Jimmy Webb is a likeable easy going country boy. One of the nicest fellows I've ever met, Jimmy has a power of very deep understanding. He cares about people, not politics, and what happens between people is extremely important to him in his writing" (Record Mirror, 1969)
On how his success was changing his life:
"You can't sit around and talk to mum and dad and brothers and sisters. There's always somebody dropping by the house. Easter Sunday, something like 127 people came by the house, somebody kept count. It wasn't that way before, I could go home and visit and maybe a couple of friends would come by to see you. Or you go fishing, you've got four or five boats following you around the lake, if they know you're there" (CBC, 1969)
Wichita Lineman (Remastered 2001)
"I heard that over at Jimmy's house, and we went straight off to record it that day. We loaded Jimmy's organ onto a truck 'cos I wanted to capture that exact sound. It had that longing, haunting type melody" (Mojo, 2003)
On how his initial hits were helping to change country music:
"A change has come over country music lately. They're not shuckin' it right off the cob anymore. Roger Miller opened a lot of people's eyes to the possibilities of country music, and it's making more impact now because it's earthy material, stories, and things that happen to everyday people. I call it People Music" (New York Times, 1968)
Glen Campbell - Southern Nights (Live)
On meeting his wife Kim:
"Ever since I ran into Kim, the whole world turned around. She was an honest woman. But I'd been dishonest before, too, so who am I to gripe? I'd sat down and prayed for God to send me a wife. I just couldn't get along. I've been so happy since I married Kim" (Spin, 2008)
"I'm a child Christian now, is what it is. I'm discovering who I am and what has actually been given me. To be where I am in this life, the credit goes to God. I'm not that brilliant, I'm not that smart" (700 Club, 1984)
On his live audience at the turn of the 21

st

century:
"I'd say [it's] 9 to 90. I get people out there who bring their parents. The kids who saw me on TV when they were ten are coming to concerts now. Of course I do 'By the Time I Get to Phoenix' and 'Wichita Lineman' and 'Galveston,' because that's what they come to hear. But there will be some new things, too" (New York Times, 2000)
On his Alzheimer's diagnosis:
"I don't know anything about it because I don't feel any different. The stuff I can't remember is great because it's a lot of stuff I don't want to remember anyway" (San Francisco Chronicle, 2011)
"Does it get harder breathing new life into those old songs? No, every night is different. I got to know Sinatra quite well, and that's what he tried to do. Every song was a unique performance. I still love 'Gentle On My Mind,' and 'By The Time I Get To Phoenix' still makes me real homesick" (Mojo, 2003)
"I've been very lucky in my career. For my whole life I felt like I was at the right place at the right time. It seemed like fate was always leading me to the right door"
Listen to the best of Glen Campbell on Apple Music and Spotify.