'Galveston': Jimmy Webb's Sea Winds Take Glen Campbell To The Top
One of Glen's career hits written by the peerless Jimmy Webb, 'Galveston' was part of a hit album of the same name.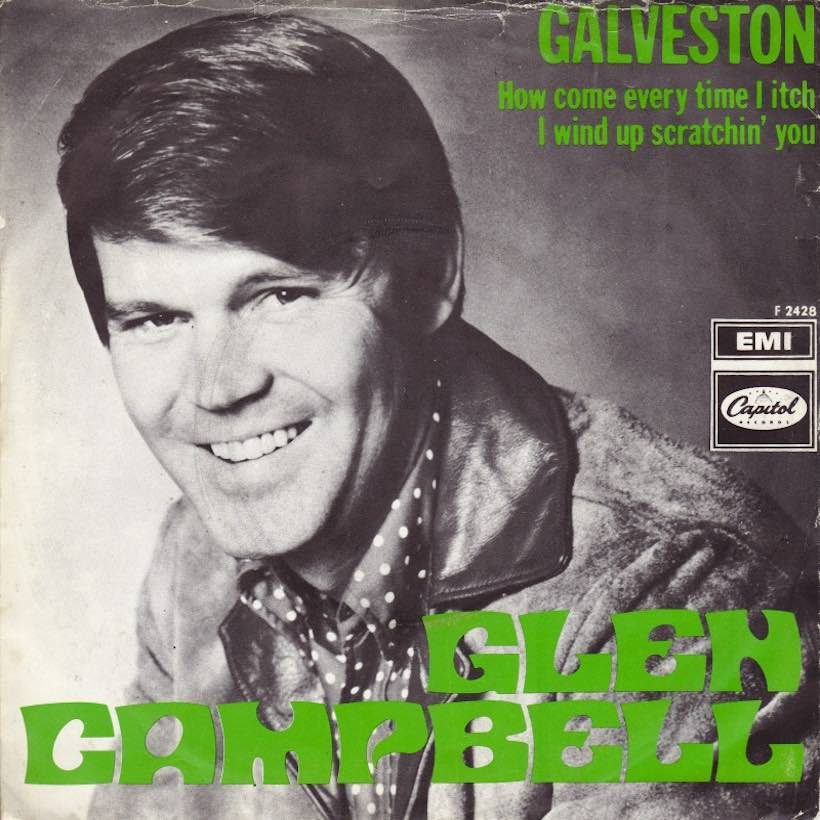 Glen Campbell was coming off the biggest album of his career when he released the Galveston LP, and its title track single, on March 17, 1969. He had given himself some feat to follow. Wichita Lineman had spent five weeks atop the pop chart, a massive 20 weeks at No.1 on the country countdown, and rose to double platinum certification.
Galveston (Remastered 2001)
Like its predecessor, Galveston was propelled by a title track hit single written by the peerless Jimmy Webb. Campbell's demanding schedule of the time had him releasing the new album only four months after the last one, again recording at Capitol Studios with producer Al De Lory. They taped the ageless title track on November 26, 1968.
Glen sings Buffy
As well as contributing three co-writes of his own in "If This Is Love," "Friends," and "Every Time I Itch I End Up Scratchin' You," Campbell now had the pick of the best songwriters to choose from. Webb contributed not only the timeless "Galveston" but another landmark composition in "Where's The Playground Susie." Meanwhile, Glen covered two songs by innovative Canadian-American Cree singer and writer Buffy Sainte-Marie.
Those numbers were "Take My Hand For A While" and the much-covered "Until It's Time For You To Go," later a hit for Elvis Presley. Campbell had long been making guide recordings of songs for Elvis' consideration, now gathered on the album Glen Campbell Sings For The King.
Galveston vs. Hair
A crack studio team featuring Al Casey on acoustic guitar, Joe Osborn on bass and drummer Hal Blaine kept the sound tight. Soon, Campbell was on another chart roll. Galveston climbed to No.2 on the pop chart, prevented from reaching the top by RCA-Victor's original score album for the musical Hair.
But on the country chart, Glen's album was another bestseller. Incredibly, it was his seventh No.1 LP in that genre in just 14 months, six of them achieved in 1968. Galveston spent 11 weeks at the summit, his last country chart-topper until Rhinestone Cowboy revived his fortunes in 1975.
In his autobiography The Cake and the Rain, Webb recalled that one of the more unlikely consequences of the success of the song "Galveston" was that he received a letter from the mayor of the Texan town, inviting him to be the Grand Marshal of its Shrimp Festival and Parade. "I don't know why I said yes," he wrote. "I suppose I was infected with the first symptoms of hubris; the idea of being cheered by a crowd of thousands became irresistible."
Buy Glen Campbell's Galveston on vinyl LP.