'Hello Nasty' Was Weird, Wonderful, and 100 Percent Beastie Boys
Mixing up genres with a silliness and seriousness that only they could pull off, it's one of their finest albums.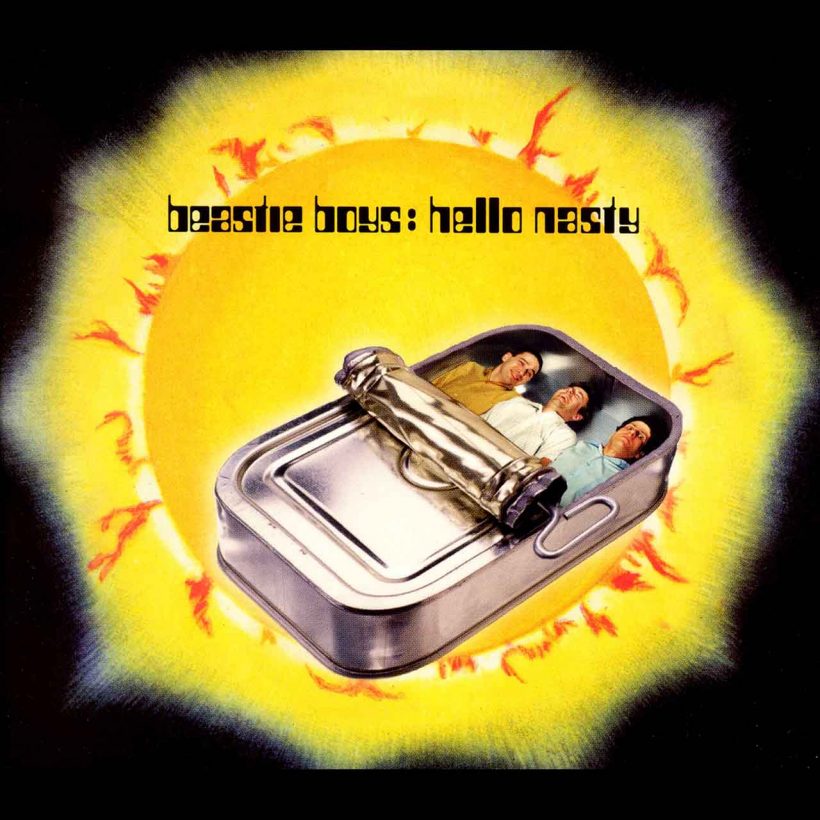 Some records take on different shapes depending on the lens you view them from, and Beastie Boys' fifth studio album, 1998's Hello Nasty is certainly one of them. At the time of release, Michael "Mike D" Diamond, Adam "MCA" Yauch, and Adam "Ad-Rock" Horovitz were as ensconced in the increasingly nebulous realm of alternative music as they were in the punk and hip-hop environs they previously cut their teeth on. Around this time, artists ranging from Radiohead and Björk to Beck, Cibo Matto, and Blur were in the midst of redefining what modern rock both looked like and sounded, playing fast and loose with genre as the end of the 20th century rapidly approached.
Almost as if on cue, Beastie Boys followed up 1994's Ill Communication with their densest, longest, and arguably loosest album to date, an eclectic buffet equally packed with bright, radio-ready bangers and instrumental genre diversions – on its face, an accurate reflection of what was taking place in the left-field corners of major-label pop and rock. But it would be foolish – not to mention oblivious of everything that came before it in the Beasties' careers – to cast Hello Nasty's stoned weirdness as explicitly temporal.
Listen to Beastie Boys' Hello Nasty now.
Instead, the album (which takes its name from the phone greeting received when calling the offices of PR hub Nasty Little Man, who represented the Beasties throughout the majority of their career) represented the latest logical progression in one of the most gloriously illogical careers in hip-hop or modern pop as a whole. Since the brash, youthful, and often immature reveries of their 1986 debut Licensed to Ill, the trio took their sound to new and unexpected places with every album, from 1989's canonical, sampledelic Paul's Boutique on. That the Beasties were able to follow their sonic arrow wherever they pleased while also releasing singles that regularly dominated rock and pop radio playlists was impressive, as well as a demonstration of their versatility as musicians and sonic thinkers.
In what is perhaps a stroke of prescience when regarding the playlist-driven musical culture of 2018, you could put Hello Nasty on shuffle and remain none the wiser about its intended formatting tracklist-wise. This isn't a dig, per se: it's a record that embraces a true sense of giddy randomness, with hat-tips to Latin music, phased-out indie rock, and an impressive collection of collaborators ranging from reggae vagabond Lee "Scratch" Perry to Cibo Matto's Miho Hatori.
Beastie Boys - Body Movin'
Hello Nasty also marks the last time the Beasties would be so confoundingly eclectic, kind of; 2004's post-9/11 exhale To the 5 Boroughs and 2011's unintended swan song Hot Sauce Committee Part Two (released before Yauch's tragic passing from cancer the following year) more explicitly leaned towards throwback hip-hop sounds, albeit in a way that still retained a youthful vigor. Hello Nasty's instrument-driven exploration arguably carried greater influence on the Beasties' divisive 2007 album The Mix-Up, a collection of vaguely jazzy instrumentals that ended up nabbing them a Grammy for Best Pop Instrumental Album.
Whereas The Mix-Up was decidedly anti-pop, though, Hello Nasty was resolutely as much of a commercial success as it was an artistic feast. There's a reason why this record went triple-platinum; there was the explosive "Intergalactic," bursting with bombast and laced with scratchwork from recent band addition Mix Master Mike, the charmingly weird melodic touches of "Body Movin'," and the catchy guitar interplay of "Remote Control" – each single as indelible as any of the Beasties' other blockbuster moments. Throughout Hello Nasty, the trio's mish-mash lyricism is as endearingly silly and pop-culture-loaded as ever, acting as punctuation to the record's boldest moments; who hasn't shouted "I LIKE MY SUGAR WITH COFFEE AND CREAM!" at least once during the sonic demolition of "Intergalactic"?
Beastie Boys - Intergalactic
The Hello Nasty era also marked a point of maturity for the Beasties, who had started to become more politically active and outspoken during the time surrounding Ill Communication. During the year of Hello Nasty's release, Yauch took the band's Video Vanguard speech at the 1998 MTV Video Music Awards to speak out against stereotyping against people of the Muslim faith following recent U.S. Embassy bombings in Kenya and Tanzania; the following year, Horovitz took the stage to address the rampant sexual assault and abuse that took place at Woodstock '99, imploring for greater standards of safety at concerts and festivals. That latter statement was made during an acceptance speech for Best Hip-Hop Video recipient "Intergalactic," the Yauch-directed clip that featured the band dressed up as construction workers ducking and dodging a giant robot fighting a mutant octopus attacking a Japanese city.
Artistic silliness juxtaposed with an ethos of seriousness: it's a juxtaposition that defined the Beasties' career as a whole, and so Hello Nasty exists as a snapshot of a moment in which the trio were growing up without forgetting how to have a lot of fun in the process, too.
Listen to Beastie Boys' Hello Nasty now.
Editor's note: This article was published in 2018.
Format:
UK English