Jay-Z's '4:44' Album Launches At TIDAL X Sprint Listening Parties Across The Country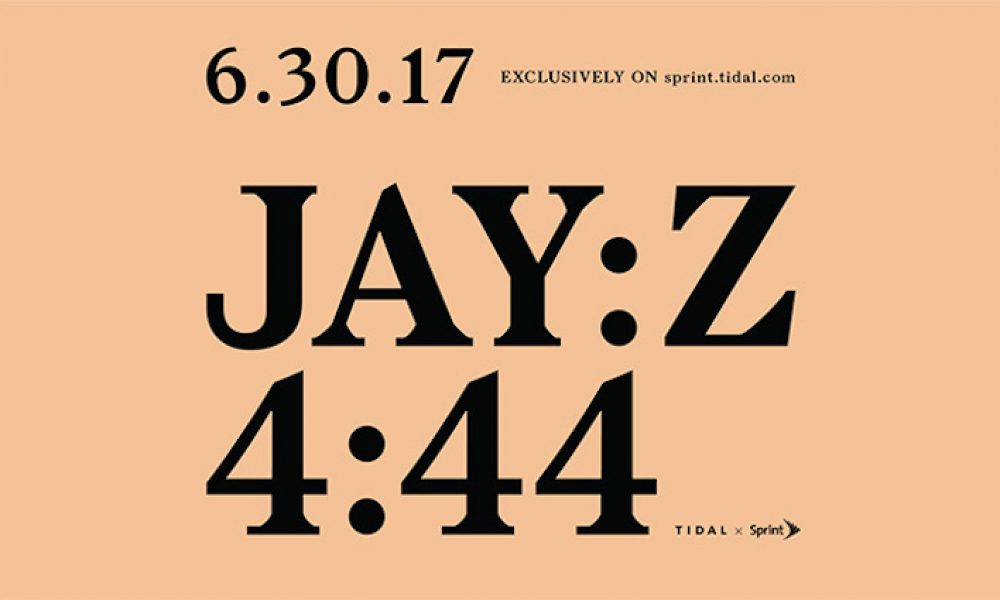 Jay-Z is back: with a new album, a hyphenated stage name and a new sponsorship with Sprint for the splashy release of his 13th studio album, 4:44. Much like his last album, Magna Carta… Holy Grail, which came out first exclusively on Samsung phones, Hova inked an exclusive deal between his Tidal streaming service and Sprint that allowed Sprint customers to hear the album before everyone else after the album dropped at 12:00 am EST on June 30 – causing social media to blow up late last night with reactions. It was also played across over 160 iHeartRadio stations in the US.
As part of the partnership, fans around the country were treated to a first listen of the album at listening parties at Sprint stores around the country as well as glitzy launch parties at 1 Oak in Los Angeles, Jay-Z's 40/40 club in New York and elsewhere.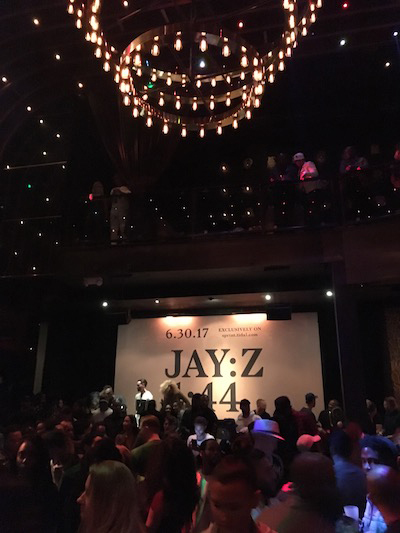 Anticipation was high, as the fans toasted Jigga's return to the top of hip-hop, with champagne bottles with sparklers being passed around and 4:44 blasting out of the speakers of the swanky, two-level 1 Oak club on the Sunset Strip.
With people bedecked in 4:44 emblazoned denim jackets and one woman wearing an actual crown, the scene felt akin to one big homecoming party, celebrating Jay's return after a four-year hiatus. The setting was fitting given that Jay-Z made 1 Oak even more famous by referencing it in his 2013 song, 'Beach is Better'.
Entirely produced by No ID, Jay-Z explains where the album's title came from during an interview on iHeartRadio, which you can listen to here.
"'4:44′ is a song that I wrote, and it's the crux of the album, just right in the middle of the album. And I woke up, literally, at 4:44 in the morning, 4:44 AM, to write this song. So it became the title of the album and everything. It's the title track because it's such a powerful song, and I just believe one of the best songs I've ever written."
As expected, the album has its fair share of guest features including Frank Ocean on 'Caught Their Eyes', Damian Marley on 'Bam' as well as Beyoncé's on 'Family Feud' and The-Dream lends his vocals to 'Mercy Me'. Along with the features, 4:44 is also sample-heavy, lending insight as to where Jay drew his inspiration for this deeply personal and political album.
The intro 'Kill Jay Z' samples The Alan Parsons Project's 'Don't Let It Show', while 'The Story of OJ', references Nina Simone's powerful 1966 song, 'Four Women' and Kool & The Gang's 'Kool's Back Again'. Simone shows up again, with her song 'Baltimore' getting chopped up on 'Caught Their Eyes'. Meanwhile the title track '4:44', includes Hannah Williams and the Affirmations' 'Late Nights and Heart Breaks' while he gets some Stevie Wonder in there with 'Love's in Need of Love Today' on his track, 'Smile'.
Naturally the sampling leans heavily on 60s and 70s soul, featuring the Clark Sisters 'Ha Ya' on 'Family Feud', as well as Donny Hathaway's 'Someday We'll All Be Free' on the last song 'Legacy', but producer No ID also did some serious crate digging for more obscure sampling including Portugal for Quarteto 1111's 'Todo O Mundo E Ninguém' on 'Mercy Me', as well as dancehall singer Sister Nancy's 'Bam Bam', featured on 'Bam'. There are some more contemporary cuts mixed in there as well, with a choice 'Fu-Gee-La' sample on 'Moonlight' and Raekwon's Cuban Linx's 'Glaciers of Ice' featuring Ghostface and Masta Killa shows up on 'Legacy'.
Jay-Z also shared a personal playlist of songs that inspired the album that you can stream below.
Hova also shared a new animated music video for the powerful song, 'The Story Of OJ' that directly references the racist minstrel animations of the early 20th century.
No word on whether the album will be available on other platforms, but TIDAL users can sign in and listen below.
Jay-Z's 4:44 is out now. Explore our dedicated Jay-Z Artist Page and listen to the album below.
Format:
UK English