'Dressed To Kill': Why KISS' Third Album Was Tailor-Made For Success
Hailed as a no-frills example of KISS in their prime, 'Dressed To Kill' laid the groundwork for their world domination.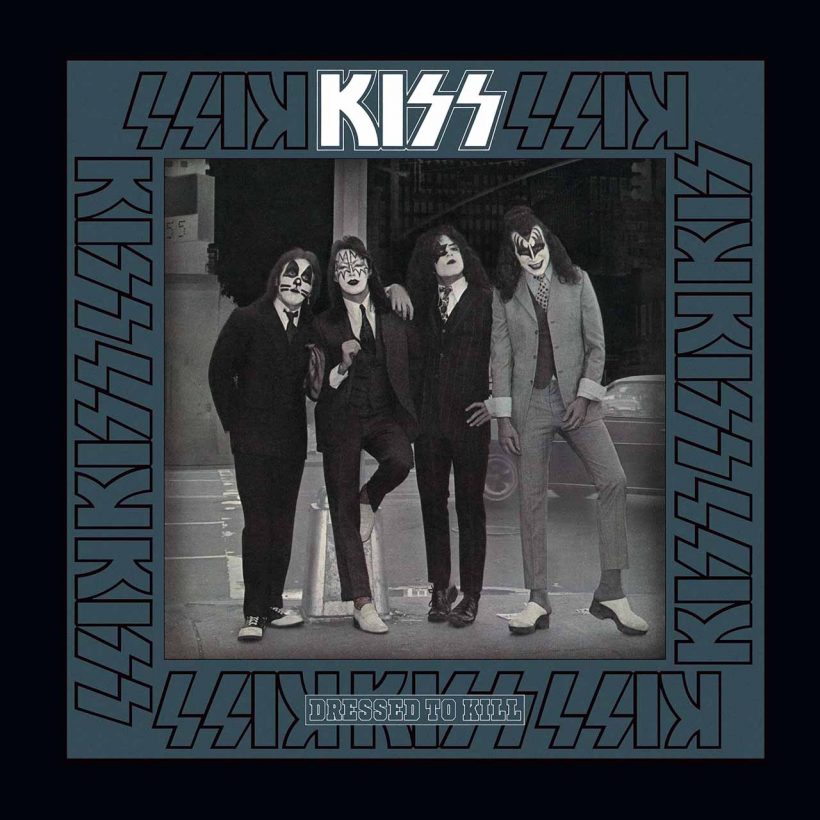 The cover of their third album, Dressed To Kill, suggested KISS were already flush with success. Suited and booted, their extravagant make-up was the only thing to indicate that these four bandmates weren't young executives who'd just made a killing and invested in mansions in Monte Carlo.
Listen to Dressed To Kill on Apple Music and Spotify.
Appearances, however, can be deceptive. In reality, while they'd built up a fanatical US following, KISS' future still hung in the balance when they recorded Dressed To Kill. Though both were highly promising albums, their self-titled debut and its briskly-released follow-up, Hotter Than Hell, failed to set the charts alight, and when they posed for the Dressed To Kill album cover in New York, drummer Peter Criss was the only group member who actually owned the suit he wore to the photo session.
"Kicks with ten greats tracks"
KISS' future, however, wasn't as precarious as their record label's. At the dawn of 1975, Casablanca Records was on a knife edge, and their president, Neil Bogart, desperately needed a hit record to turn his imprint's fortunes around. Having already delivered two studio albums in barely 12 months, KISS hadn't intended to cut a third quite so quickly, but after Bogart himself insisted they return to New York's Electric Lady Studios – where he personally took over production duties – they threw themselves into recording Dressed To Kill.
Despite the circumstances, KISS dug deep and worked up their strongest set of songs to date. Accordingly, while it clocked in at a relatively brief 30 minutes, Dressed To Kill was as stylish and sharply executed as its title suggested. Any of its ten songs could have been cherry-picked as standalone singles.
With its strutting, Rolling Stones-style riffing and infectious choruses, opener "Room Service" set the tone for a slew of quintessential KISS rockers to follow, with the album's crisp, vibey first side also including the Free-esque "Rock Bottom," Gene Simmons' swaggering, glammy "Two Timer" and Criss and Ace Frehley's simple but insanely catchy "Getaway."
"No frills, KISS in their prime"
Dressed To Kill's second half, however, was stuffed with classics. Both the fast'n'loose "C'Mon And Love Me" and the slow, intense "She" (the latter rescued from the repertoire of Simmons and Paul Stanley's pre-KISS outfit, Wicked Lester) would remain in the band's live set for years to come. The grandstanding "Roll And Roll All Nite," meanwhile, arguably remains the daddy of all KISS anthems to this day. Its full-tilt chorus ("You'll drive us wild/We'll drive you crazy!") is still surely one of rock's most seductive mission statements.
Kiss - Rock And Roll All Nite (From Kiss eXposed)
Casablanca rush-released Dressed To Kill on March 19, 1975, but despite the album's obvious quality, it wasn't the magic bullet Neil Bogart hoped for. It did, however, significantly raise KISS' profile, peaking at a very respectable No.32 on the Billboard 200, setting the stage for their next release – the much-acclaimed concert album, Alive! – to provide the decisive breakthrough the band had worked so hard to achieve. While that album was shooting up the charts, Donna Summer's "Love To Love You Baby" also went gold; Casablanca's future suddenly looked a whole lot brighter.
Primarily because it arrived prior to both Alive! and the all-conquering Bob Ezrin-helmed Destroyer, the importance of Dressed To Kill in KISS' wider story has since been somewhat overlooked. However, it remains one of the flamboyant US quartet's most consistent records, and it richly deserves the latter-day plaudits it's picked up, such as Pitchfork's 2003 reappraisal, which declared, "Dressed To Kill kicks with ten great tracks in just a little over half an hour – no frills, no duds, just KISS in their prime."