If You Like Imagine Dragons… You'll Love INXS
Though two bands emerging in very different eras, Las Vegas quartet Imagine Dragons and trailblazing Aussie rockers INXS could easily be contemporaries.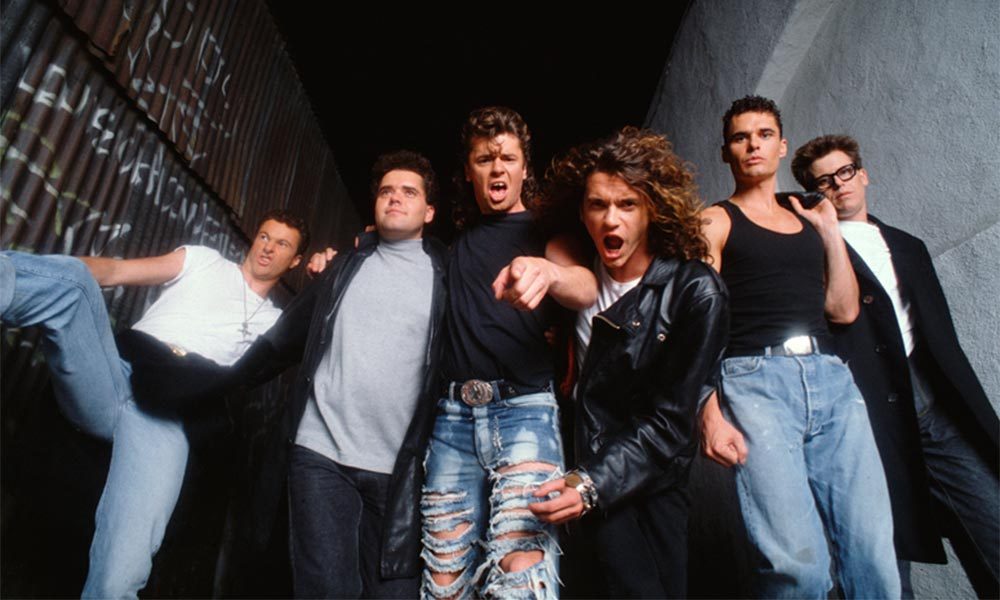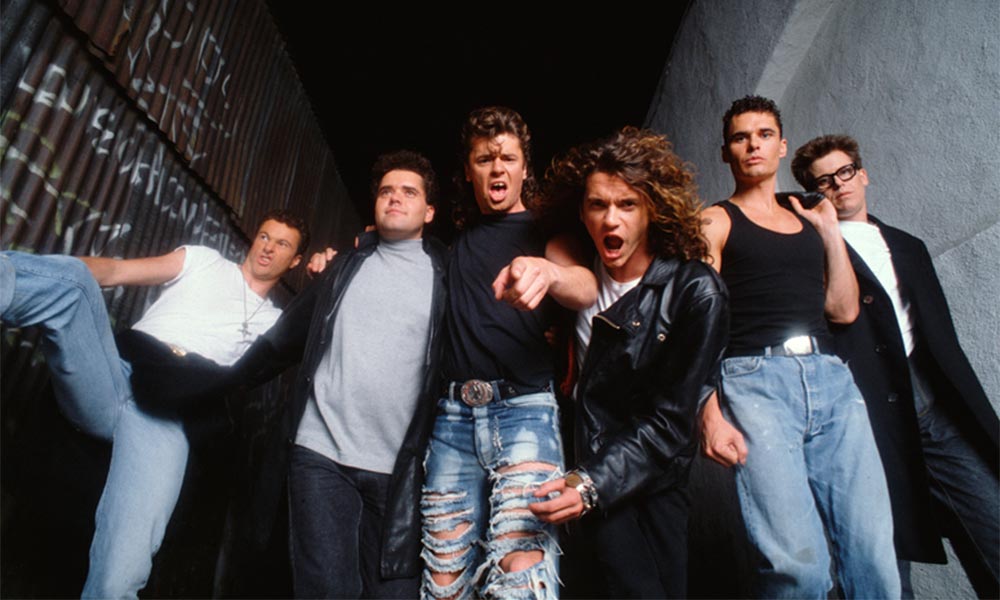 Their legend-enshrining records have illuminated very different eras, but Las Vegas quartet Imagine Dragons and trailblazing Aussie rockers INXS could easily be contemporaries. Blessed with ultra-charismatic frontmen courtesy of Dan Reynolds and the much-missed Michael Hutchence, respectively, these two bands share an inherent knack for crafting arena-ready, radio-friendly anthems. And while this talent has yielded mainstream success, it's also led to the creation of two enviably durable bodies of work.
They may hail from separate continents, yet Imagine Dragons and INXS share a sense of geographic isolation. Emerging from a school band, The Farriss Brothers, INXS started out in Perth, the capital of remote Western Australia, in 1977, yet their collective self-belief brokered an early move to Sydney, where they cut their teeth on the city's competitive post-punk club circuit. Imagine Dragons' origins, too, stem from an academic faculty – Dan Reynolds and original drummer Andrew Tolman first met at Utah's Brigham Young University – though their career only caught light when they relocated to Reynolds' home town of Las Vegas in 2009.
Live performance is a central theme in both groups' histories. During 1981 alone, INXS performed 300 live shows, and when they played their first ever US date in San Diego, in March 1983, Michael Hutchence and company took to the stage in front of an audience reputedly numbering just 24 people. Undeterred, however, INXS persisted, and within months they were headlining the 1,500-capacity Ritz at the Webster Hall in New York, on their way to playing arenas and stadiums around the world.
INXS - Don't Change (Live)
On their way up, Imagine Dragons also paid their fair share of dues. The group gigged almost nightly in Vegas in 2009 and 2010, and capitalised on early breaks, including a baptism-of-fire show at the 2009 Bite Of Las Vegas Festival, during which they held their nerve in front of a crowd of over 25,000 people.
This dedication to stage craft has paid enormous dividends. Quickly converting global audiences with the energy and versatility of their music, plus Hutchence's captivating, Mick Jagger-esque stage presence, INXS morphed into one of the all-time great live rock acts during the 80s and 90s. Prior to recording their landmark album, Kick – recently reissued in both 3CD deluxe and 2LP half-speed mastered 30th-anniversary editions – the Australian sextet spent much of 1986 on the road, with Musician magazine rightly dubbing them "the best live band in the world" just as they made the transition to slaying the world's largest venues.
Imagine Dragons, meanwhile, toured incessantly around their much-lauded 2013 debut, Night Visions, embarking on a year-long trek that sprawled into the middle of 2014 and took in the international circuit's most prestigious festivals, including Reading and Leeds in the UK, and Lollapalooza in the US. Recalling one of U2's great live triumphs, the Nevada quartet's nascent popularity was captured on the 2014 DVD Night Visions Live: the electrifying footage the result of a sold-out soiree at the legendary Red Rocks Ampitheatre in Denver, Colorado. Footage from The Joint, in Las Vegas, also provided a live video for one of the album's stand-out cuts, 'Radioactive'.
Imagine Dragons - Radioactive (Live At The Joint)
Intriguingly, both these acts have frequently bucked prevailing music business trends, not least in their desire to avoid the media hype that thrusts lesser artists into the spotlight in the short term. Coming up in the late 70s and early 80s, INXS built their reputation slowly, with their breakthrough Australian chart hits such as 'Just Keep Walking' and 'The One Thing' leading them stealthily towards international recognition.
However, while the industry has changed beyond recognition since the dawn of the 21st Century, Imagine Dragons' career also initially endured an atypically (for the modern era) steady slow burn. Their acclaimed early EPs Imagine Dragons and Hell And Silence slowly but surely led to a major deal with Interscope Records in 2011 and the release of their breakthrough Continued Silence EP, featuring the dramatic, Billboard Top 40-busting hit 'It's Time'.
Imagine Dragons - It's Time (Official Music Video)
Continued Silence marked the beginning of an intense creative relationship between Imagine Dragons and the influential Bristol-born, LA-based Alex Da Kid (aka Alexander Grant). An in-demand producer with a background in hip-hop, dance and contemporary pop, Grant won a Grammy for his work on Rihanna's Loud album, and his presence is easily detectable on Imagine Dragons' debut, Night Visions, not least on the electro-pop and dubstep-influenced 'Radioactive' – Imagine Dragons' signature hit, which peaked at No.3 on the Billboard Hot 100 and sold over seven million copies in the US alone.
INXS's illustrious canon, too, is the end result of fruitful collaborations with name producers such as Chic's Nile Rodgers and Chris Thomas (Sex Pistols, Pink Floyd, Roxy Music). The latter helmed the band's multi-Platinum-selling triumvirate Listen Like Thieves, Kick and X during the latter half of the 80s, while a lengthy parallel partnership with AC/DC producer Mark Opitz resulted in INXS's first truly great album, 1983's Shabooh Shoobah, and '92's stylistically diverse Welcome To Wherever You Are.
In addition to choosing strong sonic collaborators, both bands also realised the need for a strong visual identity early on. Not only was INXS's 'The Only Thing' their breakthrough US hit, but it was their first video to air on the nascent MTV, in 1983. The band continued to embrace the medium, with director Richard Lowenstein's memorable, semi-animated video for their seductive smash 'Need You Tonight' winning no less than five gongs at the 1988 MTV Video Music Awards. To date, Imagine Dragons have narrowly missed out on collecting an MTV Video Music Award, though they have received nominations for their eye-catching visuals for hits including 'Radioactive', 'Demons' and the recent 'Thunder', and a statuette will surely soon be within reach.
Regardless of their creative partnerships, though, singular outfits such as these only ever make an impact because they produce the goods on their own terms. Starting out as a quirky new wave outfit, INXS took elements of James Brown-esque funk, post-punk angularity and Rolling Stones-style raunch, and alchemised something entirely their own on peerless records such as Listen Like Thieves and 1987's colossal Kick.
INXS - Need You Tonight (Official Video)
Kick has barely aged a day since its original release on 19 October 1987. And there's plenty more of comparable quality throughout the 10 albums the resilient Aussies recorded prior to Michael Hutchence's death in 1997.
Imagine Dragons, too, have also made a virtue of adapting and changing course to meet the future. Their assured second album, Smoke + Mirrors, focussed on their hard-edged live sound, while their summer 2017 (and aptly titled) album, Evolve, pared back the guitars and homed in on the contemporaneous sounds of the dancefloor.
Both bands are entirely their own entities, and they emerged from radically different times, yet INXS and Imagine Dragons are kindred spirits – and change most certainly becomes them both.
Listen to the best of INXS on Apple Music and Spotify.
Format:
UK English