"We Wanted To Shun Rock Clichés": OMD Talk 40 Years Of Synth-Pop Perfection
With their debut single, 'Electricity', Orchestral Manoeuvres In The Dark spearheaded an electronic revolution in pop music.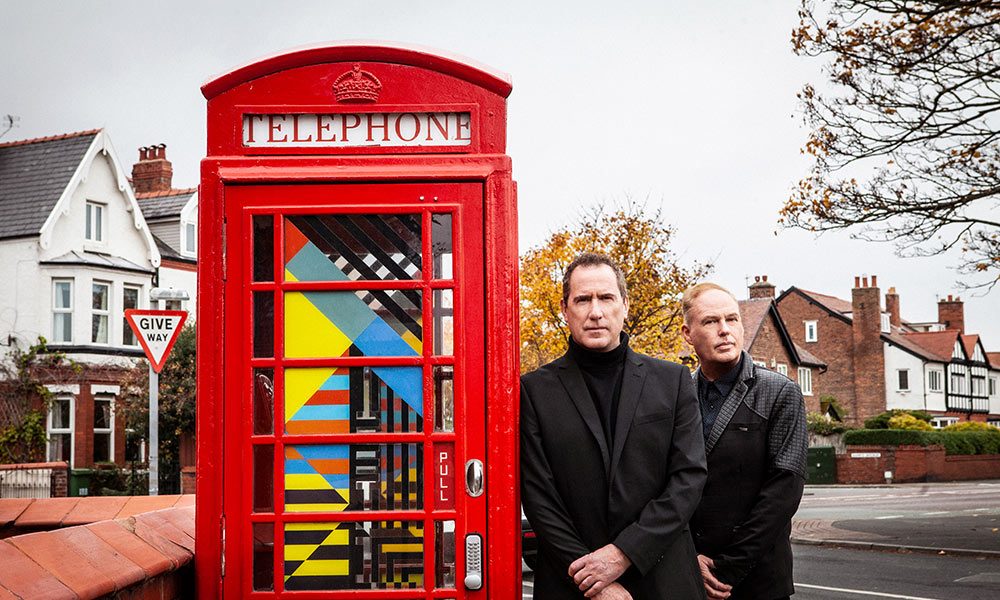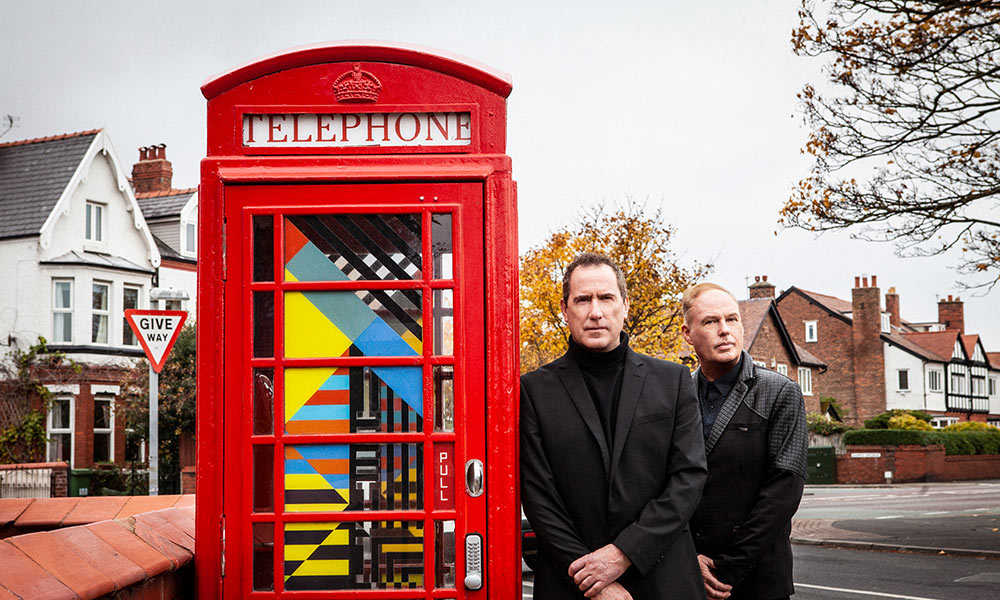 Orchestral Manoeuvres In The Dark's 40th-anniversary 5CD+2DVD box set, Souvenir, is the exhaustive, career-spanning anthology the pioneering electronic duo's work has long since craved. A multi-disc affair with memorabilia galore, it rounds up all the band's UK singles, from 1979's 'Electricity' to 2019's 'Don't Go', before taking a deep dive into their archive and resurfacing with a wealth of rare and live studio material.
Listen to Souvenir on Apple Music and Spotify.
Souvenir is a fittingly weighty tribute to this singular UK outfit whose four-decade career has yielded some of music's most sublime synth-pop, not to mention global sales of well over 40 million records. Yet, while OMD's signature hits, including 'Enola Gay' and 'Souvenir', and landmark albums such as Architecture & Morality and Dazzle Ships, are rightly regarded as high points in an illustrious career, their classic debut single, 'Electricity', has played an especially pivotal role in enshrining the band's legend.
"We were nerdy and wanted to shun rock'n'roll clichés"
First released by much-celebrated Manchester indie imprint Factory Records, on 21 May 1979, 'Electricity' brokered OMD's major label deal with the Virgin Records subsidiary Dindisc and effectively launched the band's career. It's since been cited as an influential song by famous figures ranging from The Human League's Phil Oakey and Depeche Mode/Erasure mainstay Vince Clarke, to BBC 6 Music DJ Steve Lamacq and high-profile science professor Brian Cox. The song's lyric – which relates to the wastage of electricity and searching for alternate sources of power – also feels highly prescient in the present-day race against time to combat the effects of climate change.
Orchestral Manoeuvres In The Dark - Electricity
"I think writing about electricity chimed because we lived through Britain's coal strikes during the 70s and lots of power stations were getting shut down," OMD's Paul Humphreys says. "I lost count of the nights we were at my mum's lighting candles, because there were no lights and no telly. It felt like there was a power cut almost every day.
"I studied electronics at college and part of that was finding out about other ways of generating electricity and powering the world around us," he continues. "Also, like our heroes, Kraftwerk, we were quite nerdy and we wanted to write about things that interested us which shunned all the usual rock'n'roll clichés."
"We were forced to make the best of what we had"
Hailing from the Wirral peninsula, across the Mersey from Liverpool, electronics wizard Humphreys and his OMD co-founder, bassist/vocalist Andy McCluskey, were part of a formative prog-rock outfit, The Id, prior to the punk explosion. However, after discovering Kraftwerk in the summer of 1975, the aspirational teen duo pursued a whole different direction. In retrospect, their lack of financial resources helped shape their future sound.
"The fact we couldn't buy all these fancy synthesisers when we started meant we couldn't sound like Kraftwerk," Humphreys reveals. "So because were forced to make the best of what we had, we sounded like OMD instead."
Orchestral Manoeuvres In The Dark - Enola Gay (Official Music Video)
OMD's first keyboards weren't even synths; Humphreys learned to play on a Selmer Pianotron and a Vox Jaguar organ as the formative duo began writing their own songs and gigging around the north-west.
"The thing about the Pianotron was that it wasn't really a piano, it was a really weird thing with reeds that you plucked," Humphreys elaborates. "It wasn't like a conventional piano, where a hammer hits a string, but the way it worked meant it had a unique sound."
"The music came out ready-formed"
"'Electricity' was the first song we wrote together and the melody line was written on the Pianotron," Andy McCluskey adds. "Its genesis was in an earlier song called 'Pulsar Energy', but the music came out ready-formed. We were still only 16 and 'Electricity' was the blueprint for the OMD sound."
Humphreys and McCluskey recorded the first version of 'Electricity' in a little garage studio owned by their first manager, Paul Collister, who also provided the four-track tape recorder, Winston, they used on stage. After playing an early gig at The Factory Club in Manchester, they sent a tape of this version of the song to Granada TV presenter/Factory Records supremo Tony Wilson, hoping he put might OMD on Granada's evening news. Instead, with a lot of help from his wife, Wilson agreed to release 'Electricity' on Factory.
"We subsequently found out Tony's wife, Lindsay Reade, literally fished our tape out of the junk bag in Tony's car," McCluskey laughs. "Tony didn't like it, but she was intrigued enough to play it and loved 'Electricity'. She thought it was a hit. We met Lindsay personally for the first time last year and thanked her profusely. If she hadn't fished our tape out of the bag, we would probably have led very different lives!"
"We owe a lot to that song"
OMD recorded 'Electricity' and its B-side, 'Almost', with legendary Joy Division producer Martin Hannett. However, Humphreys and McCluskey deemed the eccentric deskman's version of 'Electricity' "too lush and ambient" and used the version captured in Paul Collister's home studio for the Factory single.
'Electricity' wasn't a Top 40 hit, but it was championed by John Peel on BBC Radio 1 and it chimed with a lot of like-minded young musicians in the post-punk era. Andy McCluskey freely admits he initially harboured reservations about Martin Hannett's ethereal mix of 'Almost' ("I did eventually learn to love it, because it's so beautiful and ambient," he says today), but it quickly won the heart of another young musician whose talent would further electronic music's cause in the UK.
"In the same way Andy and I started off in a prog-rock band, Vince Clarke was originally a guitarist who was looking for alternatives to the norm," Paul Humphreys says. "He heard John Peel play 'Electricity' and went out and bought it. He really fell in love with 'Almost', though. He went and bought a synth as a result and 'Almost' was the first thing he learned to play on it. I'm still very touched by that. Shortly after, Vince formed Depeche Mode – and the rest is history."
"It suddenly felt like we weren't alone"
Clarke recently returned the favour for OMD, when he supplied his highly contemporary remix of 'Almost', which features on the flipside of the ultra-clear 7" vinyl reissue of 'Electricity'. He wasn't the only synth-pop trailblazer listening to 'Electricity', either. The song also led to OMD supporting the fast-rising Gary Numan on his UK tour during the autumn of 1979. With hindsight, it seemed Humphreys and McCluskey had timed their arrival to perfection.
Orchestral Manoeuvres In The Dark - Almost (Vince Clarke Remix / Visualiser)
"It suddenly felt like we weren't alone," McCluskey says. "I remember we'd also heard Norman, the DJ at Eric's in Liverpool, play The Normal's 'Warm Leatherette', and then we heard The Human League's 'Being Boiled' and discovered they were both English records, both of which were hugely influential for us. We'd thought we were in this vacuum where nobody else liked what we did in the UK, but suddenly there were other people with a similar mindset playing fantastic electronic music."
"It was an exciting time and 'Electricity' is a song that will always be very special for us," Humphreys finishes. "All the DJs were playing it and John Peel hailed us as this fabulous new alternative band, so we owe a lot to that song. It opened all the doors for OMD and even now, as soon as the crowd hear the intro when we play it live, they go nuts. It doesn't get much better than that."
Souvenir is out now and can be bought here.
Format:
UK English