'Unconditionally Guaranteed': Prime Beefheart Or Over-Promised Effort?
As linear a record as Captain Beefheart would record, 'Unconditionally Guaranteed' is the the last music he would make with 'Trout Mask Replica' bandmates.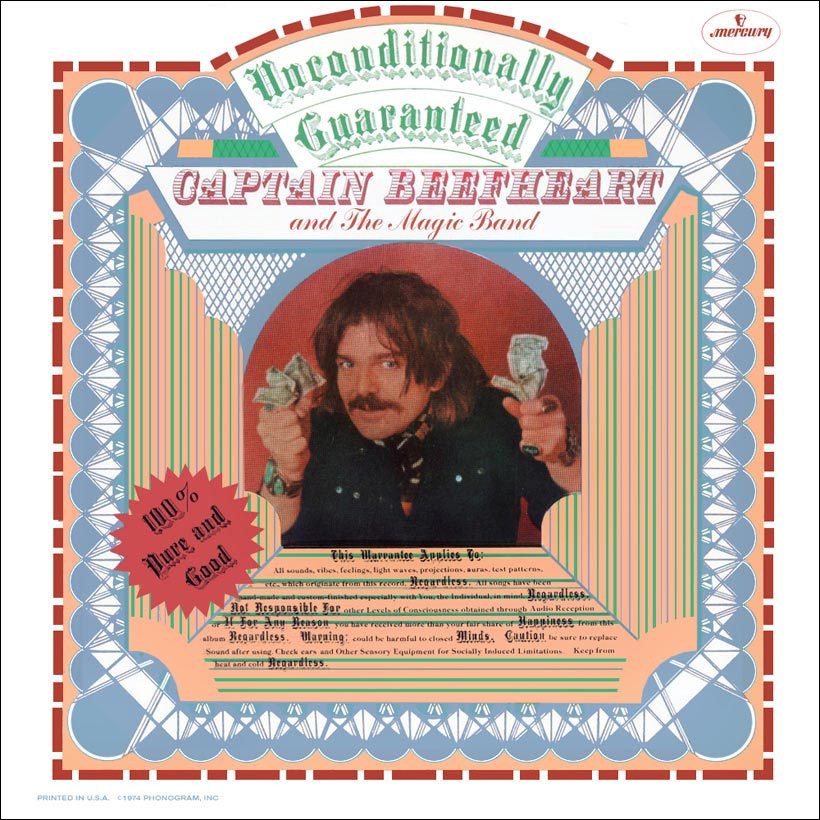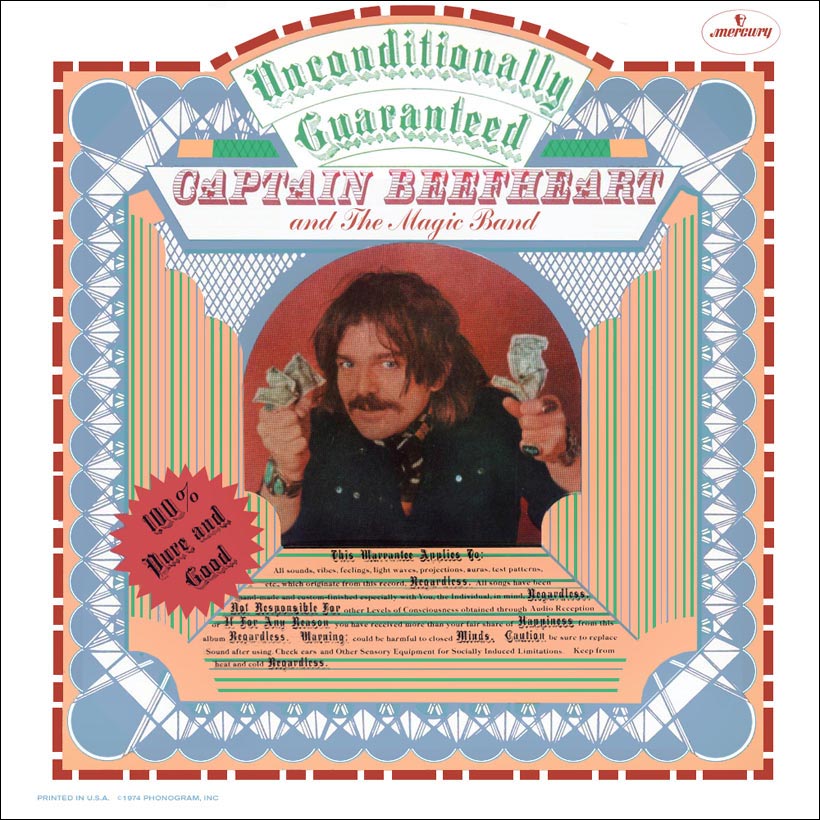 When Unconditionally Guaranteed was released in April 1974, Beefheart acolytes had been forced to wait 18 months between missives from the Captain – the longest gap yet in his career. Clearly, the weight of anticipation didn't help. When fans who had been reared on the lexicon-changing likes of Trout Mask Replica and Lick My Decals Off, Baby rushed to buy the album, they were shocked. Where the brace of records he released in 1972, The Spotlight Kid and Clear Spot, had edged towards an idiosyncratic notion of commerciality, Unconditionally Guaranteed went the whole hog (just clock the money-grabbing Captain posing, tongue firmly in cheek, on the front cover). As linear a record as Beefheart would ever record, it sounded, according to a contemporaneous Rolling Stone review, "like Charlie Parker working as an organ grinder."
Listen to Unconditionally Guaranteed right now.
Beefheart's long-suffering Magic Band voted with their feet, leaving his employ after the record's release. Indeed, Unconditionally Guaranteed is the last remaining evidence of Don Van Vliet working with any of the bandmates that had appeared on Trout Mask Replica. Later, even the Captain himself would call the album "horrible and vulgar," urging fans to take it back to the stores for a refund.
But he'd also once called it a "friendly extension" of his previous work, noting, "I like the other but I like this too." And while long-term fans would have to adjust to the shift in style, anyone coming clean to Beefheart's discography would, in all honestly, find much to like. After all, a straight, brass-laden blues-rock album from a man whose veins coursed with the blues is no more inferior to many other brass-laden blues-rock albums that were on the market in the mid-70s. Similarly, drummer Art Tripp, bassist Rockette Morton, and guitarist Zoot Horn Rollo are no less talented – if they are, admittedly, less challenged – than before. And while "Happy Love Song" may edge a little too far into indulgence (the ten songs are unerring in their single-minded expression of Beefheart's devotion to his wife, Jan Van Vliet), there's something endearing about the Captain's lyrical straight-talking.
A memorable performance of album opener "Upon The My O My" on The Old Grey Whistle Test supported the single release of the song, backed by "Magic Be." In the event, the single didn't chart, while its parent album just about entered the Billboard Top 200. Beefheart wasn't quite yet done with his flirtation with the charts, however: the similarly mainstream-courting Bluejeans And Moonbeams was to follow in November, before the Captain embarked on a four-year silence that ended when he released the decidedly more experimental Shiny Beast (Bat Chain Puller).
In fact, bookended by the more avant-garde-inclined albums that were Beefheart's more natural inclination, over 40 years later it now appears that, music notwithstanding, 1974 may well have been the most unusual year in what was already a most unusual career.